Ford Bronco Vs Jeep Wrangler: A Fierce Competition
Updated Jun 09, 2022
Introduction
Ford Bronco and Jeep wrangler are two extremely prominent names for popular off-road SUV models today. Ford Bronco was born later, has a ladder chassis derived from pickup trucks, and is equipped with quite a few interesting features, enough to "fight" with the Jeep Wrangler. 
The article below will give you the most specific Ford bronco vs Jeep wrangler comparison.
Overview Of Ford Bronco Vs. Jeep Wrangler
Ford Bronco and Jeep Wrangler are aimed at customers who like off-road with aggressive and dusty designs. Despite appearing later on the market, Bronco also has much potential to compete with its biggest competitor in this segment. 
Jeep Wrangler is known as a "legend" in the off-road village with the ability to challenge many types of terrain. It has long become one of the iconic models for the American car brand and around the world.
Ford Bronco Vs Jeep Wrangler Comparison
Exterior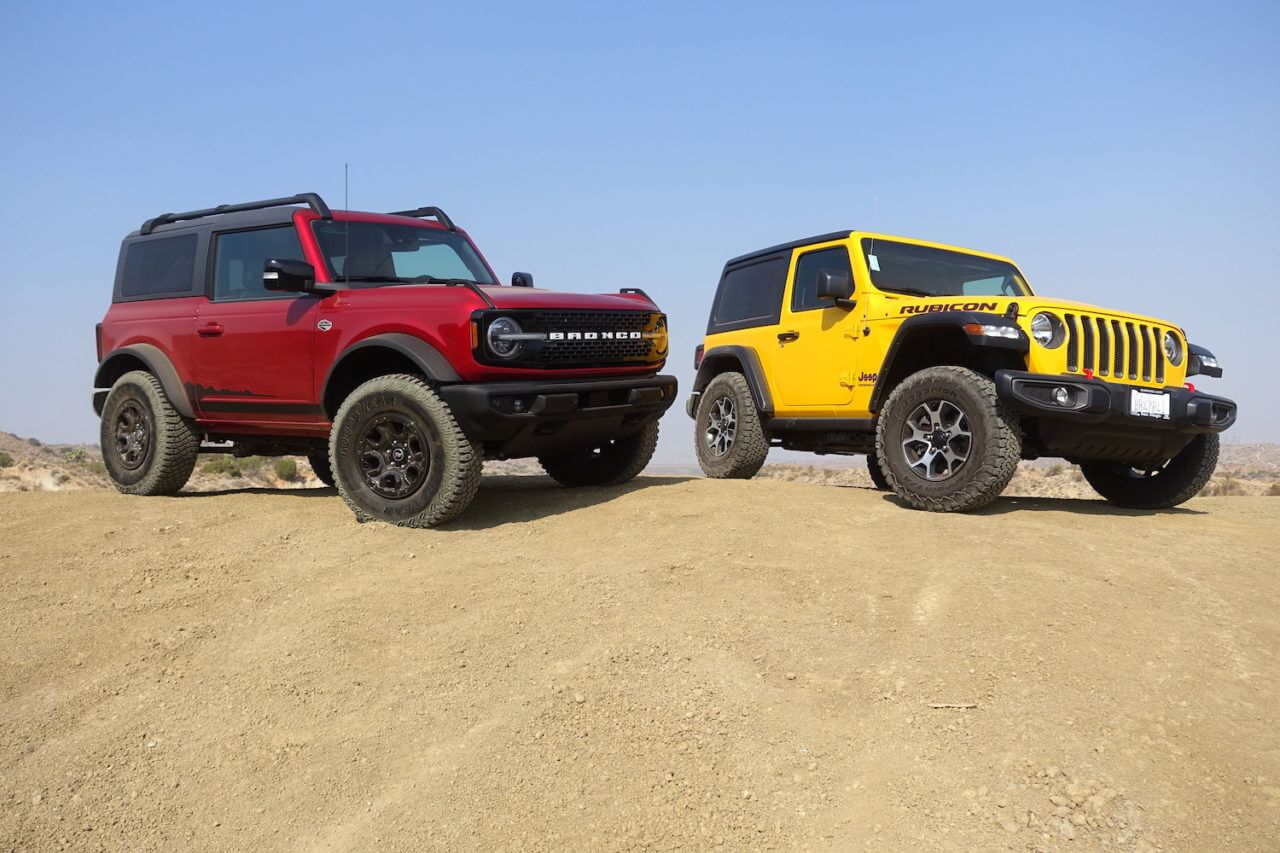 Ford Bronco Vs Jeep Wrangler dimensions
We can look at the Ford Bronco vs Jeep Wrangler dimensions to see the difference in the exterior. The Jeep Wrangler's wheelbase is 2.3 inches longer than the Ford Bronco, but this Jeep is 2.0 inches narrower and 444 pounds heavier.
Except for the wider hood and Bronco's engine compartment that stands out at the front, most designs are somewhat similar to the Wrangler. The boxy exterior, removable roof, vertical windshield, and short wheelbase look well proportioned.
Again, the Wrangler looks a bit narrower thanks to the wider fenders. Also, the biggest difference experienced off-roaders will immediately notice is the choice of rubber tires. Bronco is equipped with less flexible tires, while Ford always offers customers a variety of choices.
Interior
Bronco vs Wrangler interior has a different design, which brings advantages and disadvantages during the performance process. 
Outward visibility is great, and the outer fenders make it easy to weave through tight trails. Its agility is bolstered by higher ground clearance. And the approach, departure, and ramp angles are better than the Bronco.
A modern setup, Bronco uses a swing-arm front suspension with rack and pinion steering. In normal use conditions, the Wrangler feels a bit messy to drive. The steering feels loose with the front wheel and unstable at high speeds.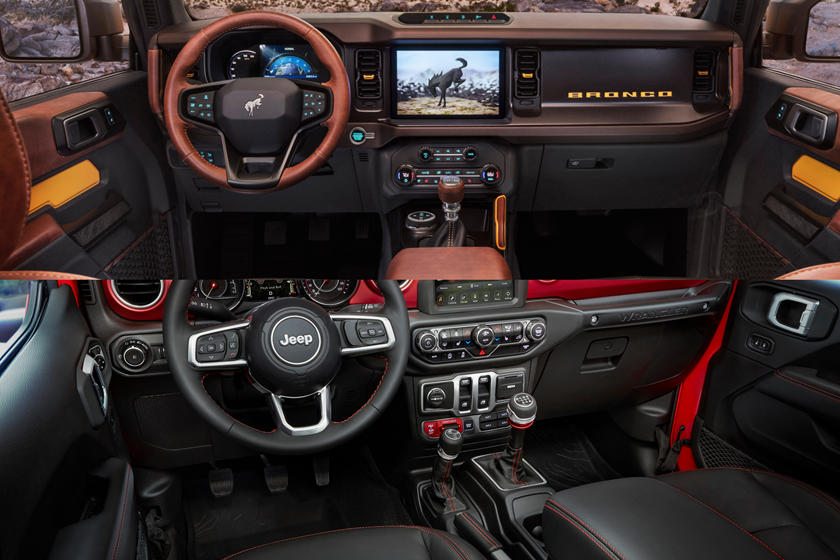 Bronco vs Wrangler interior
Additionally, Ford's rugged exterior opens up a pretty large cabin with plenty of space to stretch out. Thicker pillars make outbound visibility more limited, and some ride stiffness is evident on rough pavement.
The Ford Bronco interior is better than the Wrangler thanks to its spacious cargo space and a rear seat that can fit three adults. The car has a superior trim level than the Wrangler Unlimited with its large and intuitive infotainment touchscreen.
Engine
Performance is the top feature for off-road SUV buyers. Let's take a look at the technical specifications of both cars to get the most objective assessment:
With the Ford Bronco 2023 model:
Standard 2.3L EcoBoost engine with 270 horsepower

7-speed manual transmission

310 lb-ft of torque

Terrain management system

4x4 with automatic interaction on demand
​With the Jeep Wrangler 2023 model:
The standard 3.6L V6 engine is 285 horsepower

6-speed manual transmission

260 lb-ft of torque

Rock-Trac® 4x4 system
​We can see that both models are equal in terms of off-road ability. Where the Wrangler offers a more powerful base engine, Bronco's EcoBoost delivers more torque. In addition, Bronco's EcoBoost comes with a 7-speed manual transmission that makes shifting smoother than the 6-speed Wrangler.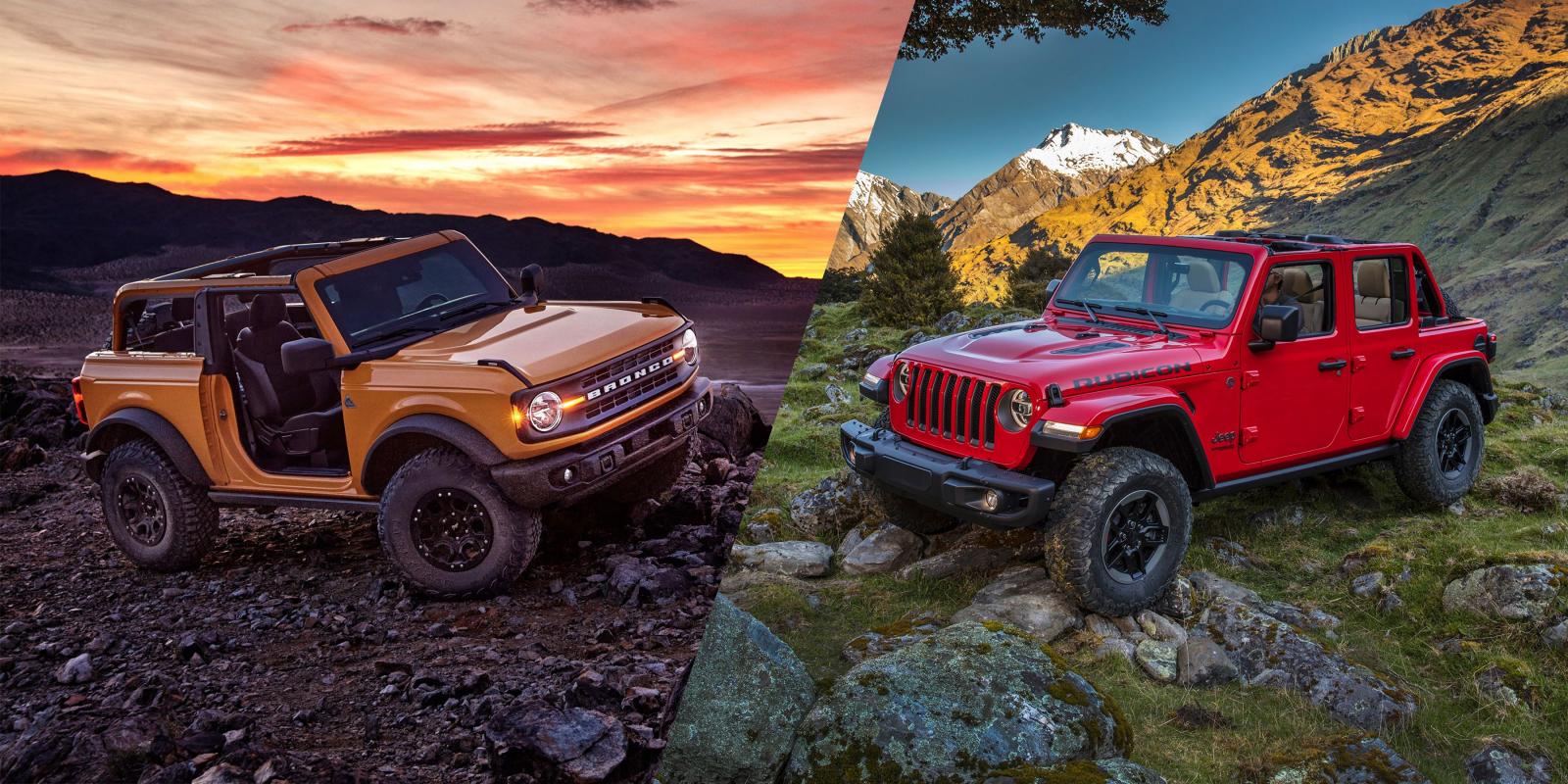 Ford Bronco Vs Jeep Wrangler Engine
Safety And Technology Features
In terms of technology, both models are equipped with outstanding and modern features that make every car player admire. On Jeep Wrangler 2023, all versions are upgraded with technology, ensuring a great experience for users.
The most special is the standard equipment TrailCam - an off-road camera at the front of the vehicle, displaying images in color on the 8.4-inch entertainment image inside the cockpit.
Meanwhile, the Ford Bronco 2023 integrates Apple CarPlay® / Android Auto ™, along with the remote control features of FordPass Connect. Experience and manipulation are more automated, fully serving entertainment off-road.
Ford Bronco Vs Jeep Wrangler Price Philippines
You can look at the table below about ford bronco vs jeep wrangler price before deciding which is more suitable to buy.
The price of Ford Bronco and Jeep Wrangler has a big difference. In particular, Bronco will cost less than Wrangler, and it also has more choices in this model. Meanwhile, Wrangler only provides three variants in this segment, with the highest price being ₱4,190,000.
Conclusion
There are many pros and cons between Ford Bronco vs Jeep Wrangler. If you focus on the performance, Wrangler will be the best choice. However, if you have a tight budget, you can also buy a Ford Bronco. This car comes at a cheaper price and has many variants to choose from.  
Thanks for your reading! Also, you may read our writing of any other model on Car comparisons to get more thoughts on the subject. If you have any question, feel free to comment below or contact with Philcarprice.com!