Seoul Mobility Show Unveils the 2024 Hyundai Sonata
Updated Apr 05, 2023
Hyundai Motor Corporation will be showcasing the 2024 Sonata introduction, which has undergone a mid-cycle refresh to feature the brand's latest Sensuous Sportiness design language, at this year's Seoul Mobility Show. The upgraded midsize vehicle incorporates advanced technology, making it more intelligent and modern.
Exterior
Rather than just a simple makeover, the Sonata undergoes a significant overhaul, with the brand's Sensuous Sportiness design direction serving as its inspiration for a futuristic and sporty appearance. The redesign also extends to the updated Accent and Elantra sedan models from Hyundai.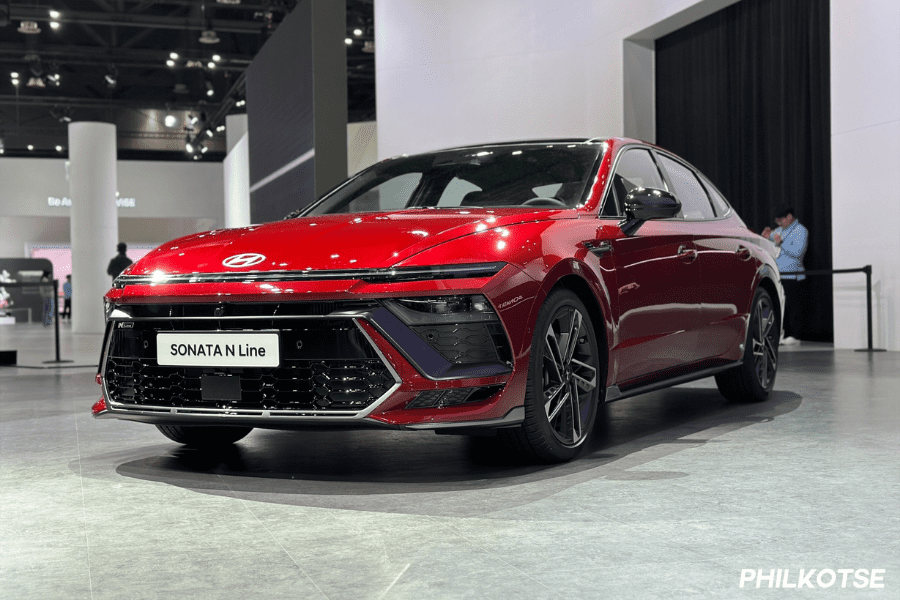 The design of the Hyundai Sonata 
The sedan's front end is accentuated by a smooth horizontal daytime running light (DRL), which is complemented by the H-light at the back. The vehicle's wide bonnet, sleek roofline, and bold geometric patterns on the sides provide it with a unique character. For those seeking a more performance-focused model, the N Line edition features distinctive 19-inch alloy wheels, a rear spoiler, and dual twin-tip exhausts.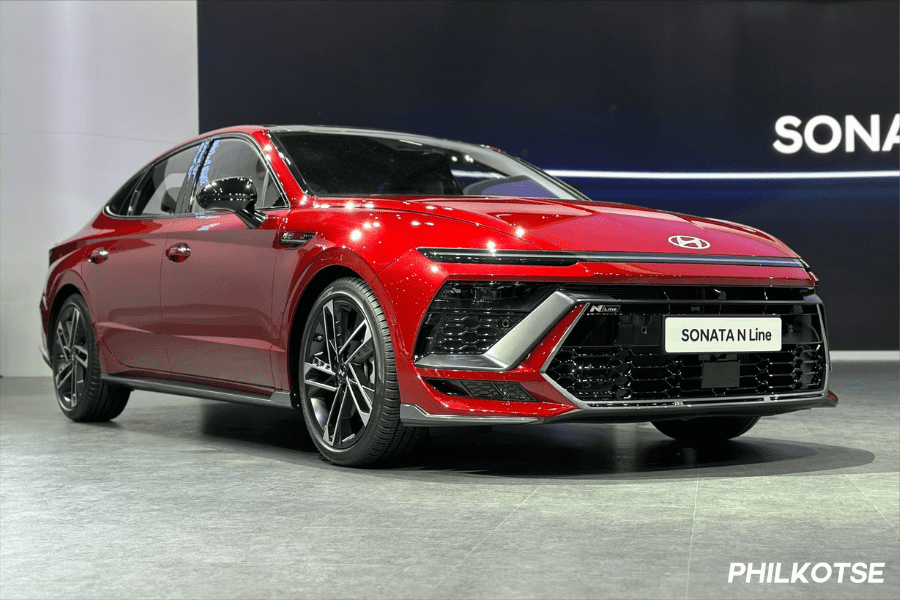 Hyundai Sonata 2024
The eight exterior colors available in the model include Aero Silver Matte (new), Abyss Black Pearl, Serenity White Pearl, Nocturne Gray Metallic, Transmission Blue Pearl, Biophilic Blue Pearl, Ultimate Red Metallic, and Nocturne Gray Matte.
Interior
The updated Sonata offers a range of interior color options such as Black, Greige, Camel, and Navy, catering to the preferences of discerning customers. The N Line variation of the Sonata, on the other hand, features a unique color scheme with red and dark gray accents that adds a sporty touch to its interior.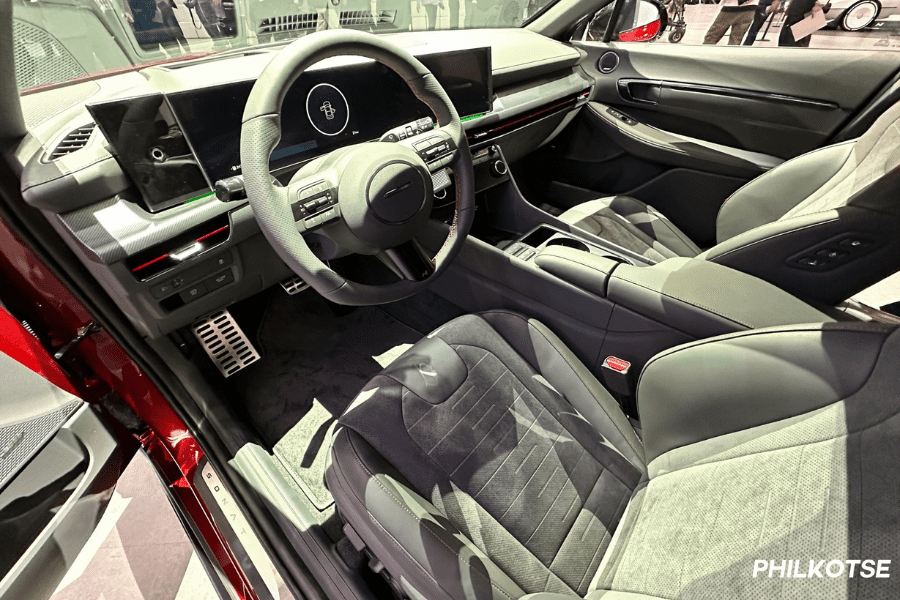 Hyundai Sonata 2024 Interior
The dashboard of the car features the brand's first curved display with a simplified design, along with a brand-new three-spoke steering wheel that deviates from the typical style seen in previous Hyundai models. The shift-by-wire controller, in a column style, is located behind the wheel.
Technology & Safety
As previously stated, the 2017 Sonata now includes Hyundai's first curved display, which incorporates a 12.3-inch infotainment system and a 12.3-inch digital instrument cluster. The inclusion of a heads-up display (HUD) adds to the vehicle's modern feel, enhancing the driving experience.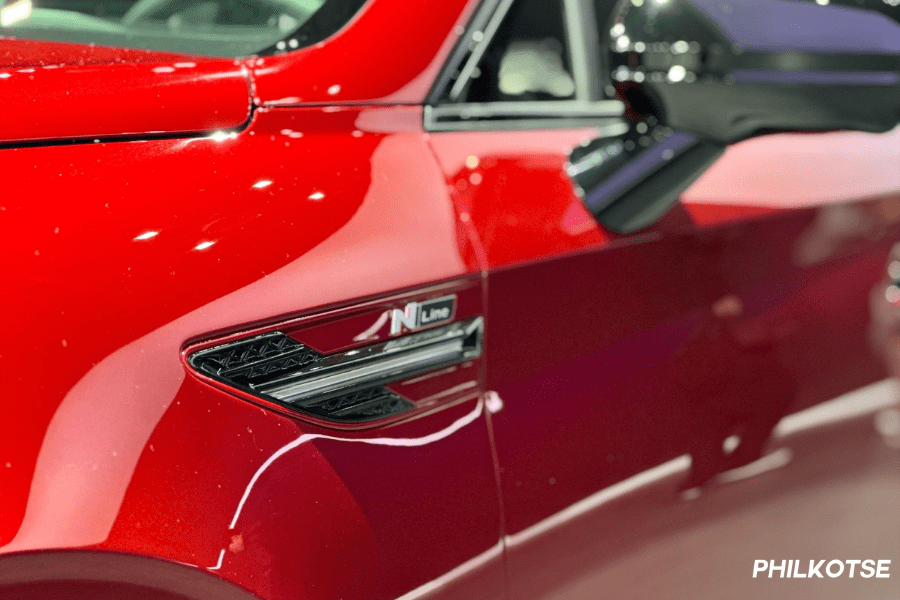 Hyundai Sonata Technology
The safety technologies in the sedan include Highway Driving Assist (HDA), Navigation-based Smart Cruise Control (NSCC), Blind-spot Collision-Avoidance (BCA), Rear Cross-Traffic Collision-Avoidance Assist (RCCA), and Safe Exit Warning (SEW), among others. Parking is also made easier with a Remote Smart Parking Assist (RSPA) and Surround View Monitor (SVM).
Engine & Powertrain
The Korean automaker offers five engine options in the new Sonata: Gasoline 2.5 Turbo, Gasoline 1.6 Turbo, Gasoline 2.0, Gasoline 2.0 Hybrid, and LPG 2.0. Meanwhile, the N Line is available with Gasoline 2.0, Gasoline 1.6 Turbo, and Gasoline 2.5 Turbo.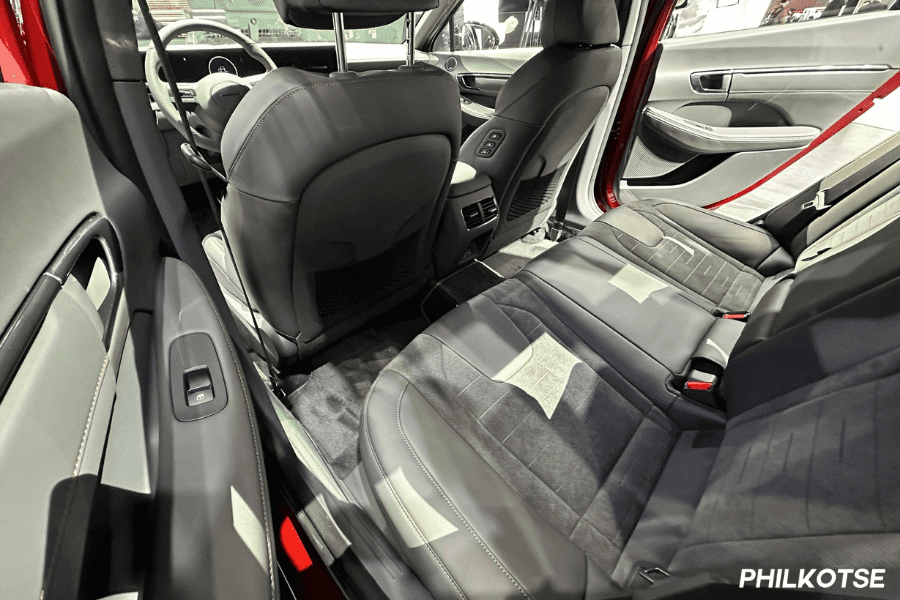 Hyundai Sonata Backseat
In addition to the N Line's Gasoline 2.5 Turbo, this model features various other elements that enhance the driving experience, such as rev-matching, launch control, N Powershift, and an active sound design.
Starting April 20, the all-new 2024 Hyundai Sonata will be available for pre-order, with an expected release in international markets later this year. Given Sonata's innovative design and technology, it would be great if the Philippines were included among the markets where it is made available.
Read more news with Philcarprice by subscribing to us or leaving a comment!