Ford Bronco Specs, Review, And Price List - Full Update In 2023
Updated Jun 09, 2022
Introduction
If you are worried about choosing an "iron horse" strong enough to conquer challenging terrain, the Ford Bronco will satisfy you. This car has an impressive appearance, and many people are still expecting that their capabilities are as great as their looks.
With only a few lines of description, it won't be easy to express all the great abilities of the Ford Bronco specs. Now let's start to explore them in more detail!
Ford Bronco Overview
Perhaps the first thing you can feel is that this SUV has a bold "off-road" appearance. This car makes one think because it carries a unique combination of strong, dusty, but still luxurious and modern.
Along with the impressive appearance, the specifications of the Ford Bronco 2023 are also one of the key factors that determine the superiority of this car.
The engine part is reasonably and best equipped to bring the perfect performance. Besides safety features, ABS, stability control, and many other features are fully equipped.
Now, let's continue to the next part to discover the "superior" level of this steed more carefully!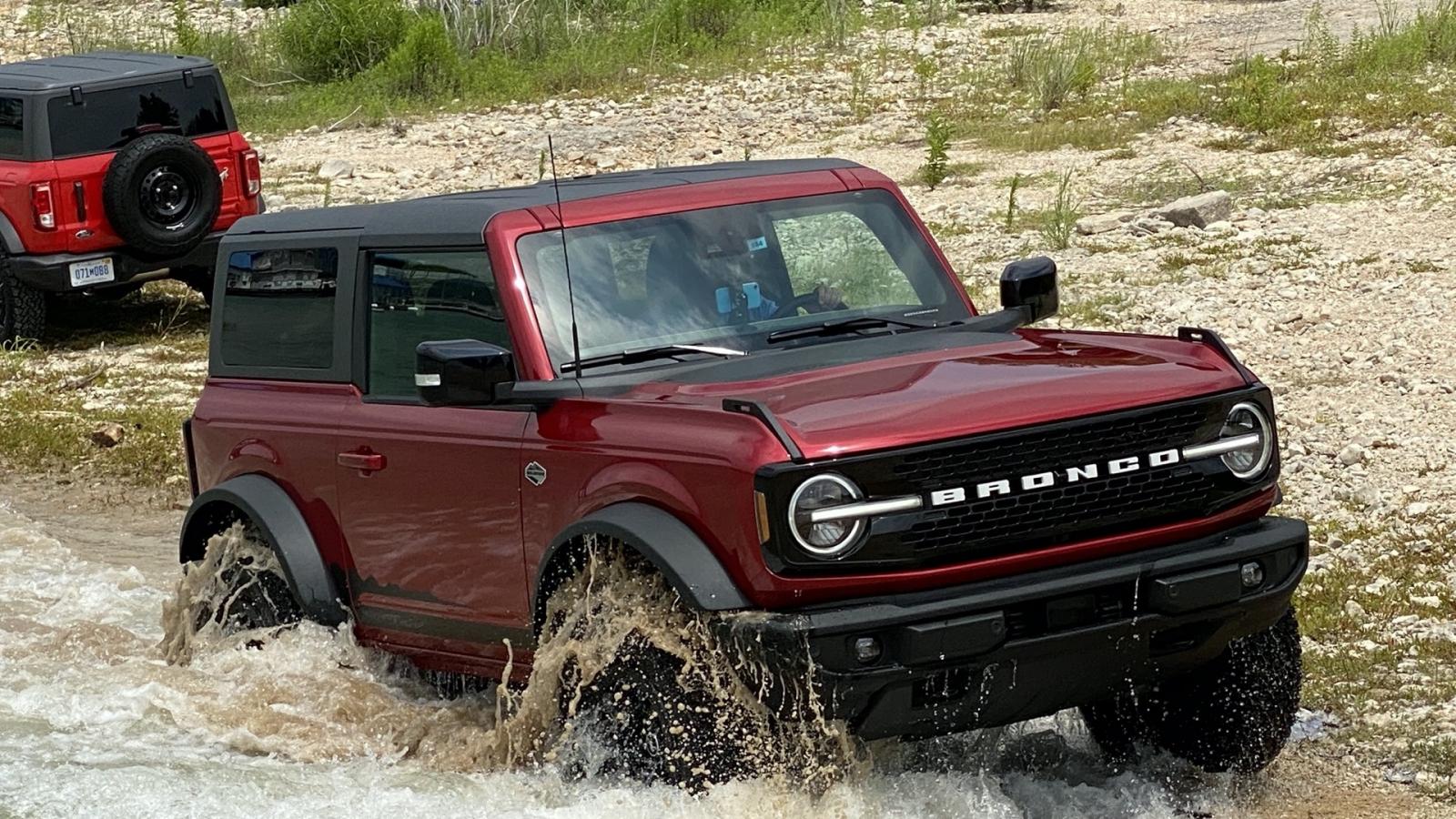 Ford Bronco Review 2023
Ford Bronco Specs 2023 In the Philippines
It's great that this model offers you a wide range of choices with many variants in both two-door and four-door. The top popular variant and the most loved is Badlands, a version that is almost too perfect in design and engine.
Currently, Badlands is also one of the most sought-after names in the Philippines. This SUV is equipped with impressive specifications with 373 Nm, 245 horsepower, and 2.0-liter gasoline.
It is worth mentioning that this model also integrates Ford's G.O.A.T ( Go Over All-Terrain) management system, which allows you to adjust up to seven modes suitable for different terrains. 
To get a more specific look, please refer to the Ford Bronco dimensions and specifications in the table below: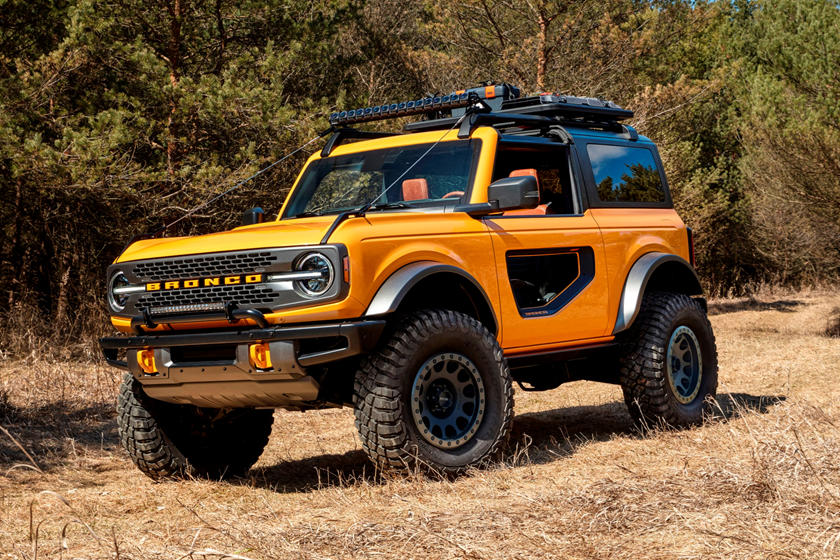 Ford Bronco Dimensions
Ford Bronco Philippines Review
Engine And Fuel Consumption
Ford Bronco engine is equipped with 245 horsepower, 375Nm of torque, 2.0-liter gasoline engine, 1998cc gasoline engine, and an eight-speed automated transmission. The suspension of this auto is appreciated, and the mud-terrain tires are designed quite large, with a diameter of up to 35 inches. 
Additional to the wheel part, there are Beadlock-capable, electronic locking front-rear differentials, etc. These engine equipment will help Bronco conquer many roads and terrain with the most outstanding ability. 
Ride And Handling
To be called a monster in the SUV world are not easy, but the FordBronco is fully capable of becoming a dominant monster. The factor leading to this outstanding success is Ford's G.O.A.T (Go Over All-Terrain) terrain managing system.
This vehicle will be a perfect companion if you have a strong passion for off-road. You will easily control many difficult terrains because the G.O.A.T system provides you with seven modes suitable for each different type of terrain.
Moreover, the flexibility of this auto is also supported by a power steering with integrated multi-function, adjustable seats, and a variety of other amenities.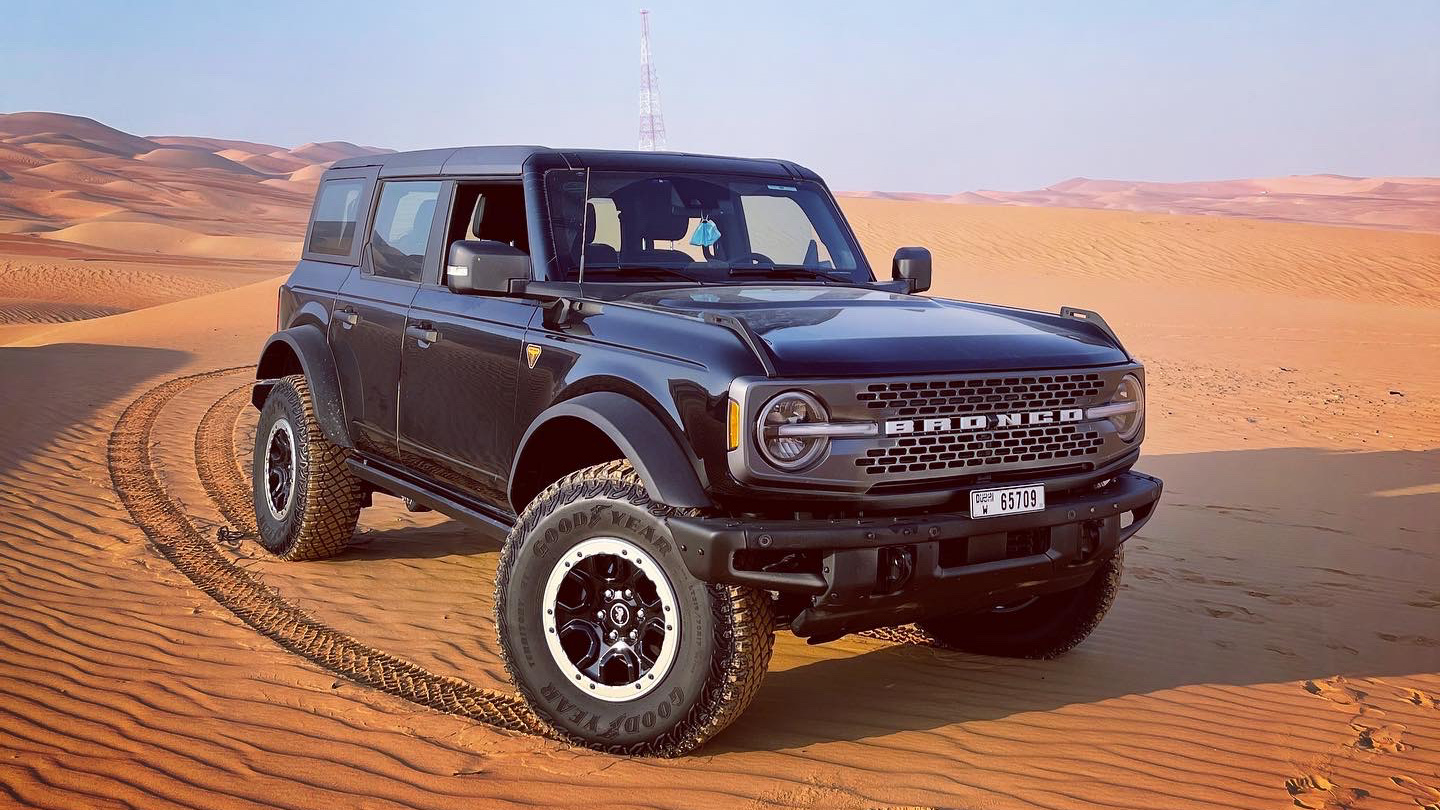 Ride and Handling
Braking And Safety
This vehicle has two outstanding brake systems:
Automated Emergency Braking system - AEB: Stop the vehicle immediately when a collision occurs.

ABS braking system: Stopping the auto in a short-range.
​Other safety systems include:
Airbags (driver and passenger)

Stability control techniques

Collision sensors

Parking sensors

Engine immobilizer

Anti-theft

Day/Night Rear View Mirror

​
Ford Bronco Variants And Price List
This auto line owns up to 8 different variants in both two-door and four-door types, and each variant will have its price. Check the table list below for more particulars on the price of the Ford Bronco manual transmission, automatic, and two types of doors!
Note that the price will vary slightly depending on the distributor and the import price.
Conclusion
Through the detailed sections about the Ford Bronco specs above, this car can be classified as one of the formidable monsters in the Philippine auto market. 
Appearance is a prominent plus point for this car, but it is even more amazing with a powerful engine system. Briefly, if you are looking for a companion capable of ruling over difficult terrain, "Bronco" will meet you!
Thank you for reading! If you are interested in this Review topic, feel free to share your ideas with us!
View other reviews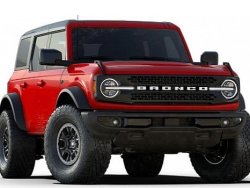 Automatic
SUV / Crossover