Ford Everest Colors - Make Your Personality
Updated Apr 27, 2022
Ford Everest is no longer a strange name for lovers of the automobile industry. This car company always offers many products at affordable prices for any customer.
Moreover, you surely will have the most suitable option because of the many available Ford Everest colors without worrying about not having your favorite color in this brand.
Let's stay tuned to know more about the colors list below.
Ford Everest Overview
The Ford Everest 2023 is a medium-sized SUV that has received a mid-cycle refresh that has brought it to a new level of rugged functionality and improvement. 
It now provides an exceptional design, cutting-edge technology, equitable on- and off-road abilities, and premium interior modification. 
As a result, this SUV remains one of the Blue Oval's best-sellers year after year.
Everest is known as one of the harshest SUVs in this segment. It features a faithful body-on-frame chassis, a 225mm ride height, and an 800mm water paddling capacity, allowing it to handle numerous terrains conveniently.
It has a strong front end with trademark LED Daylight hours Lights linked to a notable reversed trapezoid grille, giving it a powerful hold on the road. 
In the meantime, the interior has more space for each passenger and freight than its previous model. This model has over 30 brilliantly constructed stowage spaces and various outlets for modern customers.
Ford Everest Colors
The Ford Everest is available in 6 different colors. Customers can freely choose Ford Everest colors to suit their destiny.
Ford Everest Aluminum Metallic

Ford Everest Aluminum Metallic
The latest Aluminum Metallic is chosen by many customers in all colors according to their preferences and feng shui. 
The feature of this color is colorfastness, which effectively covers dirt and scratches.
It also comes in Ford Everest Trend variant at  ₱1,738,000; Sport at ₱1,928,000,Titanium at ₱1,995,000 and Biturbo Titanium at ₱2,299,000.
Ford Everest Diffused Silver
Ford Everest Diffused Silver
For customers who care about color, the feng shui Earth and Metal element will fit to own a car of this color. 
The color's feature is a neutral color, often suitable for elderly customers over 40 years old, and brings owners the feeling of clean, luxury, and styling.
Moreover, the Diffused Silver color is only available in 2 Ford Everest 2022 variants, including Titanium at  ₱1,995,000 and Biturbo Titanium at ₱2,299,000.
Ford Everest Meteor Grey
Meteor Grey is one of the most beautiful colors in the Ford Everest new lineup because of its harmony mixed between black and white.
This color is not too flashy, has a mysterious style, represents sophistication, and shows the owner's aesthetic. 
Moreover, because there is no metallic luster, the paint mixing is relatively convenient, easier to overcome scratches or defects in the car's paint surface.
The Ford Everest Meteor Grey is offered in 3 variants: Trend, Titanium,  and Biturbo Titanium, with prices of ₱1,738,000, ₱1,995,000, and ₱2,299,000, respectively. 
Ford Everest Sunset Red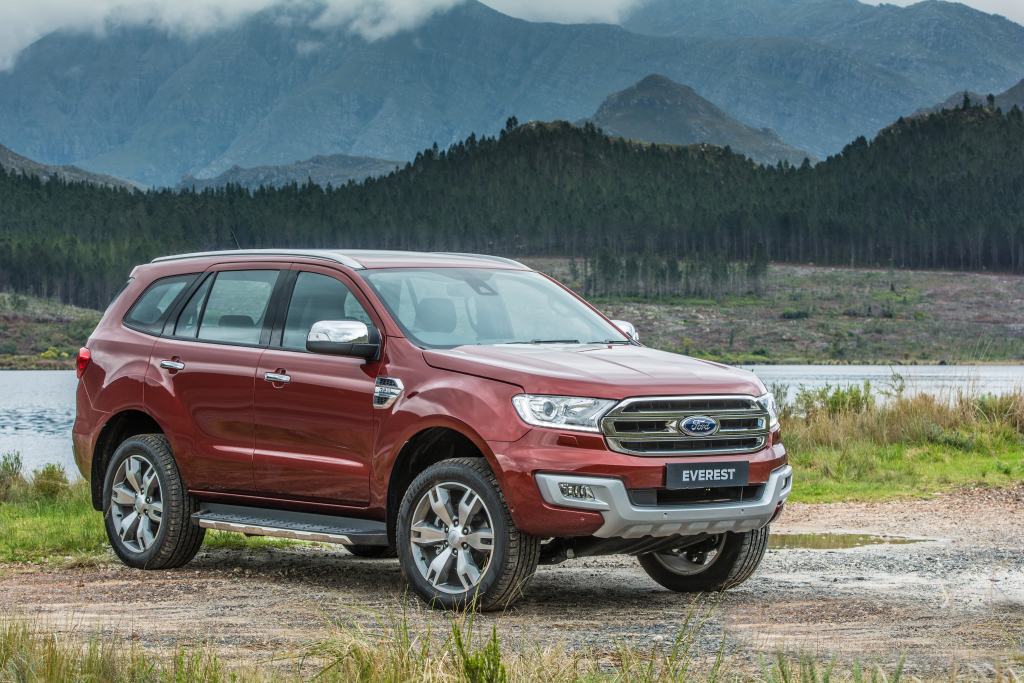 Ford Everest Sunset Red
According to the conception, red symbolizes good luck. Ford Everest red cars help users express a strong and enthusiastic personality.
However, this color and Ford Everest blue are not popular in the Philippines market and only come in 2 Ford Everest variants, Titanium at ₱1,995,000 and Biturbo Titanium at ₱2,299,000.
Ford Everest Absolute Black
This color ranks second in the top popular Ford Everest colors today; color is indispensable in the luxury car segment.
Absolute Black models have a sophisticated and classy appearance. Moreover, business people always want their cars to have their temperament, and black is a perfect choice. 
Depending on preference, users can choose between black paint with a paint effect or plain black.
This color is popular in all variants, such as Trend at ₱1,738,000, Sport at ₱1,928,000, Titanium at ₱1,995,000 and Biturbo Titanium at ₱2,299,000.
Ford Everest Arctic White

Ford Everest Arcitic White
Ford Everest White is constantly at the top of the popular car color palette. 
It represents youth, freshness, and modernity, so white cars are suitable for most users. In particular, the white color absorbs less heat, suitable for tropical conditions and prolonged hot sun.
This color is the same as Ford Everest Black, available in all variants.
Conclusion
It would be best if you had advice on choosing the Ford Everest colors and always wondering how many colors the Ford Everest 2022 car has, which car color is suitable for your destiny, and which Everest car color is available.
Follow our categoty Car Review to get the most accurate answer for your experience, and update the latest color versions for Ford Everest 2023. If you have any question, feel free to comment below or contact with Philcarprice.com!
View other reviews