An Informative Mitsubishi Outlander Review To Help You Get To Know This Crossover!
Updated Jun 16, 2022
Mitsubishi is a well-known car brand in history, with millions of vehicles sold per year. As reliable as the brand is, reading a review of a model before purchasing a lifetime-used car is still necessary!
And that's what we are going to do today - give you a full Mitsubishi Outlander review! We will look through its specifications, pros, cons, and price - everything you need to prep yourself up!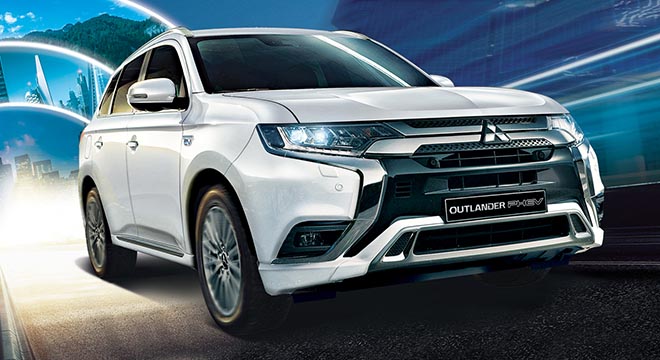 Mitsubishi Outlander 2022 Review
Mitsubishi Outlander Specifications
Let's look at the Mitsubishi Outlander's specifications to get a big picture of what this car offers you. In case reading a whole article is not the most convenient thing, skim through this part clearly to get the idea of what this car is:
Mitsubishi Outlander Review
Exterior
Mitsubishi Outlander's exterior looks stylish and clean, especially with the signature chrome details design. A Dynamic Shield is still equipped in this Mitsubishi model, with the new, modern LED headlights and fog lamps. 
The side profile is generally basic, making the chrome accent details pop out on the handles, under the door, and on the windows. A set of 457mm alloys blend perfectly with the overall to create a standard side profile.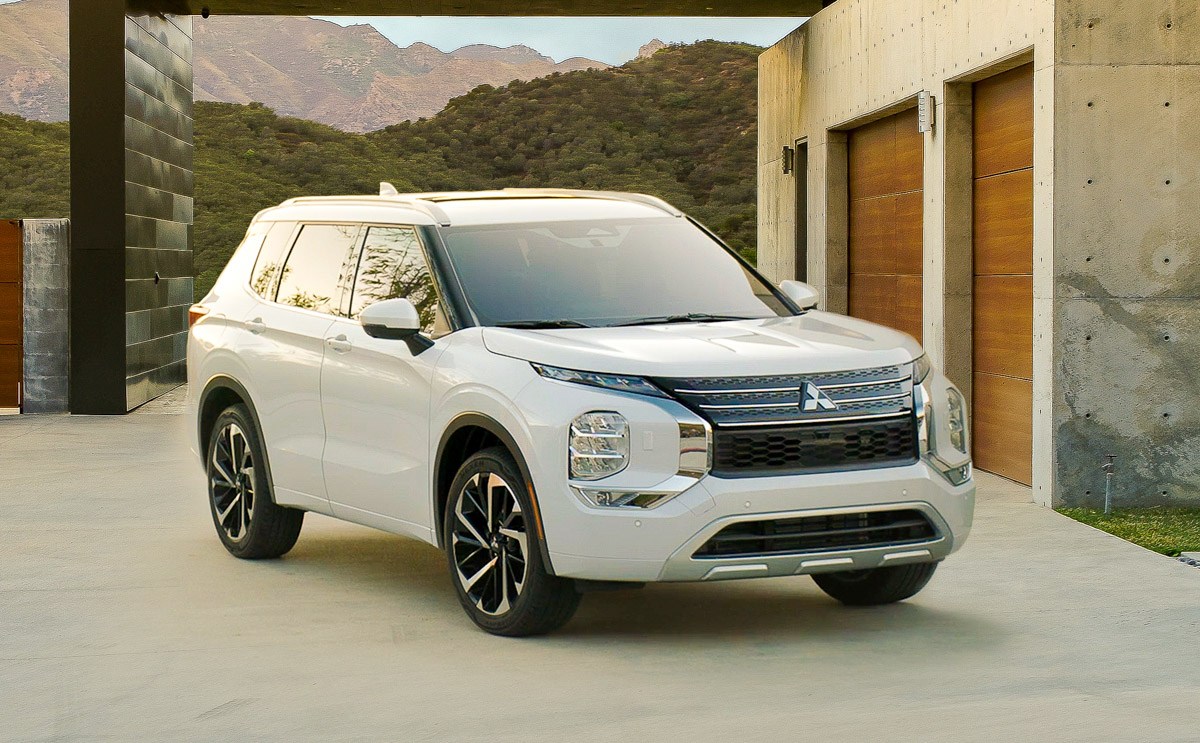 Mitsubishi Outlander Exterior
For the rear profiles, there are LED taillights and silver-garnished trim on the parking sensors that can be lit up while having lights spot on, which is both good-looking and safe for your vehicle to likely be detected all the time.
Interior
Mitsubishi Outlander interior is one of the best highlights of this vehicle. It is designed thanks to the assistance of a horizontally-sculpted instrument panel and the center console perfectly. Leather seats with neat stitching make traveling pleasant, even when sitting for long.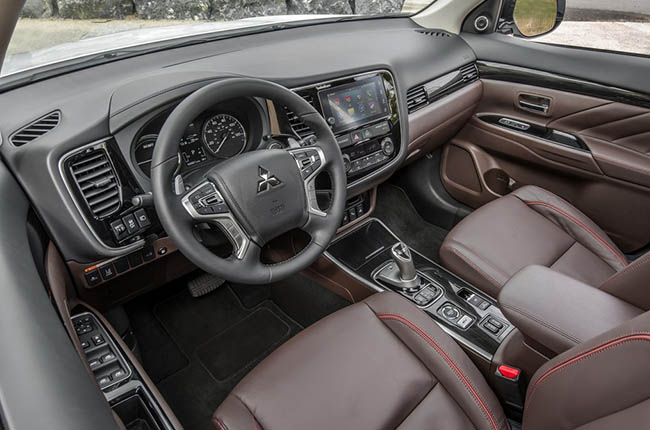 Mitsubishi Outlander Interior
Thanks to Touch Technology, monitors and gauges are placed smartly so that drivers and passengers can easily notice them in the car. On the other hand, selectors, switches, and dials boost the confident grip, making up the quality feel for all seaters. 
Technology
Mitsubishi car producers are extremely generous with Outlander, as it is granted with various features that can help trips become easier than ever while enlightening the driving experience. Although there is a powered seat setting, it is applied to drivers only.
For passengers, an 203mm infotainment system, 8-speaker sound system, and Smartphone-link audio system are provided to boost the in-car driving's convenience and entertainment. Last but not least, seaters can stay cool all the time with the automatic climate control system.
Various safety features are also included in ensuring safety while driving, such as the blind spot sensor, rear cross alert, lane-changing light assists, auto high beam, forward collision mitigation system, and adaptive cruise control.
Engine/Performance
This PHEV equips two motors paired with a 2.4-liter gasoline Mitsubishi outlander engine to produce 237 hp and 300 Nm of torque. Thanks to a Lithium-ion battery, the mill is electrified, with a fused engine and a single-speed transmission pair. 
Driving with Outlander is effortless, which does not require you to put much effort into the gas pedal to keep it sliding on the long way. 
Mitsubishi Outlander Pros And Cons
Here are the pros and cons of Mitsubishi Outlander 2022 to consider whether it is a good choice or not: 
Pros
Economic fuel use

Cool exterior styling

Best-in-class 4x4 system

Top-tier safety for passengers
​

Cons
Plain cabin

Lack of options

​
Mitsubishi Outlander Price
The price for Mitsubishi Outlander in the Philippines starts from P2,998,000. 
Although the price is quite high for a 5-seater, with Mitsubishi's timeless quality in every car it manufactures, we believe that Mitsubishi Outlander will be a great choice to buy as a lifetime-used vehicle for you and your family.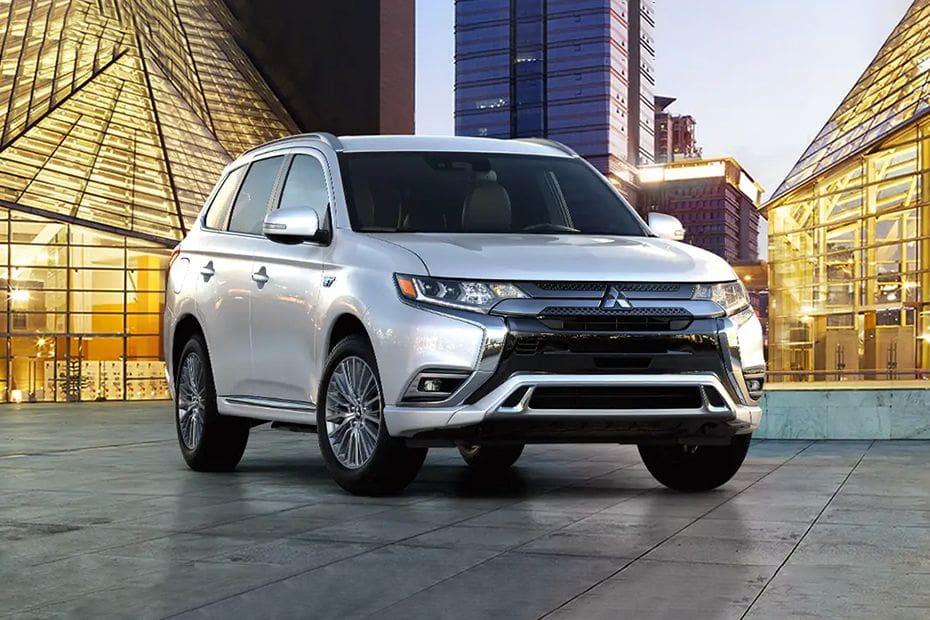 Mitsubishi Outlander Price
Competitors In The Same Price Range
Many Outlander PHEV rivals in the Philippines market, including Audi Q2, Toyota Land Cruiser Prado, Hyundai Palisade, Hyundai Santa Fe, and Ford Explorer. These cars have better specs than Outlander and vice versa. 
So, you must find out what you specifically need in a car and see if Mitsubishi Outlander satisfies that need or not before comparing it with its rivals in the same price range. The costs for these cars can be cheaper, but it does not bring you as much convenience as Outlander.
Conclusion
And that's everything we have on the detailed Mitsubishi Outlander review. After this article, we hope that you have cleared up your mind about whether you should buy this vehicle or not. It is a good family car that should be together with you and your family on the way!
Thank you for reading this article. Also, you may read our writing of any other model on Car Review to get more thoughts on the subject. If you have any question, feel free to comment below or contact with Philcarprice.com!