Nissan GTR Specs, Features, And Price In The Philippines 2022
Updated Jun 17, 2022
Nissan GTR is a superpower sports car appearing as a legendary iconic in many games, comic books, and the most exciting film - Fast & Furious 6. So, what is to expect from this Japan coupe? Check the Nissan GTR specs and features to find more.
Overview
In 2007, Nissan launched a new car named the GTR, the Japanese car manufacturer Skyline GTR. 
The Nissan GTR created an outbreak in the sports car aerodynamics with its thrilling performance. In 2008, this model was banned in the United States due to its terrifying speed.
Since then, this car has become a dream for many fans, car builders, and professional car racers.
Nissan GTR 2022 was introduced with two more limited editions: GTR Premium Edition T-spec and GTR Track Edition. They come in two outstanding colors, Midnight purple, and Millennium Jade, for bold and mystery looks.
Although these editions haven't appeared in the Philippines yet, they also slightly affect the Nissan GTR price Philippines. Let's check the latest price update below.

Nissan GTR Engine 
Nissan GTR price Philippines
Nissan GTR 2022 in the Philippines starts at ₱8,900,000 Million for the entry-level, while the top of the line is priced at ₱13,200,000
If choosing a financing breakdown plan, you can own this supercar at ₱1,068,000 and a monthly payment of ₱626,086 for 12 months.
The price may vary in different areas and variants. It is also affected by market changes and other reasons.
Why is Nissan GTR price Philippines so high? You will find the answer in the next part of this article.
Nissan GTR Specs 
Since its first launch, the GTR has featured amazing specifications that many supercars dream of. In Nissan GTR 2022, the manufacturer continues to rewrite their legend with the specs below:
Nissan GTR 2022: The Legend Continues
Exterior
The overall dimensions of the Nissan GTR are 4,690 x 1,895 x 1,370 mm, which are considered standard sizes for a sports car. Combined with a ground clearance of 100 mm, this supercar creates a better grip and a small turning radius of 5.5 m.
To turn the Nissan GTR become a true monster on the racetrack, the manufacturer designed a larger grille and C-pillar to cool the engine effectively and prevent the vortex, leading to a higher performance of the car.
Nissan GTR comes in 7 variants of colors. If you want a coupe with dark mode with a robust and "cool" look, you should consider Gun Metallic, Pearl Black, and Ultimate Silver.
Katsura Orange and Variant Red should be your best choices if you love warmer tones with light colors. Bayside Blue and Pearl White versions are more neutral and suitable for anyone.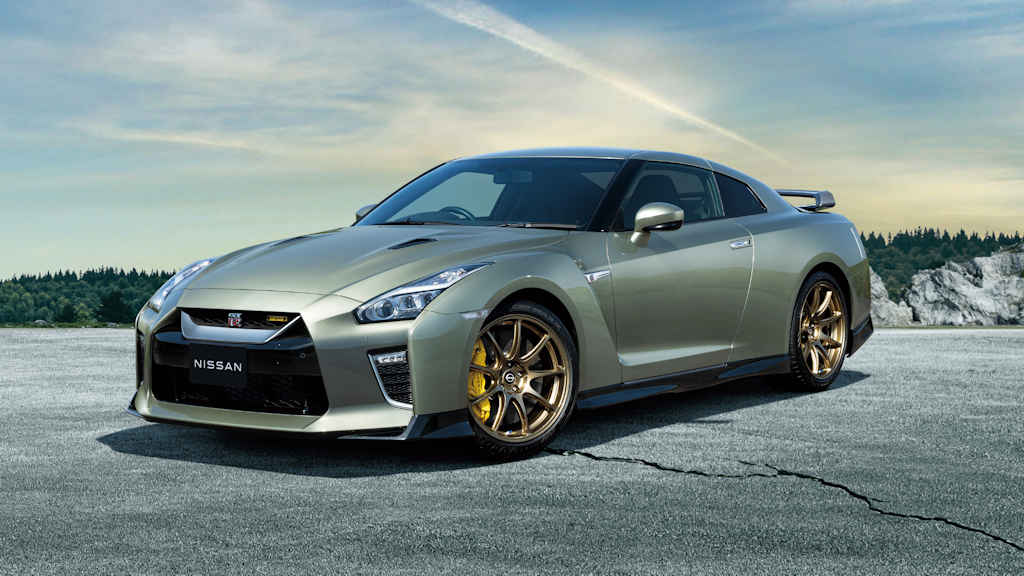 Nissan GT-R Exterior
Interior
The Nissan GTR interior has many colors with high-end leather material to enhance its luxury and sporty vibes. Rakuda Tan, Red Amber, Black, Kuro Night, Hai Gray, and Black/RED.
The supercar space is good enough for four passengers. The driver seat offers an 8-way adjustment and spacious front legroom to elevate the driving experience.
Performance
Nissan GTR engine is equipped with a 3.8 l Twin-turbo premium unleaded V6 to deliver the max output of 600 hp and 481 Nm.
The Nissan GTR top speed hits 205 mph thanks to its powerful engine. It takes only 2.5 seconds for this supercar to reach 0-60 mph, 0.2 seconds faster than its competitor - the Porsche 911 Turbo S-one. Such a great acceleration!
Fuel Economy and Range
It is not easy to own a Nissan GTR in the Philippines due to its price. It is also costly to run the car. 
According to the manufacturer, the GTR fuel economy is 20.2mpg at the ideal condition. The Nissan coupe emits 316g of CO2 for each kilometer, low in the sports car segment.
Technology
A highlighted technology of Nissan GTR is NissanConnect Services which allows drivers to monitor the car from a distance, make an emergency call, set up the limit for their car, and map their way quicker.
Equipped 8" touchscreen with Bluetooth integration, Apple CarPlay, two USB ports, and 11 speakers, you can enjoy the drive with music, joy, and excitement. The Rearview Monitor and Display Commander support you to control the car better and safer.
The Nissan GTR features soundproof technology to minimize the noise. Combined with the smooth engine and low ground clearance, the car runs quietly for noise-free journeys.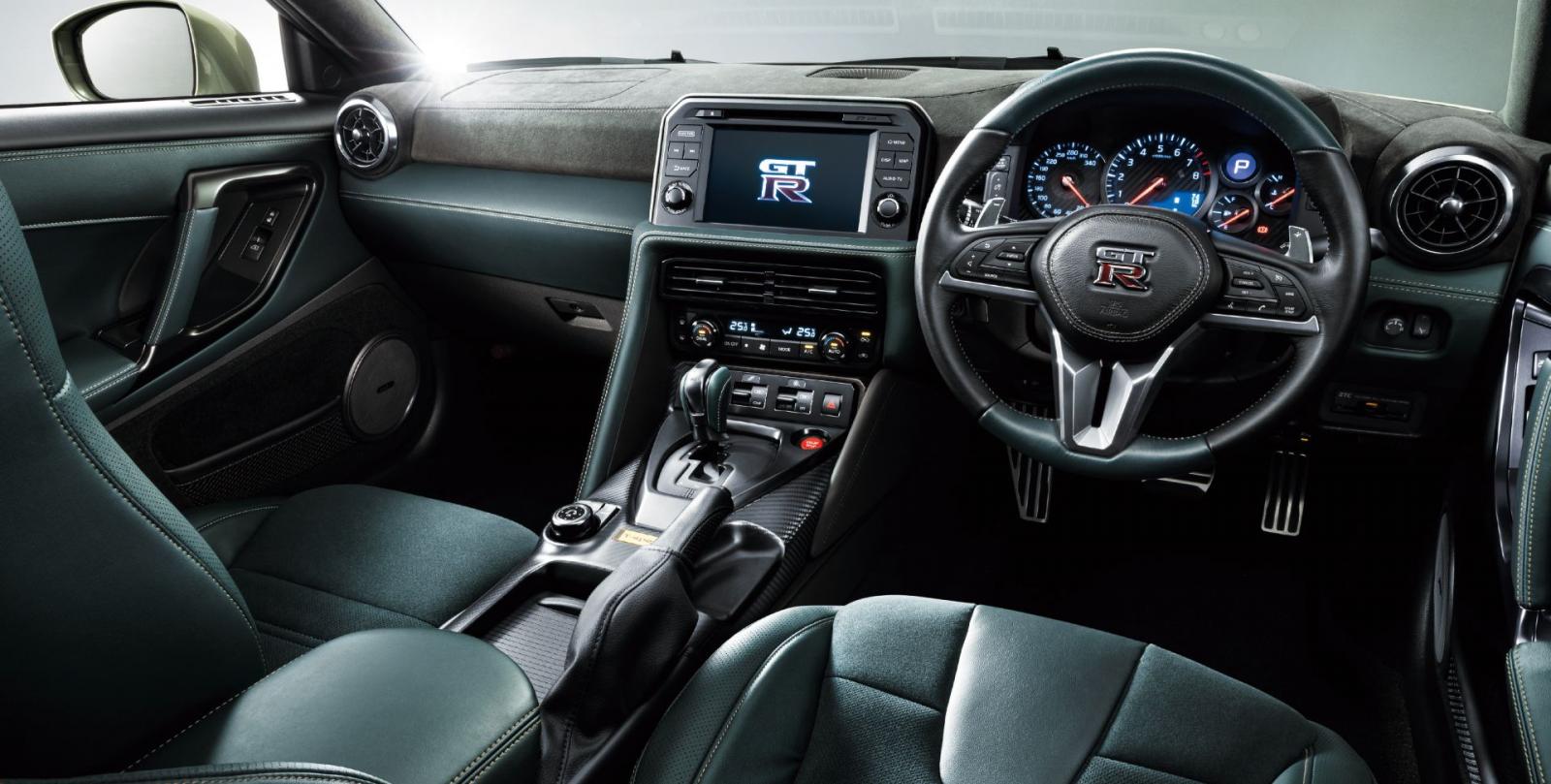 Nissan GT-R Interior
Conclusion
Despite its high price in the Philippines, Nissan GTR is still a dream coupe for high-speed lovers thanks to its world-beating performance, robust and dynamic design, and luxury.
We hope the Nissan GTR specs, features, and price above are informative. Also, you may read our writing of any other model on Car Review to get more thoughts on the subject. If you have any question, feel free to comment below or contact with Philcarprice.com!
View other reviews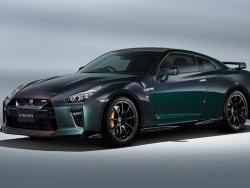 Automatic
Coupe / Convertible