Toyota Land Cruiser Review - Big SUV With Fierce Power
Updated Jun 29, 2022
Toyota Land Cruiser is the "legendary" model with the longest history of the Japanese brand on the market. This car model has its style, and its customers are also unique. Over a long time, the position of the Toyota Land Cruiser in the hearts of global users has remained unchanged through generations. 
Entering the new generation, Toyota Land Cruiser 2022 brings a comprehensive change and many new features. Read the article about Toyota Land Cruiser review below to know more.
Toyota Land Cruiser Review
Exterior
In the new generation, the Toyota Land Cruiser 2022 is developed with the all-new TNGA (Toyota New Global Architecture) platform of the Japanese brand to reduce the size and increase the car's impressive performance.
This car model seems to be attractive thanks to the pitiful, pedestal look of the president's car. The car's grille is silver horizontal slats; the 3D logo in the center position brings the brand identity to customers.
According to the Toyota Safety Sense advanced safety technology package, the lighting system has been upgraded with fully adaptive LEDs. The LED daytime running lights of the Land Cruiser cum turn signals with a chasing beam design like Lexus are extremely luxurious and modern.
Interior
The Toyota Land Cruiser 2022 interior still inherits the simple and practical style from the old generation. However, it has been completely redesigned to become more sophisticated, luxurious, and high-class.
The entire interior is covered with high-quality leather combined with many decorative details of wood and metal panels. The central screen turns into modern floating. The function buttons are neatly and scientifically arranged to help the driver easily manipulate in many situations.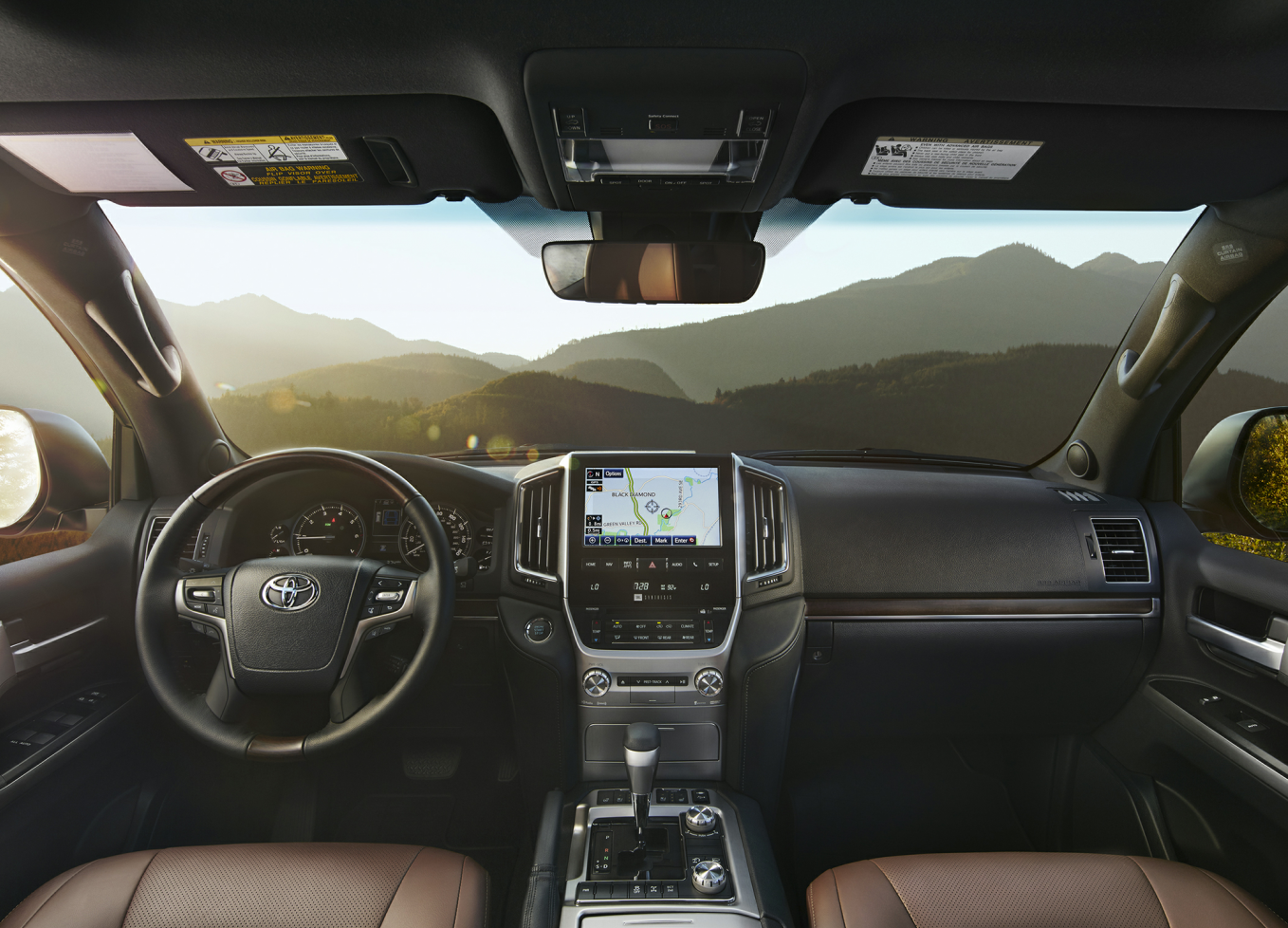 Toyota Land Cruiser interior
In addition, the steering wheel is also now changed with a 3-spoke leather-covered design and wood-grained panels to bring a premium to the user. The passenger compartment is widely appreciated with a wheelbase of 2850mm. The second and third rows of seats have legroom that is just right, if not too spacious.
Engine And Performance
One of the biggest improvements on the new generation Toyota Land Cruiser engine is to use a V6 Direct Injection engine (305 hp).
This new engine block gives superior power while having a smaller capacity. As a result, fuel consumption, as well as emissions, are significantly reduced. In the new generation, Land Cruiser has achieved Euro 5 emission standards.
The "terrible" 3.5L V6 Turbo engine combined with a smooth 10-speed automatic transmission gives the Toyota Land Cruiser top speed exciting acceleration phases, confidently conquering all roads.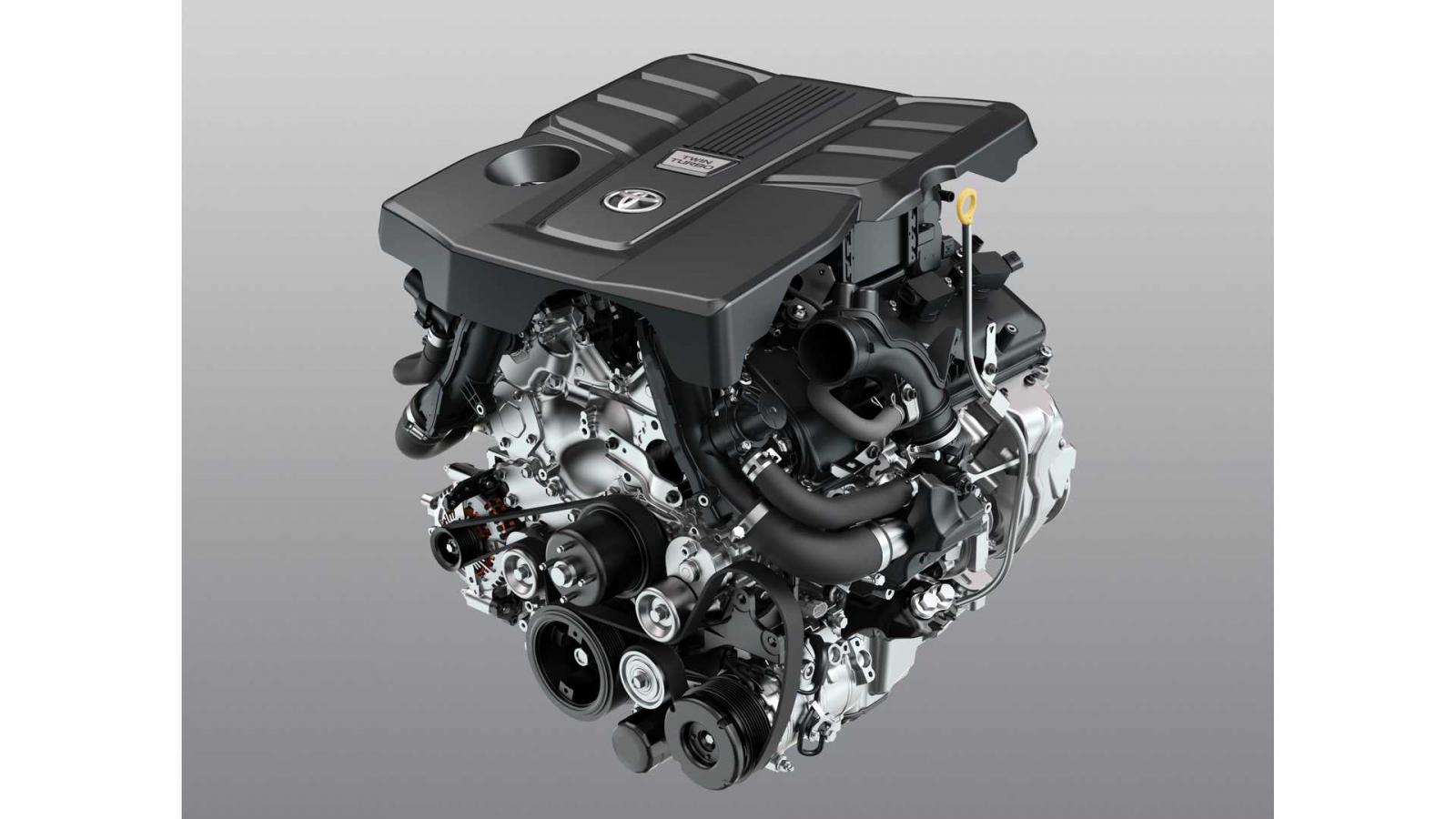 Toyota Land Cruiser engine
This large SUV of Toyota proves itself worthy of the title of "terrain king" when equipped with a series of driving modes (Eco/ Normal/ Sport), multi-terrain select mode, and self-configuration terrain selection.
Safety And Technology Features
Toyota Land Cruiser off-road has been upgraded to a 12.3-inch touch-sensitive central screen that integrates a multi-terrain screen and a navigation system.
The car uses 4-zone automatic air conditioning, with separate air vents for the rear seats. Besides, many other modern amenities include:
Wireless charging.

Cold box.

Electric sunroof.

Electric glass doors.

Active noise cancellation system.

Smart door opening feature.
Land Cruiser affirms its level with a series of modern features regarding the safety system. The car is added with the Toyota Safety Sense safety package, including pre-collision warning, active cruise control, lane-keeping assist, and automatic high beams.
In addition, this car model is also equipped with: tire pressure warning, downhill assist system, terrain assistance, blind-spot warning, rear cross-traffic alert, pre-collision warning, sensors parking assist variable (front, rear, front corner, rear corner), 360-degree panoramic camera.
Toyota Land Cruiser Pros And Cons
Pros
Powerful design, bunker but also more sophisticated

Add many high-class amenities

New 3.5L Twin Turbo V6 is a more powerful, more fuel-efficient

The smooth 10-speed automatic transmission in many conditions

There are multiple driving modes and terrain selection modes
Cons
The price is on par with luxury SUVs
Conclusion
Toyota Land Cruiser 2022 has had a comprehensive change compared to previous generations and has become a sought-after choice by customers. This model possesses a pitiful, youthful appearance, a modern and comfortable interior, expensive safety technologies, and impressive performance thanks to a new engine.
After reading the Toyota Land Cruiser Review, Car Price Philippines hope you will make the best decision when choosing a car to buy.