Ford Everest Modified - How To Make It Unique?
Updated Apr 26, 2022
Introduction
Ford Everest is a mid-range model that the company produced exclusively for the Asia-Pacific market in 2003. Its 3rd generation was just launched in March and was gotten at quite a high evaluation in the Philippines market.
The Ford Everest Modified article will provide you with the necessary information to upgrade and optimize this vehicle; you may have a better driving experience. Don't miss any single detail!
Ford Everest Overview
Ford Everest 2022
The Ford Everest model impresses its strong appearance with its logo in the middle of the grille. The wheels have also been enlarged to 20 inches.
Meanwhile, the interior is wide and fully upholstered in leather, with sparkling stitching accents. It is considered an exclusive design of the company, which can only be seen in off-road vehicles.
Technology and safety features are also upgraded, such as remote start button, electric seat belt, parking sensors, seven airbags or blind spot detection system, etc.
The company launched this model with four variants, including Trend, Sport, Titanium 4x2, and 4x4, priced from ₱1,738,000 to ₱2,299,000. Along with them is a collection of 6 different colors Aluminum Metallic, Meteor Grey, Snowflake White Pearl, Diffused Silver, Absolute Black, and Deep Crystal Blue.
Ford Everest Modified
Official Accessories
Ford Everest accessories are the first things you can change because they can be easily found at its dealers. These components will help maximize the functions and utility that this 7-seater SUV offers.
Exterior
As for the exterior, you can upgrade with products like direct-mount roof rails, trolleys, and sunseekers.
The use of the crossbar is to increase the vehicle's luggage capacity. It is suitable for anchoring bulky items that you cannot fit in the cabin, such as mountain bikes, large camping tents or fishing gear, etc., with a maximum load of up to 70 kg.
The trolley comes in various sizes, with aerodynamic deflectors and large windshields. It is used as an accessory to help you move goods or camping equipment, etc.
Finally, the sunseeker, you can think of it as a movable roof installed in the roof rack. It can be expanded or retracted, beneficial for outdoor parties or camping.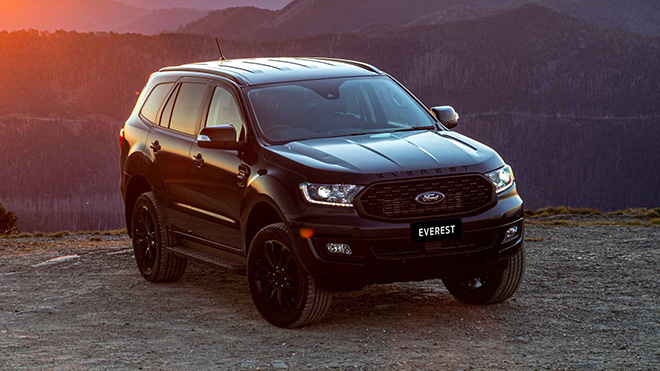 Ford Everest Exterior
Interior
As for the interior, the available upgrades come from the cargo net, lining, and lid. They are set up to protect against thieves from snooping on your property.
When you carry a lot of small, easy-to-fall goods, the cargo net will be a great assistant to help you keep them in place. Its design is like a fishing net, but the material is stronger and adds many small hooks to fix it to the car.
Meanwhile, the mat keeps the floor shiny, and the lid covers the items in the trunk more conveniently when you need to pull them down.
Wheels And Tires
With Ford Everest modification, you have many options to upgrade your wheels. It has many different brands for you to experience, such as Grid, BCC Wheels Premier, or Rota. They are beautifully designed, strong, and can handle any terrain.
Tire improvement is also not a good choice. If you have a chance, you should change it to a radial tire. It is made of thin steel fibers and has good impact resistance and less heat generation. Some brands you can consider are Falken Wildpeak AT3W, Cooper Discoverer STT Pro, and Eldorado Wild Trail CTX.
Suspension And Lift Kits
You should note that Ford Everest customized will no longer be covered by the warranty. Therefore, you should consider it carefully when you need to change something.
For an off-road vehicle, changing lift kits will entail changes in ride height, wheels, tires, and suspension. They can get you into trouble while driving, so be on the lookout.
You can improve the suspension, have a large rear swing bar or increase the characteristic roll stiffness of the rear end. These changes will increase your experience when crossing the terrain, helping the car grip the road well and bring it to a more balanced position faster.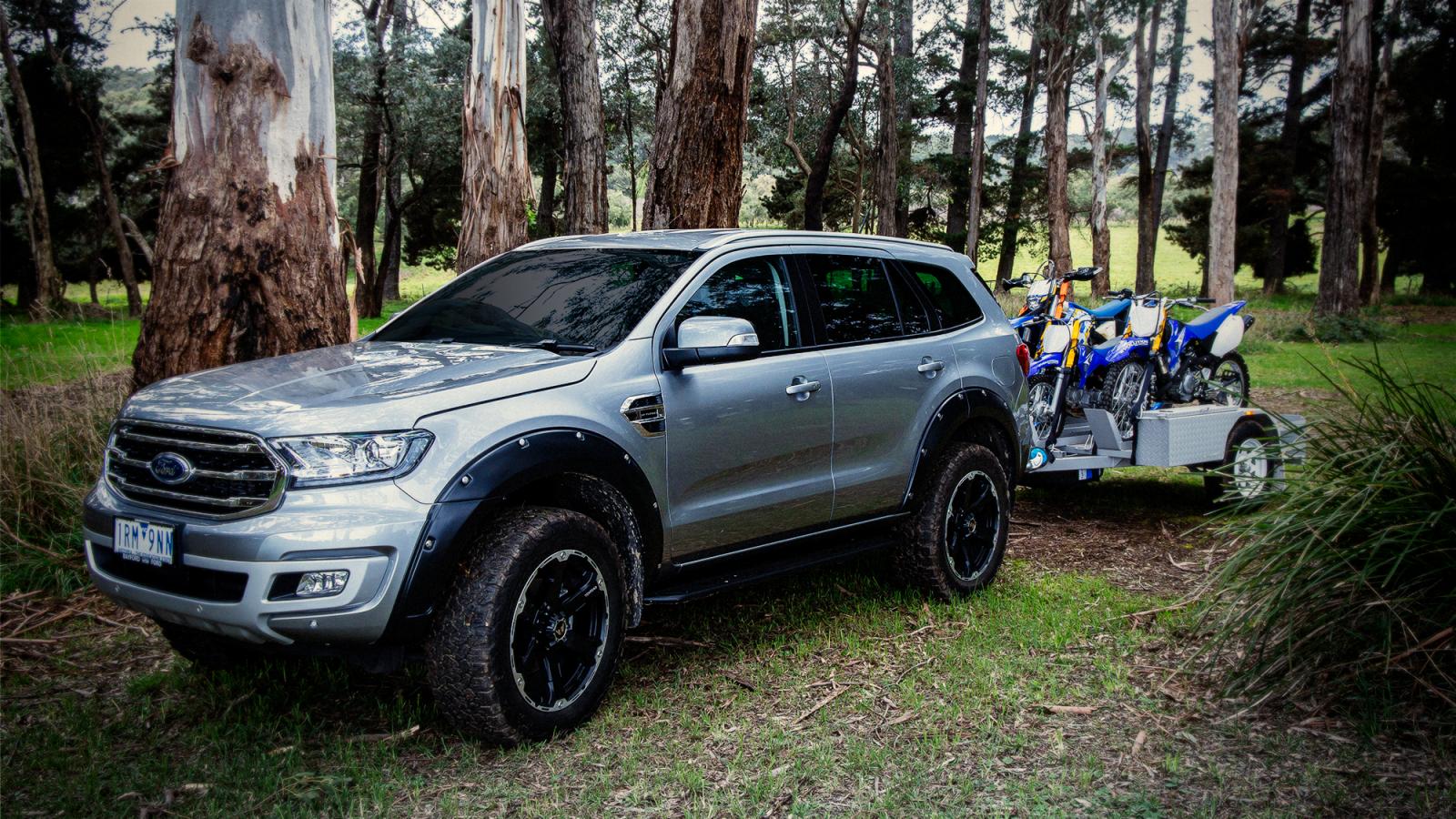 Ford Everest customized
Tow bars
The towing force of this vehicle can be up to 3,100kg (6,834 lbs). However, you cannot arbitrarily hook the cable into any part of the vehicle to pull it because it can damage the vehicle and be very dangerous. Therefore, you need to install the drawbar for that to work. It is fastened to the chassis and placed directly under the car's rear bumper, providing a sense of certainty and taking advantage of the force of the whole car to tow.
For Ford Everest 4x4 modified, when in use, the engine's traction control function is disabled, while this function at the brake still works.
Conclusion
You can improve your vehicle by assembling or changing some parts such as:
Exterior or interior accessories

Wheels and tires

Suspension system

Tow bars
​You will no longer be covered by the warranty for changes to the system and engine even though it is still within the period. The Ford Everest Modified article hopes that you may consider it when upgrading your car and have a better experience afterward.
Thank you for reading! We hope you look forward to seeing more Tips and Advise article like this. If you have any question, feel free to comment below or contact with Philcarprice.com