Nissan Patrol Modified - How To Upgrade Your Full-size SUV Car?
Updated Jul 28, 2022
Nissan Patrol is a full-size SUV made in Japan and sold worldwide since 1951, with 1.9 million units sold. In the Philippines, this model is the owner's priceless 4WD off-road vehicle, perfect in design, engine, and technology. Thus, Nissan Patrol modified cars appeared one after another, confirming that you can still upgrade good cars even better. If you are curious about them too, keep on reading this article!
Nissan Patrol Modified: Tyres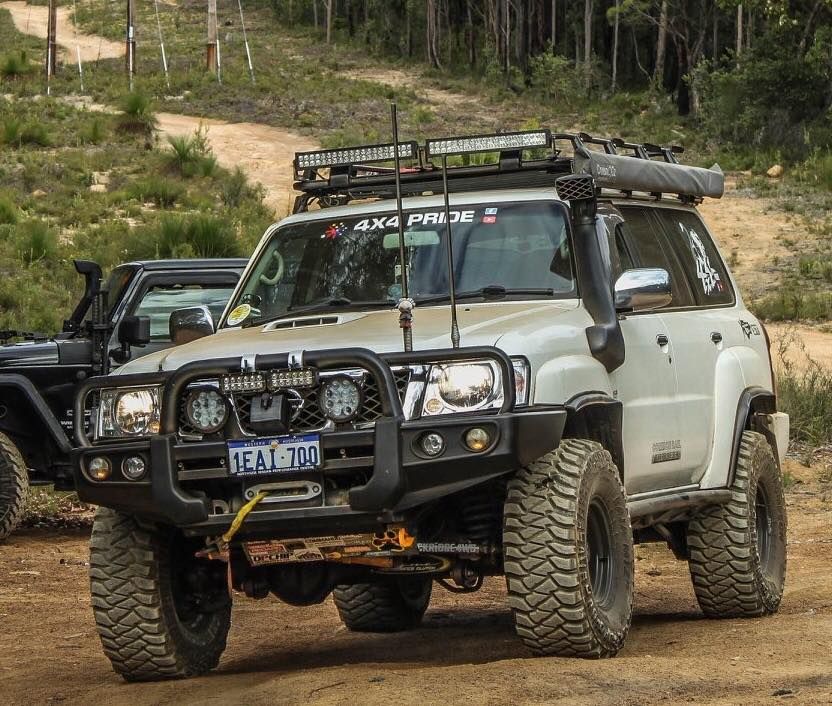 Improved Nissan Patrol for off-roading
The Nissan Patrol 2023 is launched with 275/60 ​​R20 all-season tires and 20-inch alloy wheels. Then, each improvement for its tires will positively affect its speed, fuel economy, and performance. And for each tire you choose to upgrade, you may get different results. Some options you can consider are:
Open Country AT (₱ 22,560): good traction in all weather conditions, optimizing performance and reducing outside noise affecting the cabin.
Roadian AT Pro Ra8 (₱ 10,510): reduces tire damage when traveling on gravel and rough roads and has good traction.
NS501 (₱ 8,900): tread pattern suitable for all weathers and terrains, with high traction ability.
In addition to choosing the right tire for your vehicle and economic ability, you should also pay attention to the tire lifting regulations according to the National law. 
In the Philippines, you can change your tires and rims, but you have to stick to the old size and use standard replacements. Before making a decision, you should also consult to avoid fines or cancellation of vehicle registration.
Nissan Patrol Modified: Suspension
To upgrade car, suspension is a thing you can improve.The suspension of this year's model is Double Wishbone with Hydraulic Body Motion Control (HBMC), which absorbs bumps on the road and reduces the vehicle's tilt at bends. Combined with it are 20-inch wheels, creating a ground clearance of 275 mm, helping the car overcome difficult terrain and easily return to a balanced position.
Nissan Patrol lifted suspension will improve the vehicle's slope, approach, and departure angles to improve your ride experience better than originally designed. A standard lift is usually about 2 inches or 50 mm.
Most brands offer discounted prices on suspension devices, whether shock absorbers or springs, saving you even more money on improvements. You can refer to brands like Ironman, Dobinson, or Old Man Emu to get good prices.
Nissan Patrol Modified: Protection
Underbody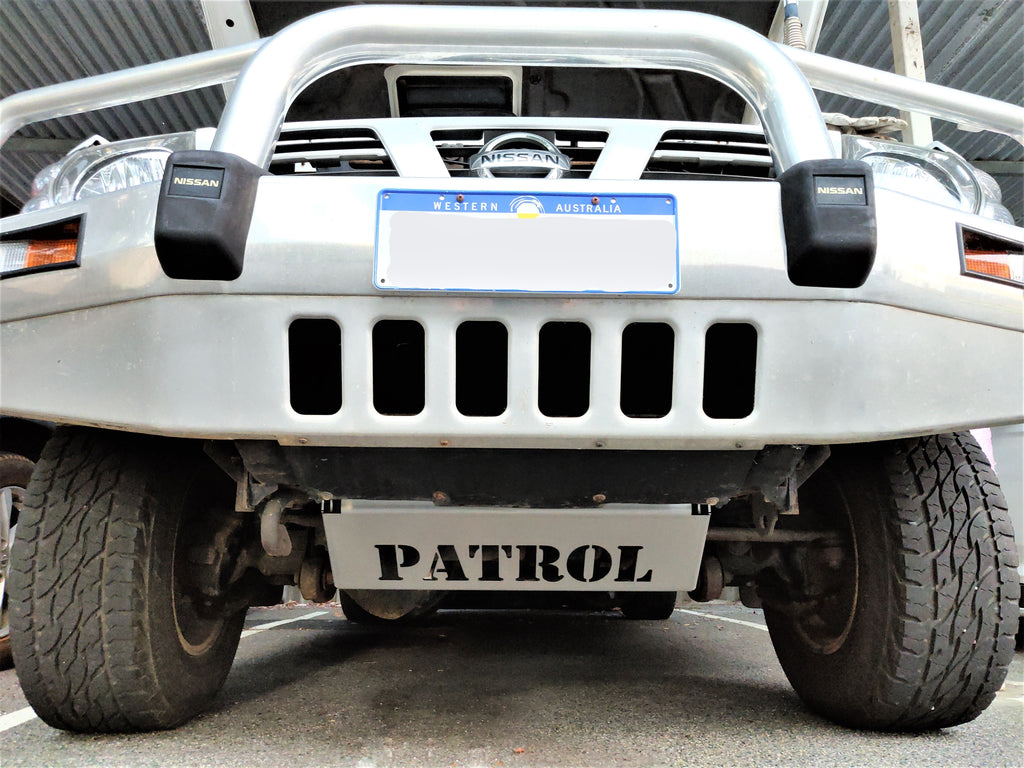 The bash plate protects the car's engine part
One of the Nissan Patrol accessories that need to be mentioned is the Bash Plates, which are specially used for 4WD cars. This 3-4mm thick shield is placed in important places such as motor, transfer, transmission, and radiator and protects them.
As a result, their lifespan can be extended, and you also save money after letting your vehicle go through muddy, rough terrain.
Steps/sliders and Rails
The next accessories will protect the sides of your tanky car. They are usually made from plastic with a steel frame support to limit the increase in vehicle weight when installed.
Steps/slides protect the sill from impact when exposed to rough terrain. While the rails help keep the exhaust pipes from getting caught in any obstructions, it also tilts 10 degrees for easy cleaning.
Rear Bar
Nissan Patrol 4x4 modified rear bar is a great and aesthetic solution to prevent damage to the vehicle's rear. It is also a tool to regulate aerodynamics, reducing drag on the vehicle's rear in the inclined or vertical direction, helping to move faster and save fuel. You can also use it to hold the spare tire or jerrycan.
Nissan Patrol Modified: Gadgets/Electrics
Maps
This year's version uses a portal compatible with two operating systems Android and iOS, using Google Map and Google Assistant to assist the driver. However, you can change this system with other map types, like HEMA, and still give equivalent results. The HEMA map regularly updates or displays new and detailed routes that are hardly available on Google.
Brake Controllers
This model is installed with Ventilated Discs for front and rear brakes, capable of ventilation, reducing heat effect, and increasing efficiency when used. Combined with it are accompanying safety features such as Blinding Spots Warning, Forward Collision Warning, Lane Warning, Up/Downhill Assist, etc.
However, you can fully optimize it with the electric brake control (EBD). This system can activate and adjust the appropriate braking force for each wheel when necessary, optimally supporting the driver, especially when the road is slippery and it is uneasy to control the speed.
Dual Battery Systems
The dual battery system is a reserve energy source for other devices on the vehicle, such as refrigerators, electronic device chargers, lights, etc. It is usually installed on long-distance off-road vehicles and fully charged in the cabin area.
Solar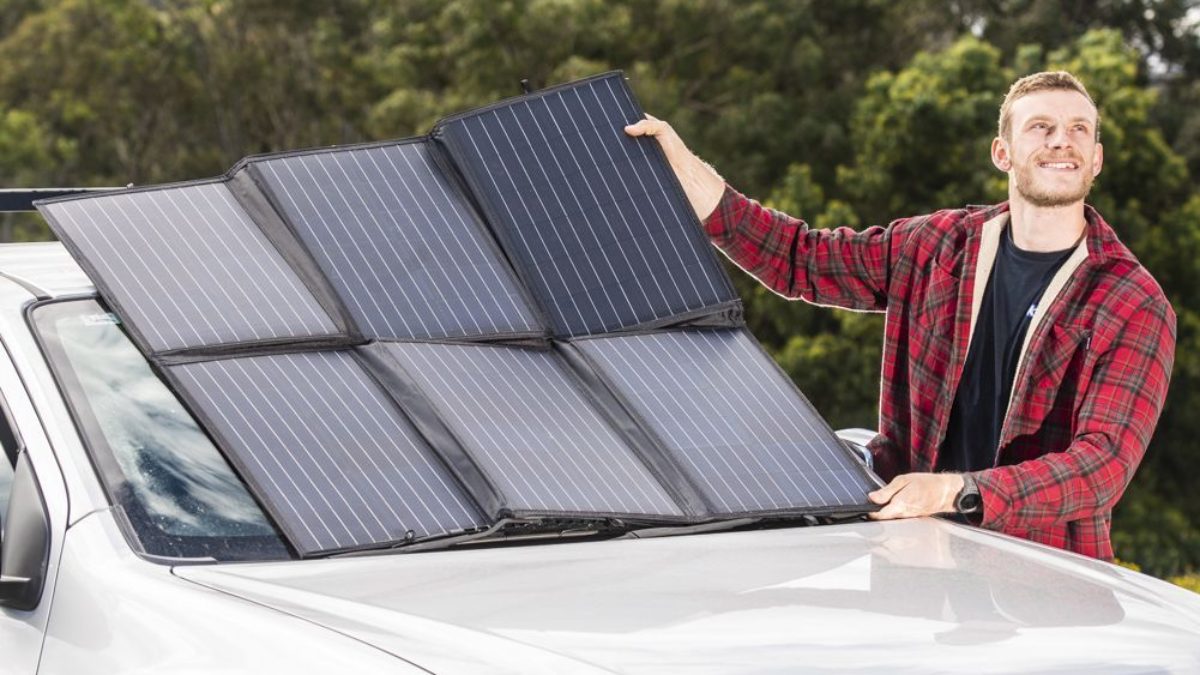 Solar blank is easy to fold, clean, and charge 
Similar to the above device, the solar panel is also a tool that can absorb energy and be used conveniently on the vehicle. My advice is to use blankets instead of panels, because they can be folded up in the cabin, although a bit more expensive. It's also durable, easy to clean, and connects to a secure charging port.
Conclusion
This car line has brought a pretty good experience to the driver with a strong design, luxurious interior, economical engine, and optimal protection features. However, you can still make it better with a few improvements to tires, suspension, accessions for protection, energy, etc., to suit your needs or preferences.
Hopefully, the "Nissan Patrol modified" article on Philcarprice.com can serve as a hint when you need to consider upgrading your companion.