Geely Azkarra Vs Okavango – A Complete And Concise Comparison
Updated May 30, 2022
In the affordable price range, not many manufacturers can stand up against Geely. That is why the most fierce competition in this range is a fight of Geely Azkarra Vs Okavango.
While both of these options come from the same producer, they have some key differences making them good competitors.
Geely Azkarra Vs Okavango – Exterior 
There is no way around it; a car's exterior plays a deciding role in one's resolve to buy it. With this in mind, we want to emphasize that each option holds specific leads over the other.
Aside from the fact that they both have five doors, there is practically no similarity between these cars. For instance, the Okavango is a 7-seater, making it much bigger than the 5-seater Azkarra.
To be more specific, the former measures up to 4835 x 1900 x 1785 mm in dimensions. The latter only reaches 4544 x 1831 x 1713. This difference in size also means a variation in wheelbase, with the Okavango being 2670 mm while the Azkarra only reaches 2670 mm.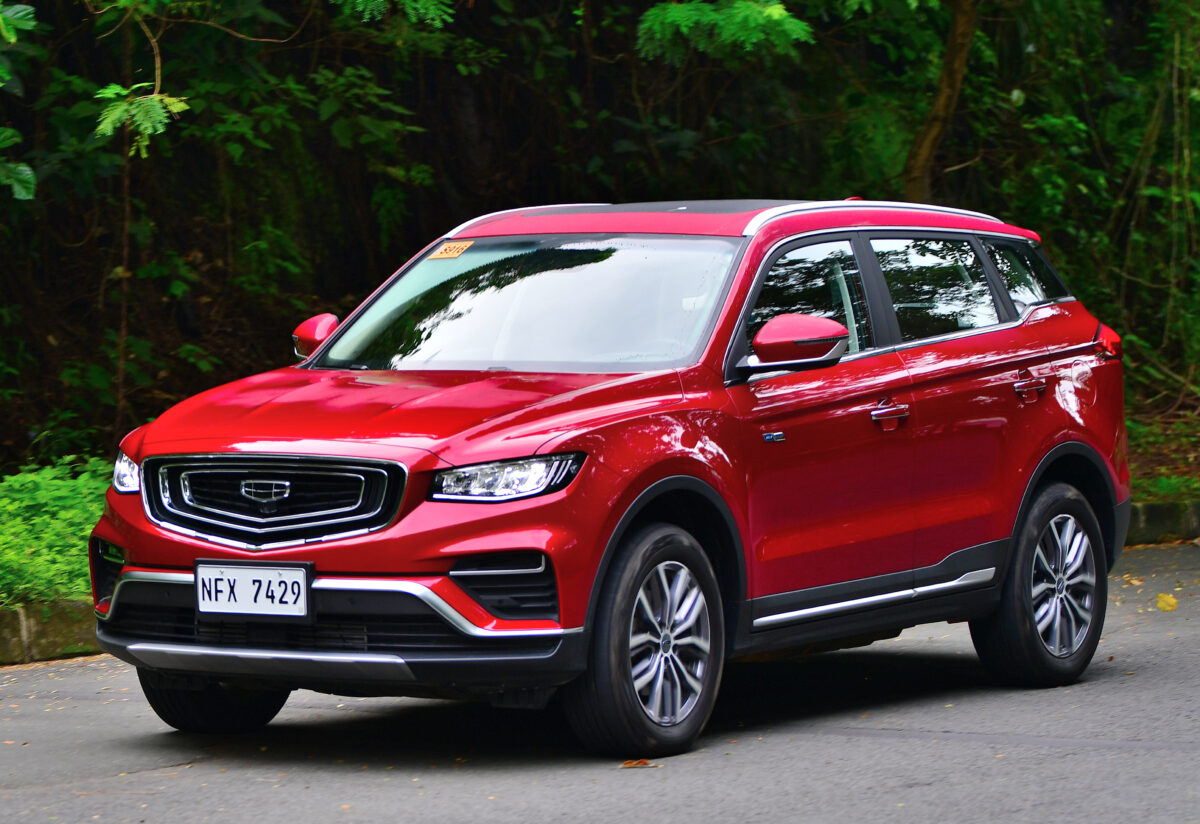 Geely Azkarra has a more robust appearance
Despite being larger than the Azkarra, the Okavango has an elegant appearance. This edge comes from its smoother lines following the two sides.
In this aspect, the Azkarra's more pronounced grilles and raised hood provide it with a bold look. It is among the most prominent example of the new Expanding Cosmos design that the brand introduced.
Azkarra seems to be more focused on being functional with the exterior features. A prime example of this commitment is the presence of automatic headlamps. You should not underestimate this seemingly unnecessary function, as it can significantly reduce the risk of accidents.
Another example of this functionality lies in the air intakes, which enhance the car's aerodynamic performance. They do so by stretching across the car's horizontal width.
It also has wheels bigger than Okavango by 1 inch. This number is not too large that the inertia loses force, but big enough that the car feels more stable.
Okavango Vs Azkarra – Interior 
The selling point of the Geely Azkarra interior is, without any doubt, comfort. It features only leather seats, which is notorious for making seaters feel comfortable. It also offers the ability to electrically adjust the seats so that passengers can relax as much as possible.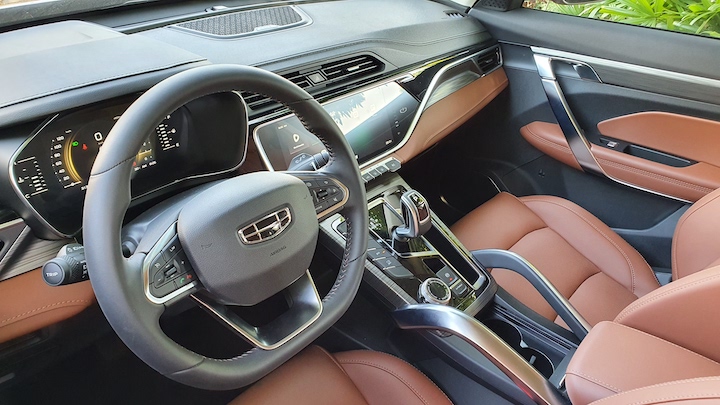 Geely Azkarra Interior
On the other hand, the Geely Okavango interior aims to be as classy as possible. For this reason, every single component has a layer of fabric upholstery.
While both cars have automatic air conditioning, there is a difference in effectiveness. The Azkarra only features a dual-zone model, while the Okavango's is a 3-zone one. This difference means that the latter holds an edge on the cooling speed, vital in hot climates.
Next is the entertainment system, in which the Okavango holds the lead. The Azkarra does offer a bigger touch screen, but its 10.25 infotainment system featuring QDLink is just too advantageous. This is not mentioning the sound system with four speakers.
Geely Azkarra Vs Okavango – Engine 
Both cars use the same engine type, featuring three cylinders, 1.5 liters, and 12 valves. The Geely Azkarra's DOHC style has a wider exhaust and intake angle. This leads to a better flow of air-fuel mixture across the engine.
The Okavango makes up for its lack of DOHC with a 7-speed gearbox. It is more flexible on the road, capable of reaching 190 HP and 300 Nm while the Azkarra can only get 177 HP and 255 Nm.
In exchange for a weaker performance, it has a better fuel consumption at 6.7 km/L. You will save quite some cash with this fuel usage if you keep the car for a long time.
Geely Azkarra Vs Okavango – Techs
The best part about the Geely Azkarra specs is that it has front parking sensors. This seemingly small detail can save you a lot of cash in the long run, especially if you are not that good at precision parking. With these sensors, there is no longer any risk of bumping.
This car has an all-wheel-drive style, allowing it to alternate between interesting modes. Some examples include an Eco mode that reduces fuel consumption, a Sport mode that excels at speed, and even an Off-road mode for more sticky situations.
We also love the sheer number of connection methods allowed in this car. Aside from the usual USB and Bluetooth, you get Auxiliary input and mirror linking. These features expand the reach of this car in the digital world.
Fans of safety will love the Cruise Control feature that only the Azkarra possesses. It reduces the cruising speed while maintaining good balance.
The Okavango is no slouch, either, with an incredible monitor system for tire pressure. This system is both quick and accurate, throwing out warnings as soon as there is a sign of a leak.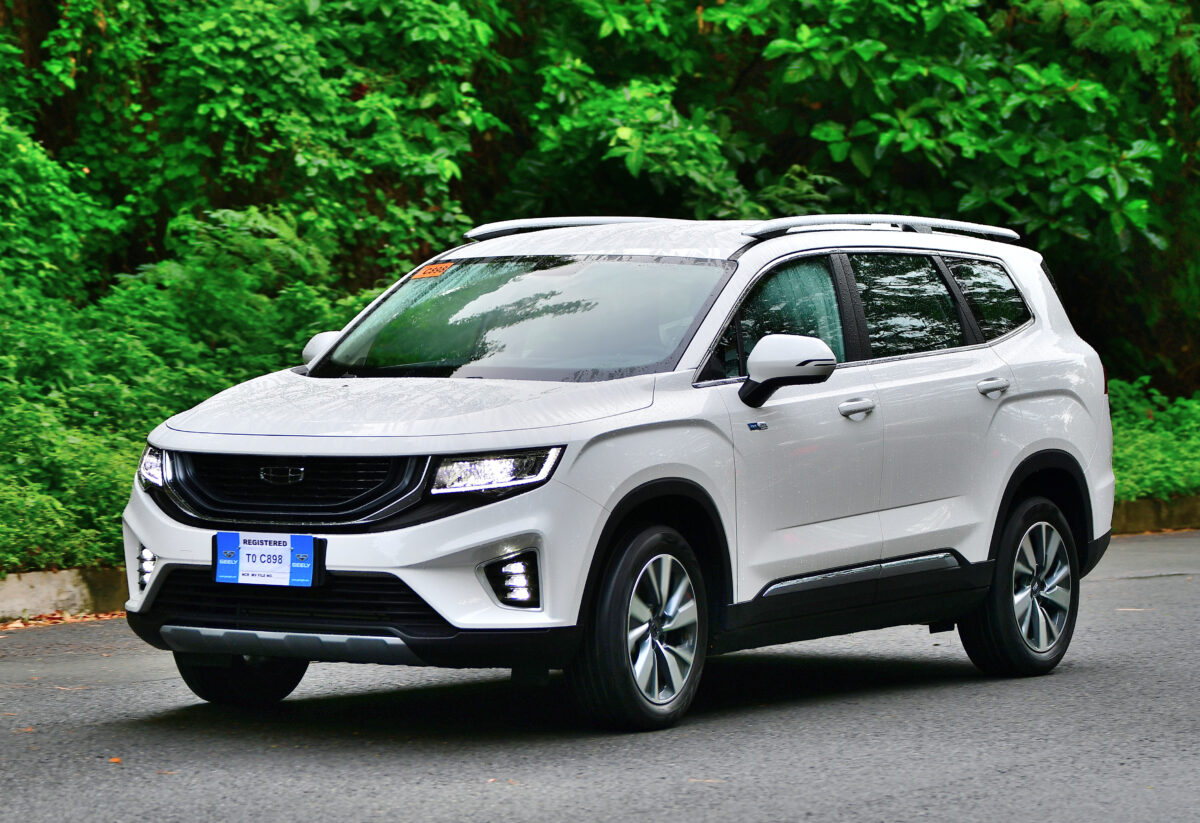 Geely Okavango has some interesting techs
If you are conscious of gas prices, you will love Okavango's start-stop system. It will shut the engine down automatically and immediately restart it. As a result, there is less idling time, leading to lesser fuel consumption and waste emissions.
Geely Azkarra Vs Okavango – Price
Currently, the Geely Azkarra 2022 price Philippines starts at around ₱1,628,000. The Geely Okavango 2022 price Philippines has three options, ranging from ₱1,218,000 to ₱1,488,000.
This range allows the people buying Okavango more options to customize according to their own situations. Such versatility surely scores a lot of points in this comparison.
Conclusion
All in all, there is no clear winner for Geely Azkarra Vs Okavango. Depending on the situation, one option will outshine the other. We believe that the Azkarra will hold the lead on more occasions, and the price difference also agrees with us.
The versatility that the Okavango offers is still good, though.
Thanks for your reading! Also, you may read our writing of any other model on Car comparisons to get more thoughts on the subject. If you have any question, feel free to comment below or contact with Philcarprice.com!