Nissan Terra Vs Toyota Fortuner - Battle Of 7-Seat Suvs
Updated Jun 03, 2022
Toyota Fortuner is a name that is too familiar to Filipinos, and the popularity of the Toyota Fortuner is undisputed. But, because the 7-seat SUV segment is increasingly trending, many other car brands still want to share the market share. 
A series of major car manufacturers entered, and one of the most prominent names was the Nissan Terra. So, which one should you choose, between Nissan Terra vs Toyota Fortuner?
Overview

 

Of Toyota Fortuner Vs Nissan Terra
Toyota Fortuner is undoubtedly the name most people interested in automobiles can name in this high-ground SUV sector because of its popularity.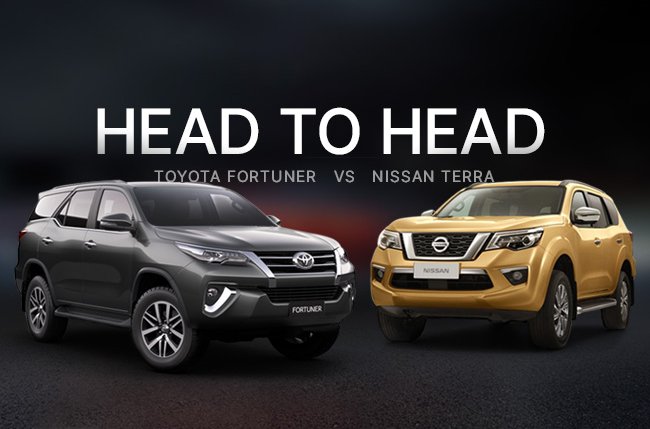 Nissan Terra vs Toyora Fortuner
Nissan Terra has officially begun the struggle with the tough opponents in the SUV 7 class, even though it is still a relatively new moniker. 
As a result, to achieve sales objectives and fight for a lucrative market share with the rivals, Nissan Terra specs takes its path: low selling price and a concentration on safety technologies.
Nissan Terra Vs Toyota Fortuner - Exterior

    
The huge, muscular Nissan Terra has a touch of modern beauty while remaining manly with its overall dimensions of 4900 x 1865 x 1835 mm. It is generally bigger than Fortuner's robust and dynamic look, with dimensions of 4795 x 1855 x 1835 mm.
Terra has an appealing design based on a body-on-frame chassis derived from the Nissan truck series, giving the car a sturdy and solid feeling. 
Nissan's steering wheel stands out and is drawn to by powerful lines with a sleek V-shaped grille and eye-catching LED lighting systems on both sides of the automobile. The angular front bumper features air vents merged with discrete spherical fog lights.
For this Nissan Terra Vs Fortuner exterior comparison, Terra seems large and solid on all roadways. When viewing the automobile from a distance, the grille bordered by extended horizontal bars creates a sensation of excitement. The automobile, like Terra, has crisp LED front lights, and the front bumper and air cavity are styled and exceedingly delicate.
Nissan Terra vs Toyota Fortuner - Interior

    
Toyota Fortuner Specs used to be proud of its big cabin with a wheelbase of 2745 mm, which seemed to be a rarity in vehicles. However, Terra altered the game by increasing that amount to 2850 mm to let consumers feel more at ease and enjoy sitting in a vast space.
Stepping inside, the predominant dark tone unites these two SUVs. The dashboard is extended in an appealing black hue, while the complete seats and upholstery are in a lovely and sumptuous brown color.
Fortuner seats have leather upholstery and felt upholstery, a dynamic design, 8-way electric support with the driver's seat, and 4-way manual auxiliary seats. The second row of the automobile can recline the seat back and fold 50:50 to the sides with one touch, while the third row can recline the seat back and fold 50:50 to the sides quite easily.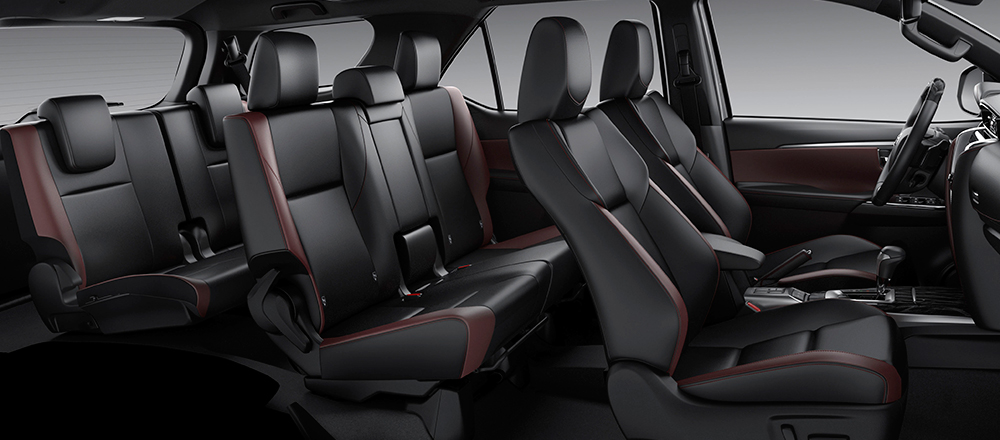 Toyota Fortuner Interior
The third row of the Nissan Terra is more than the competitors because it is more spacious and can make people comfortable when sitting.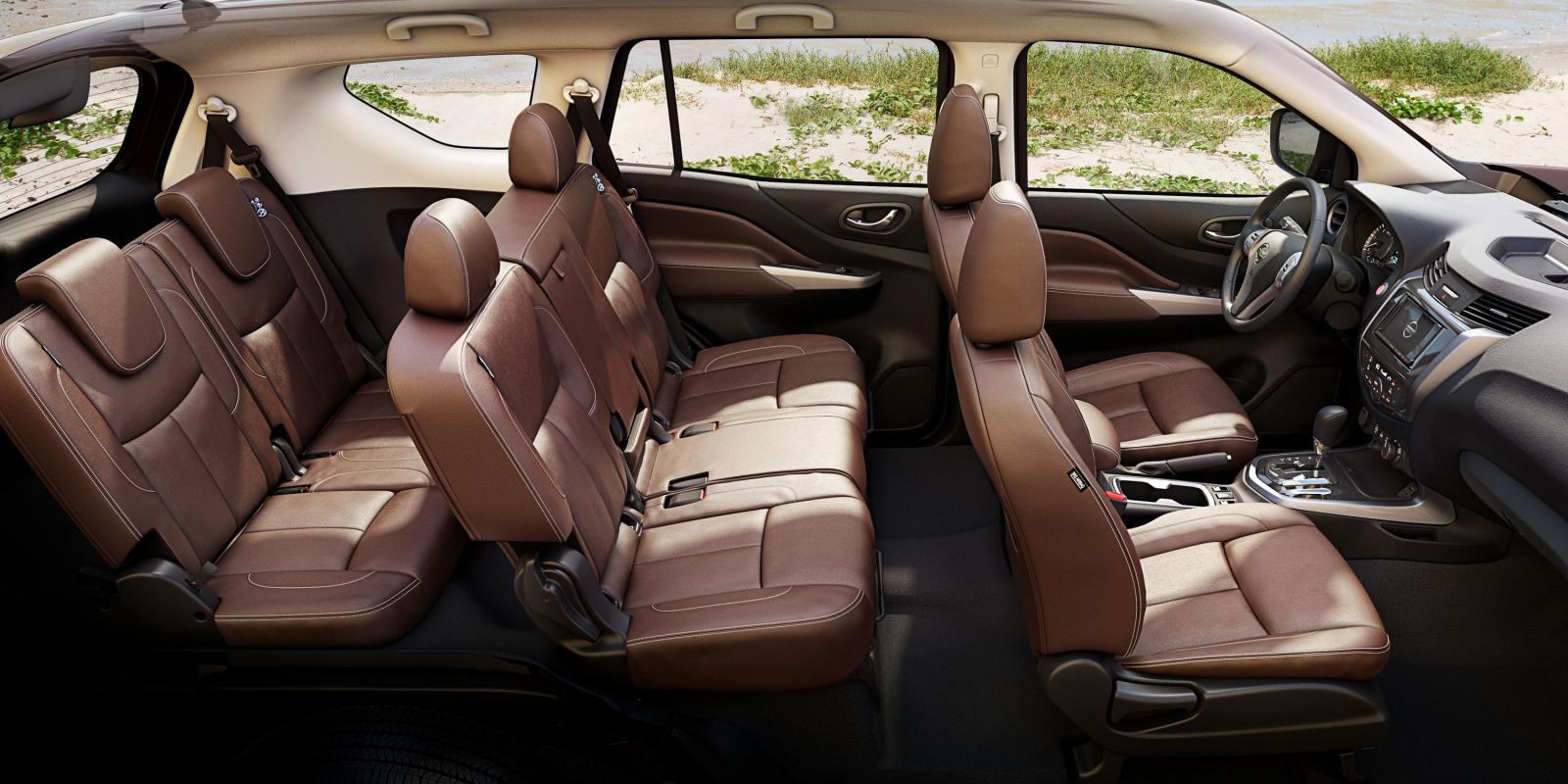 Nissan Terra Interior
Toyota Fortuner 2022 provides consumers with a vibrant image thanks to a DVD system and a 7-inch touch screen that incorporates six high-class speakers, Bluetooth, AUX, and USB connectivity.
In this specs of Terra Vs Fortuner, Terra becomes even more creative and sophisticated when the center console is outfitted with a 7-inch touch screen entertainment screen and a 6-speaker sound system, allowing you to relax and enjoy the great moments that the car delivers.
Nissan Terra Vs Toyota Fortuner - Engine

    
The Toyota Fortuner Engine is a 2TR-FE (2.7L) 4-cylinder engine block in line with electronic fuel injection, providing 164 horsepower and 245 Nm of torque. A 2.4-liter diesel engine with 148 horsepower and 400 Nm is also available.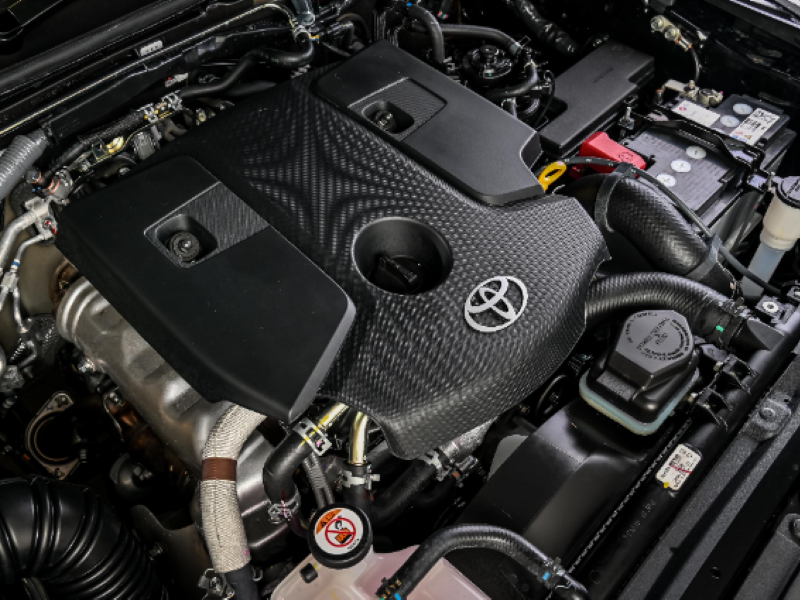 Toyota Fortuner Engine
In addition to the standard 1-wheel design, the automobile features two transmission options: a 6-speed automatic or a 6-speed manual and a part-time 2-wheel drive with an integrated electronic bridge.
Nissan Terra Engine is more powerful and stronger when equipped with a 2.5L turbo diesel engine block (YD25), with a maximum capacity of 190 horsepower and a maximum torque of 450 Nm. It also features a 6-speed manual gearbox and two rear and two-wheel drive systems.  Nissan Terra Fuel Consumption is about 6 - 7l per 100km.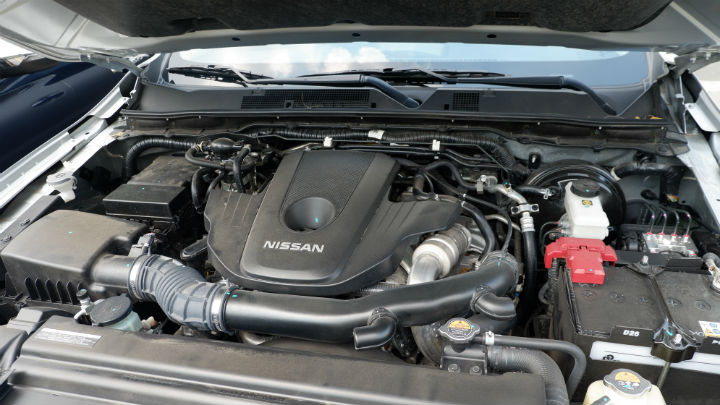 Nissan Terra Engine
With this power, both cars can bring owners a gentle relaxation when rolling in the inner city and full of energy when quickly exiting the gas on highways. 
However, Terra also has a 225 mm high ground clearance, higher than the Fortuner (with just 219 m), helping the driver overcome trails, complex Terrain, and outstanding wading ability.
Nissan Terra vs Toyota Fortuner - Price

    
For the basic version with the lowest price, there is not much difference between Nissan Terra vs Toyota Fortuner, only a few thousand pesos. However, the most expensive version of Fortuner is more than Terra by about 200,000P.
Conclusion

    
We hope that comparing Nissan Terra vs Toyota Fortuner provides readers and consumers with the most comprehensive picture of the two models in the current 7-seat SUV class.
Although the Toyota Fortuner 2022 has the highest selling price in the group, it offers a brand advantage and a soft and appealing style. Meanwhile, the Nissan Terra 2022 is a choice for individuals who want a car with numerous safety features at a lower price.
Thanks for your reading! Also, you may read our writing of any other model on Car comparisons to get more thoughts on the subject. If you have any question, feel free to comment below or contact with Philcarprice.com!
View other car comparison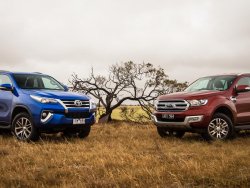 Apr 22, 2022
If you want to buy an SUV, you must be confused about the Toyota Fortuner vs Ford Everest 2022. Let's take a closer look at these two models!