Toyota Land Cruiser Vs Nissan Patrol: Which Is Better?
Updated Jun 29, 2022
Nissan and Toyota are two famous car brands worldwide, attracting a lot of attention and attention from customers. These are also the two best-selling cars in the same segment, so customers will find it difficult to choose the best one. 
This article will give the most detailed comparison of Toyota Land Cruiser Vs Nissan Patrol. Let's check it out!
Overview Of Toyota Land Cruiser Vs Nissan Patrol
Patrol vs Landcruiser is a car model from Japan automakers. Accordingly, Nissan manufactures Patrol, which is known as the third-largest car manufacturer in Japan. Meanwhile, the Cruiser is the brainchild of Toyota.
Both famous car brands have great competitiveness in the car segment from Japan, exerting great influence in the market. The Nissan Patrol was born earlier and didn't shy away from improving, so this model can stand out from its competition a bit.

Toyota Land Cruiser Vs Nissan Patrol Comparison
Exterior
Nissan Patrol 2022 is designed with a luxurious and classy style with extremely delicate and outstanding lines of an SUV model, bringing great attraction. The front of the car is designed with a grille made from hard chrome bearing the bold Nissan brand.
The front headlight cluster is connected to the grille with a unique C-shaped LED strip facing the outside. The design of the fog lamp compartment at the front of the Patrol contributes to the strong beauty of this famous model.
Compared to its rival, the Toyota Land Cruiser 2022 has a stronger, more solid design with sharp lines. In particular, the front of the car is equipped with a large 3-bar chrome grille and long LED daytime running lights to bring a more aggressive and luxurious look. 
The Cruiser's body still shows the strong and outstanding beauty of the off-road vehicle with its square and tough shape. The rearview mirror system integrates turn signals, automatic anti-glare, folding, and adjustment functions.
Interior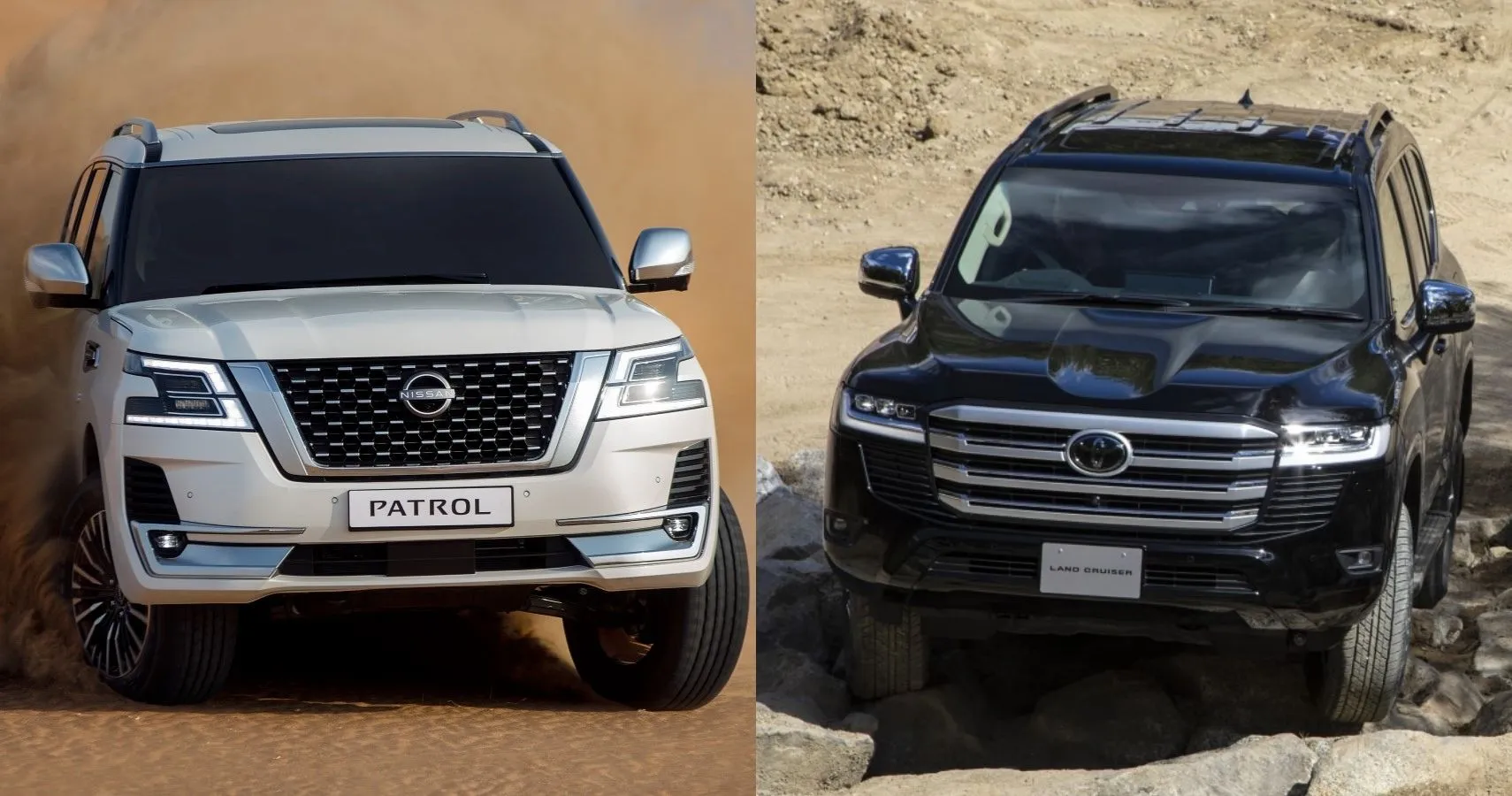 Both models have a large wheelbase, so the car's interior space becomes airy and spacious, bringing a sense of comfort to the user. Nissan Patrol interior is fitted with a high-end, more luxurious setting than its price.
All car interiors have a luxurious and sophisticated design with large cabin space and storage space. The seats in the car are covered with high-quality leather; they can be easily folded up and down to create the most comfortable feeling for the occupants.
Also not inferior to its rivals, the Land Cruiser possesses a large wheelbase, creating a spacious and comfortable space. The car's interior is extremely luxurious by using black and white tones as the main color tone, contributing to exuding an elegant and elegant look to the car.
The 4-spoke leather-wrapped steering wheel has many integrated features at the same time to provide more convenient and easier control for the driver. Along with that is a smart meter panel placed right in the center to make it easier to observe.
Engine
The Nissan Patrol engine includes a 5.6L V8 petrol engine block with 405 horsepower, 560 Nm, and a 7-speed automatic transmission and 4-wheel drive system. In addition, the car also has an electronic rear differential lock and a terrain control system with driving modes such as sand, rock, or snow to optimize off-road needs.
Land Cruiser's operating system is 2-wheel drive, 4-wheel drive, and active electronic differential KDSS. The car has a choice of terrain driving mode - Multi-terrain Select, with driving modes such as Auto Snow and Deep Snow, helping to grip the road on different terrains better.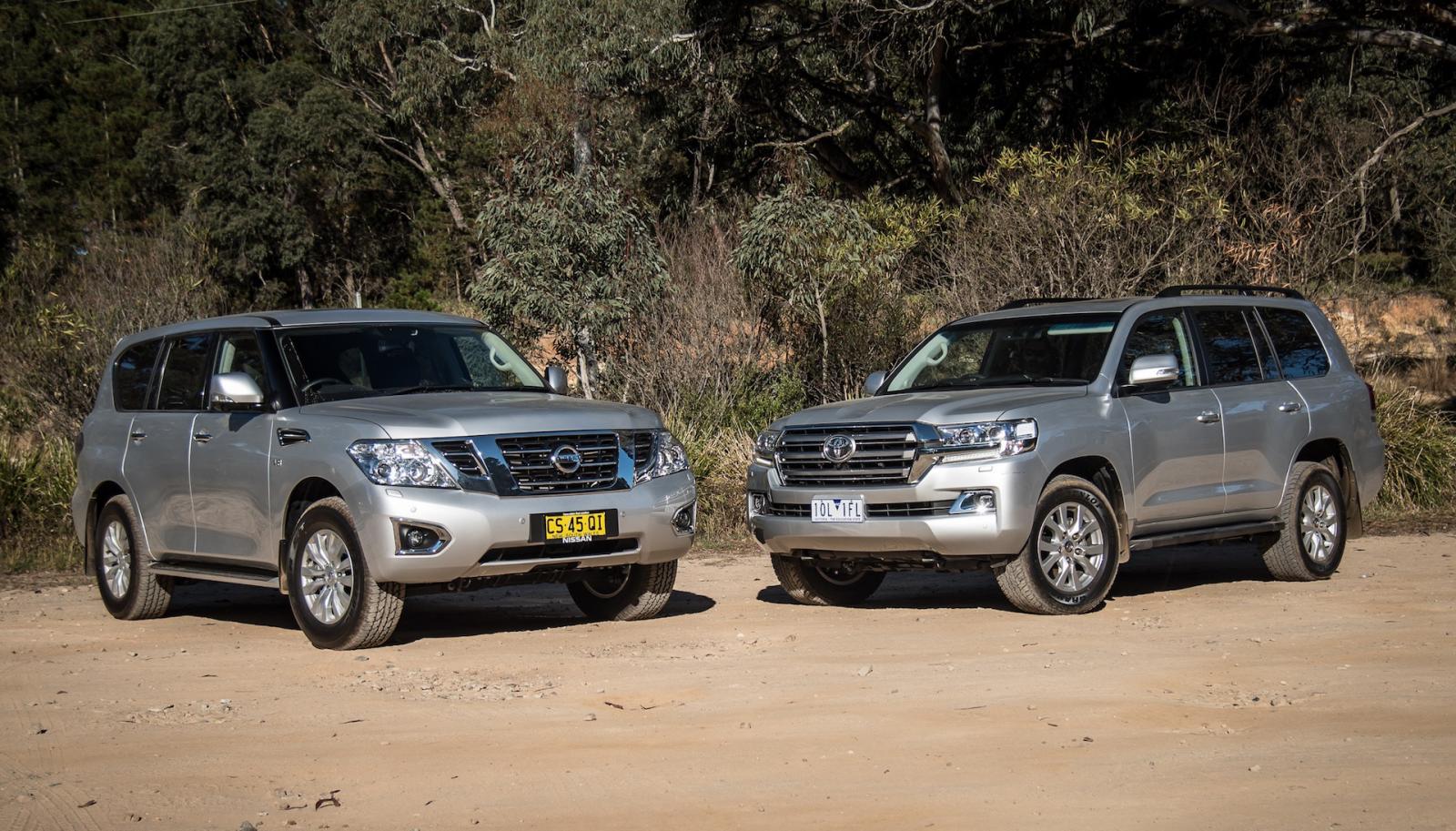 Safety And Technology Features
The entertainment system of the Patrol 2022 is unique, creating a highlight with a large 7-inch dual-screen that is used to control the car and support entertainment features, creating a feeling of relaxation for the occupants.
In particular, the car also supports modern Android Auto and Apple CarPlay, which is a great plus point for this car and brings something new to the car. Customers who love technology will no longer feel bored with Patrol with these amenities.
Talking about the level of comfort, the Land Cruiser is highly appreciated by many users with many great features to meet customers' needs.
The car is equipped with a 7-inch touch screen system, and a 14-speaker sound system is installed in the car, combined with a modern DVD player, giving you the best experience. Besides, equipping additional USB ports, Bluetooth, and hands-free calling mode is extremely convenient.
In particular, with the quick-lock feature and low gear shift, both cars give you a great feeling when conquering every journey with all different terrains.
Overall, Nissan Patrol still outperforms Toyota Land Cruiser in all aspects. Nissan Patrol also constantly upgrades the exterior and modern technology entertainment equipment.
Conclusion
We hope that the Toyota Land Cruiser vs Nissan Patrol comparison information will give you useful knowledge about the two hot cars on the market today.
If you have any questions, feel free to contact Philcarprice.
Thanks!
View other car comparison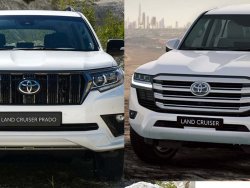 Jul 20, 2022
Which is superior, the Land Cruiser Vs Land Cruiser Prado? This post will give you a better understanding of the conflict.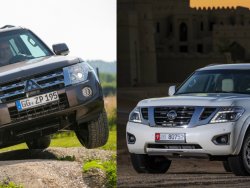 Jul 20, 2022
Mitsubishi Pajero Vs Nissan Patrol, which is better? This article will give you the most detailed overview of both models and answer your problem.