Volvo XC40 vs Geely Coolray: What is the perfect choice?
Updated Dec 14, 2022
If you are looking for an SUV, Volvo XC40 and Geely Coolray are the two most popular names. Each car model has its own advantages, so it has made many car enthusiasts wonder which car to buy. Do not rush to miss the following article, Philcarprice will help you compare Volvo XC40 vs Geely Coolray in the most detail.
Volvo XC40 vs Geely Coolray comparison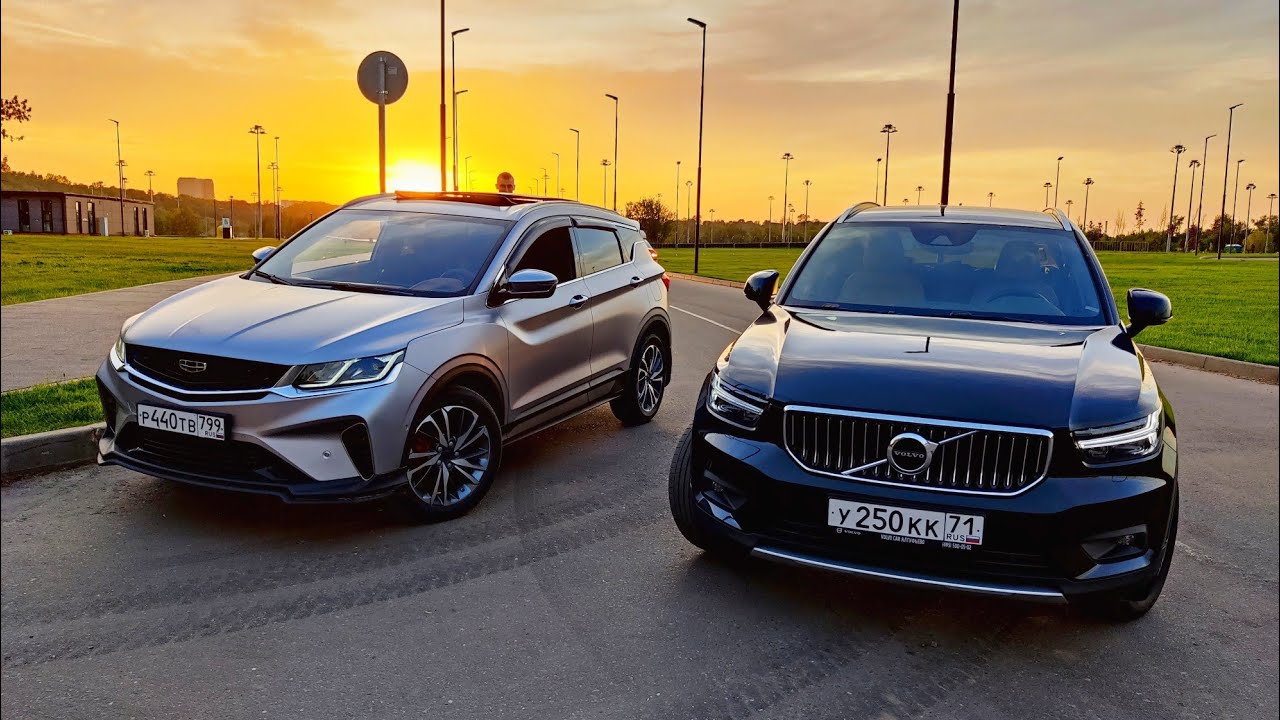 Volvo XC40 vs Geely Coolray comparison
Volvo XC40 vs Geely Coolray: Exterior
Starting with the exterior of the Geely Coolray 2023, the front end features a honeycomb grille, LED headlights, daytime running lights and front fog lights. The two sides are equipped with 18-inch wheels, door handles of the same body color, power-adjustable and folding rearview mirrors with integrated turn signals. The rear of the Geely Coolray 2023 has a sports spoiler with integrated brake lights, LED taillights, electrically adjustable tailgate, rear fog lights and exhaust system.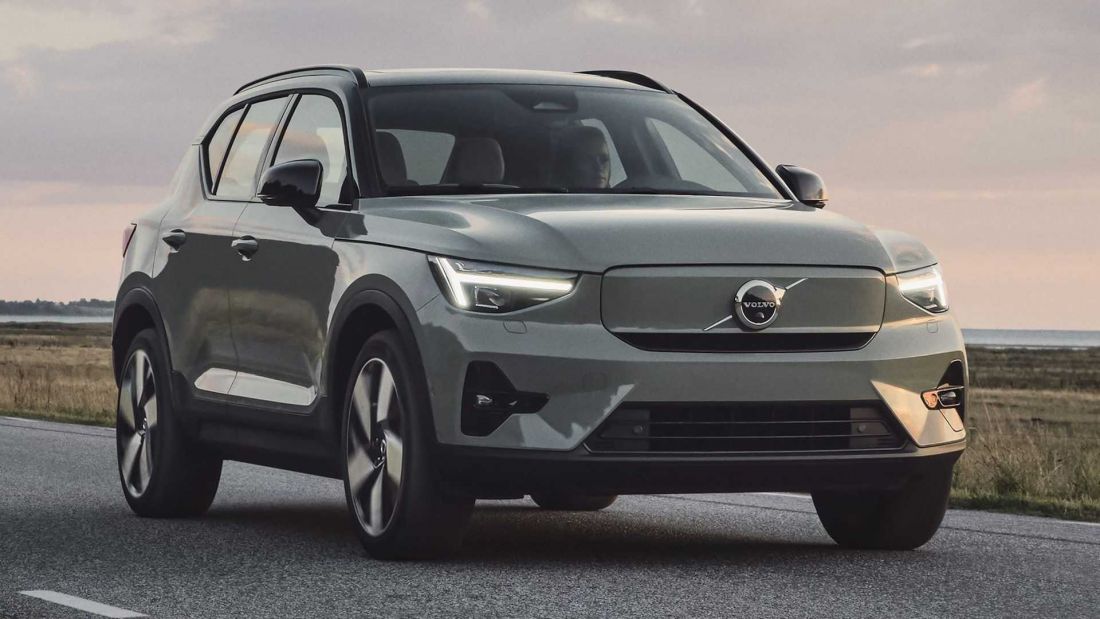 Volvo XC40 has a stand out design
The exterior of the Volvo XC40 stands out and is attractive by its strong and modern lines created by tough metal panels. Seen from the front, your eyes will be the large grille and T-shaped LED strip creating an extremely prominent and unique highlight of the Volvo XC40. The wheels of the Volvo XC40 are designed to be larger than other models, in addition to the 18-inch metal wheels that bring a distinct style to extremely individual customers. The distinctive design that distinguishes the Volvo XC40 version is the slightly sloping rear glass and the longitudinally beveled horizontal steering wheel. In addition, some small details such as high-grade metal door handles, glossy designed air vents are also extremely cared for by design engineers. Finally, the bumper of the Volvo XC40 is angled with an extremely sporty, powerful and personality.
Volvo XC40 vs Geely Coolray: Interior
Moving to the interior, the Geely Coolray 2023 has multifunction steering wheel, one-touch power side windows, armrests with cup holders, ambient lighting, rear seats, carrying case gloves and rearview mirror. It also includes two-zone climate control with AC vents.
Technology and infotainment features on Geely Coolray 2023 include a 12.3-inch full HD screen, 7-inch LCD dashboard, navigation, Bluetooth, USB port, AUX and smart key. It also has a 4-speaker sound system.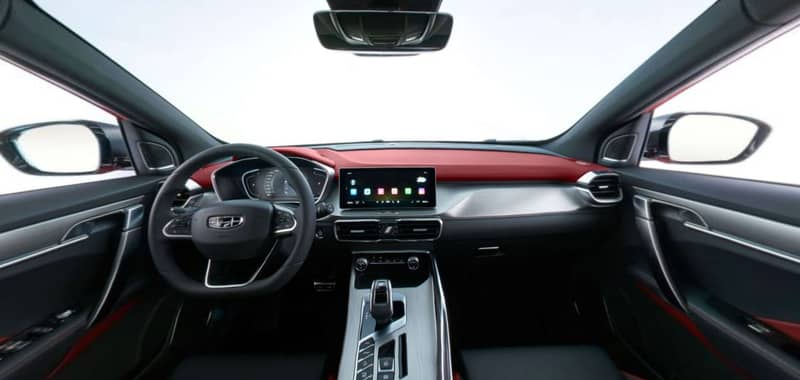 The interior of Geely Coolray 
The interior of the Volvo XC40 stands out with a vivid 9-inch touch screen in the center of the control center with many convenient integrations. Heating, air conditioning, ventilation, infotainment systems and satellite navigation are all easily customizable even while you're driving. The system of seats is upholstered in super-luxury leather, with finely handcrafted seams to create an elegant space. Luggage compartment with relative headroom is said to be quite good for carry-on luggage.
Volvo XC40 vs Geely Coolray: Specifications
Geely Coolray 2023 is equipped with a 1.5L 3-cylinder engine producing 174 horsepower and 255 Nm of torque, connected to a 7-speed automatic transmission and FWD drive system. The car accelerates from 0 to 100km/h in 7.9 seconds and reaches a top speed of 195km/h.
Volvo XC40 2023 is equipped with a 4-cylinder Drive-E 2.0L engine block. This machine is capable of producing a maximum capacity of 190-250 horsepower, maximum torque of 300-350 Nm. Comes with an 8-speed Geartronic automatic transmission, helping the car accelerate from 0-100 km / h in 6.4 seconds before reaching a top speed of 230 km / h.
Volvo XC40 vs Geely Coolray: Safety and driver assistance systems
Driver assistance and safety features in Geely Coolray 2023 include anti-lock braking system, emergency braking system, blind spot detection, electronic stability control, 360-degree camera, adaptive cruise control sensors, front and rear parking sensors, automatic parking assist, airbags and tires Pressure monitoring system. Safety systems also include traction control, vehicle stability control and downhill control.
Safety technology of Volvo XC40 includes: Pilot Assist system to assist the driver in fast moving conditions on highways, City Safety system to warn safety on bad roads combined with sensitive automatic braking, lane departure warning system, reminding the driver to follow the law and keep the surrounding vehicles safe, extremely active protective airbag system in case of strong outside collision, reversing camera to observe obstacles rear, safe reverse support, extremely safe hill climbing and downhill support function.
Volvo XC40 vs Geely Coolray in Philippines: Price
Currently, these two models do not have an official announced selling price. However, it can be seen that the Volvo XC 40 is more expensive than the Geely Coolray. The selling price of the Volvo XC40 can be 2,282,500, while the Geely Coolray is about 1,258,000. Therefore, you should consider your financial conditions to be able to choose the right SUV model.
>> Read more: Car comparisons.
Conclusion
Overall, both Volvo XC40 vs Geely Coolray are SUVs that you should refer to. Each vehicle has its own set of unique advantages. And if you want to choose between Volvo XC40 vs Geely Coolray in Philippines, you need to consider many factors and could refer to Phil Car Price for more information!
View other car comparison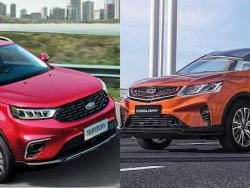 May 17, 2022
Geely Coolray vs Ford Territory: Which one is the best? Have you ever considered this? If so, please share it. If not, come and compare with us!