Ford Explorer Review – A 2022 Thorough Guide
Updated Apr 28, 2022
These days, SUVs have become a popular choice for many families, and the Ford Explorer is a prime example of this type. However, a car is very complicated, so many people need a Ford Explorer review before they can decide.
That is why we prepared this article, as it contains all the necessary information to make the decision easier.
Ford Explorer Price
At the moment, the Ford Explorer has an average cost of ₱2.998 Million in the Philippines. This number puts it in the competition range with options like the Honda Pilot or the Chevrolet Traverse.
Ford Explorer Specs
Engine: Turbo-Four, 2.3 liters

Horsepower: 300 HP

Fuel Efficiency: 21/27 mpg for city/highway

Acceleration: 6.8 seconds (0 - 60 mph)

​
Ford Explorer Review
Ford Explorer Review: Exterior
The first thing that you will notice regarding the Ford Explorer is that there is no longer the hideous, boxy shape. It now features a wider and longer shape, but it still retains its family-friendly nature.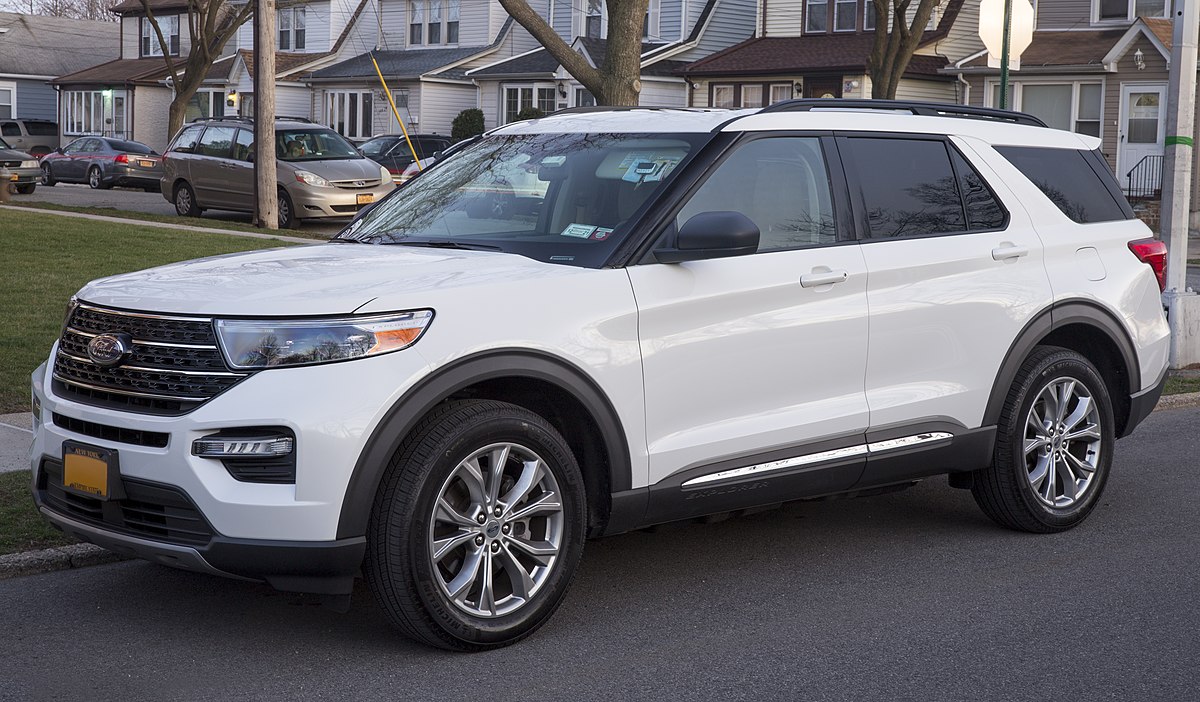 The Ford Explorer is now longer and wider
The secret to this strength lies in its huge available range of powertrains and trim. This availability covers all the needs that a family may have. Ford Explorer can now serve as a replacement for austere minivans and a reasonable off-road SUV.
The car features a unibody chassis now, letting the riders feel more comfortable with less noise for the whole ride. You will experience a much smoother ride while sitting in this car.
Ford Explorer Review: Interior
From a driver's perspective, the Ford Explorer interior looks quite decent. There is an abundance of space in the front seat area, and it is easy to adjust the driving position. You can observe outside scenery easily with the help of adequately-sized glass and mirrors.
However, we are not that impressed with the rear and middle seat spaces. Both the knee room and legroom in the middle row fall to meet the standard that others in this class set previously. In the same vein, the third row will not be able to accommodate adults taller than the average height.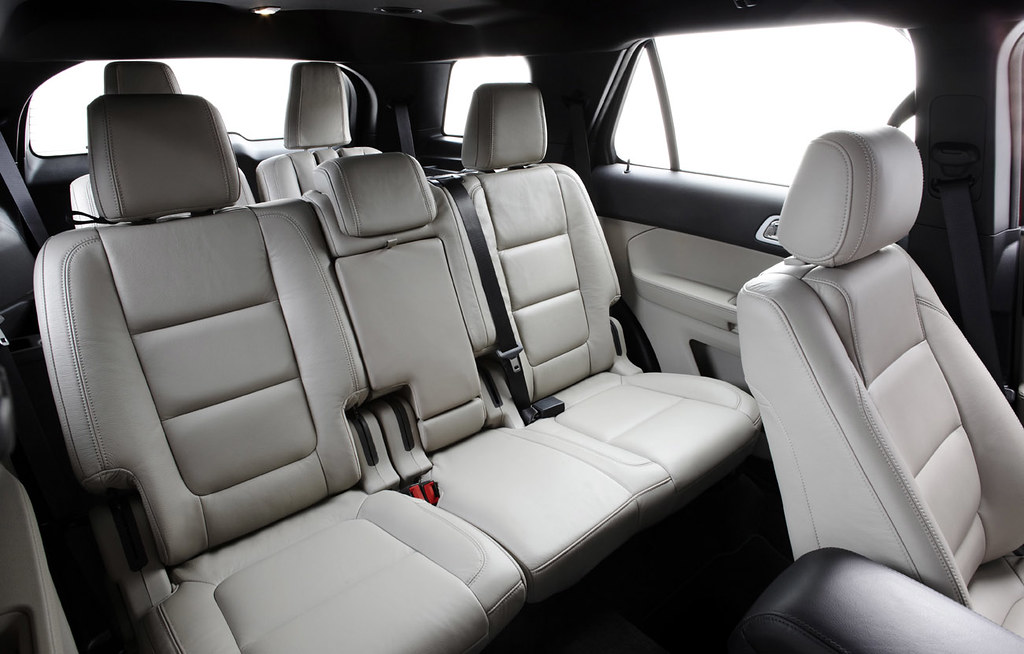 The second and third rows are not that comfortable
The design of the rear door access is clumsy, as the door won't open to its first detent. The cause for this issue lies in the tight space between the pockets and the rear arches. It does score some good points with a power-folding mechanism, but you need to do so while being in the hatch area.
We love that there is generous space in the cargo hold section. The space can get tighter when you open up the last row's seats. However, it's still enough to fit in at least four rolling suitcases.
The middle row has a special design, making installing child seats much easier.
Ford Explorer Review: Engine/Performance
The Ford Explorer engine uses a 4-cylinder, 2.3 liters, turbocharged design. This engine allows the car to go as high as 300 horsepower at maximum.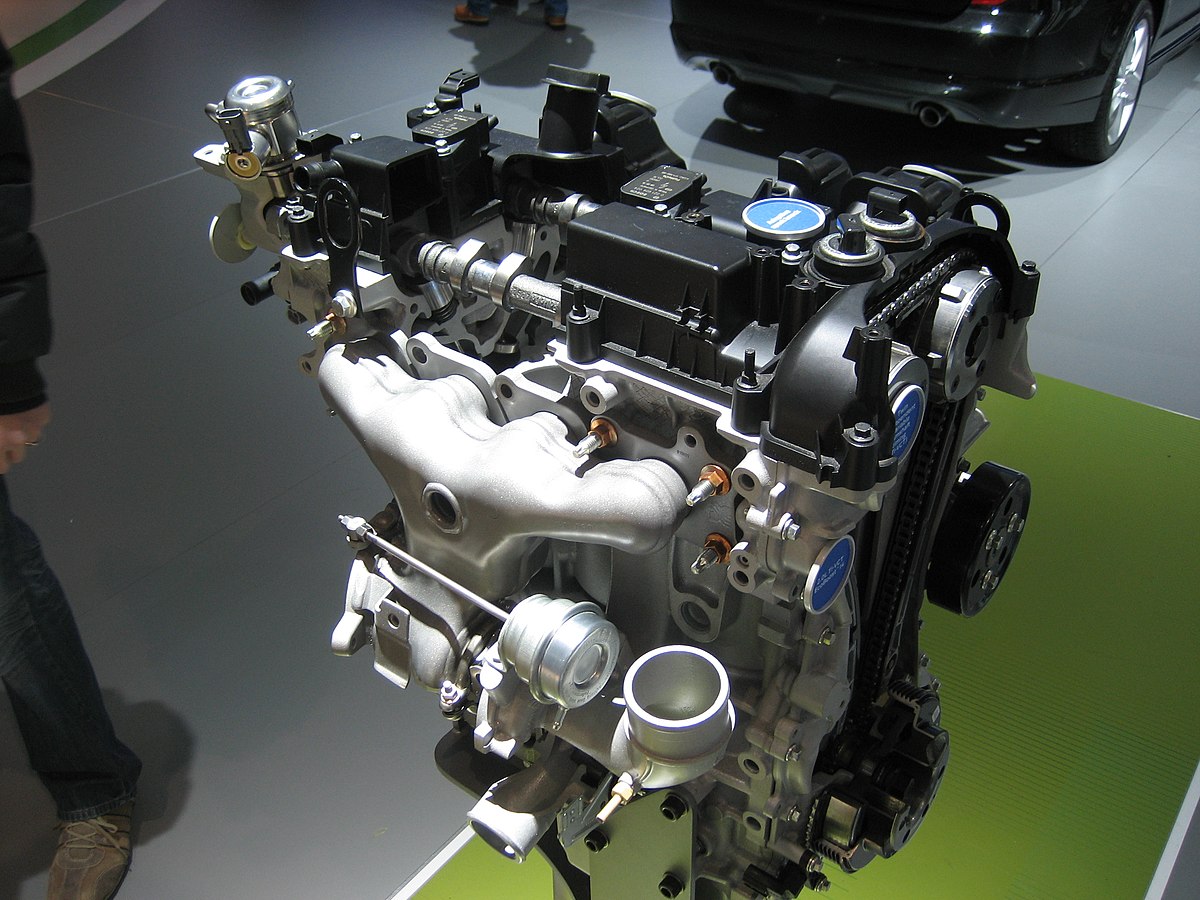 Ford Explorer Engine
According to the EPA, the Ford Explorer fuel consumption's efficiency has a lower estimation than other options in the same range. It can be at least one mpg better than a competitor most of the time. Its fuel efficiency is around 21 and shoots up to 27 on highways in the city.
Ford Explorer Review: Safety And Tech
If you are worried about the Ford Explorer reliability, don't. It has all the necessary driving safety aids and then some. For example, there is the standard automatic emergency braking system, a lane-keeping assistance system, a monitor system for cross traffic and blind spot, etc.
You do need to pay attention to the lane-centering system, though. It can start falsely accusing you that you took your hands off the wheel. The alert sounds don't feel that much different, so you will need some time to familiarize yourself.
While preparing this review of Ford Explorer, we were able to confirm that all models arrived with a touchscreen measuring 8 inches. There is also the famous Sync 3 infotainment system, Android Auto compatibility, and Apple CarPlay support.
You can get an integrated navigation system as well as a premium Bang & Olufsen audio system. We do not recommend going for the optional vertical touchscreen, even if it's 10.1 inches in size. You won't get it to work properly with all the apps due to its skinnier profile.
Ford Explorer Competitions
As we mentioned, the current two most competitive options for Ford Explorer are Honda Pilot and Chevrolet Traverse. 
The Honda Pilot features a weaker engine, only capable of going as high as 280 horsepower. In other words, the Ford Explorer can tow as much as 5600 pounds, but the Pilot can manage only 3500.
As for the Chevrolet Traverse, it doesn't offer as many safety measures as the Ford Explorer. You can still get them, but you must put in additional cash.
Conclusion
After reading through this Ford Explorer review, we hope that you can now make a concrete decision. Even though there are certainly still aspects that this option can improve on, we believe that it can be a perfect choice for most families. After all, the sheer versatility that it offers is hard to beat.
Follow our categoty Car Review to get the most accurate answer for your experience. If you have any question, feel free to comment below or contact with Philcarprice.com!
View other reviews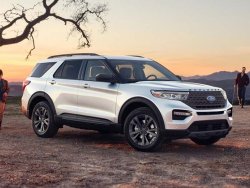 Automatic
SUV / Crossover