Hyundai Veloster Review 2023 In Great Detail
Updated Jul 18, 2022
Since the first time it came out in the Philippines back in 2013, the Hyundai Veloster has been one of the most sought-after cars in the country. Its unique and sporty looks, its reputation for being higher-end than the Hyundai Elantra (its predecessor), and its extra roomy interior made it so popular.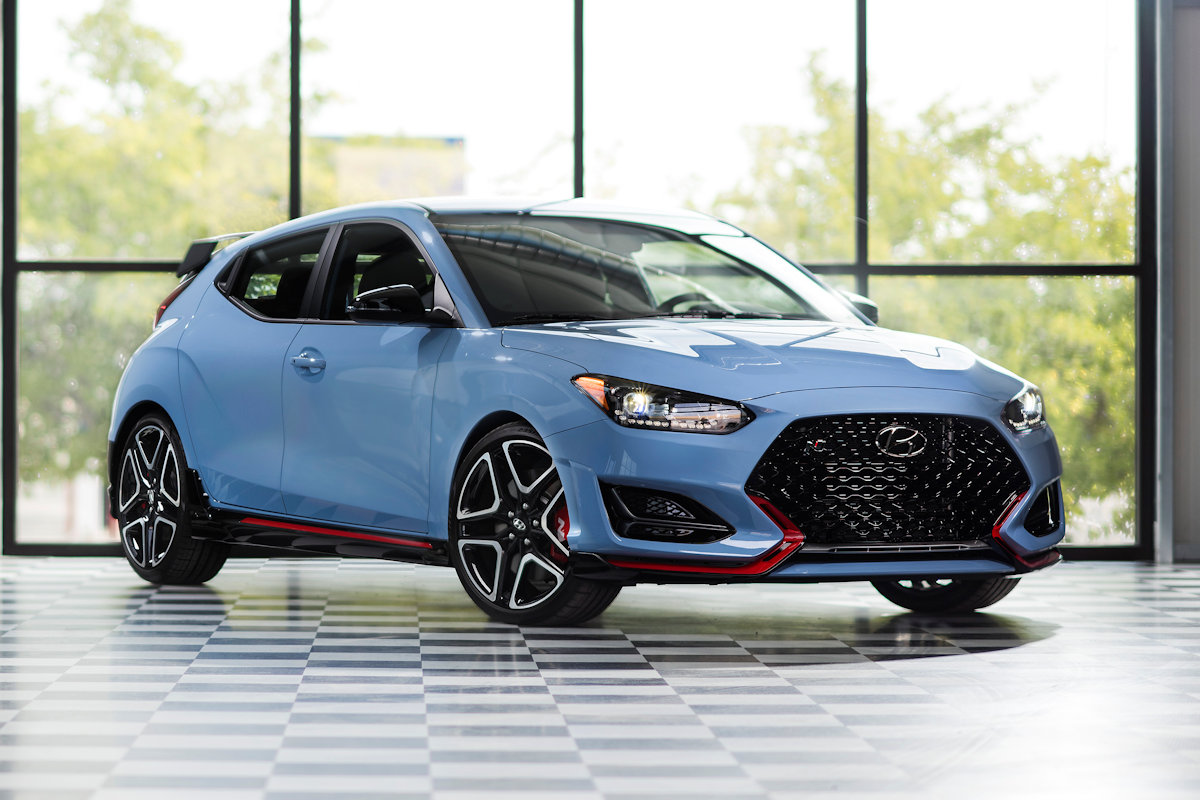 Hyundai Veloster 2023
Now, the Hyundai Veloster is back in the Philippines, and this time, it has a few new tricks up its sleeve. Here is a quick Hyundai Veloster Review in the Philippines.
Overview
The Hyundai Veloster 2023 Philippines might be a familiar car to some. It's gained a fairly iconic reputation because it comes in an innovative 3-door design equipped with several performance-focused features. It's perfect for city driving and impressing everyone around you with its fierce engine. 
The turbocharger will put a smile on your face right away! Considering the price and the overall specs, it isn't hard to appreciate this unique vehicle once you get behind the wheel.
Hyundai Veloster 2023 Price
Hyundai Veloster 2023 Specs
Hyundai Veloster Review
Exterior
Hyundai has been known to keep trying innovative things in their cars, and many have turned out to be brilliant ideas. Take, for example, the Hyundai Veloster 2023. 
This car replicates the flavor of a sporty vehicle with a big beefy front head going with a great grille of hexagonal. The grille sides are chiseled and have the sleek appearance of an LED headlamp.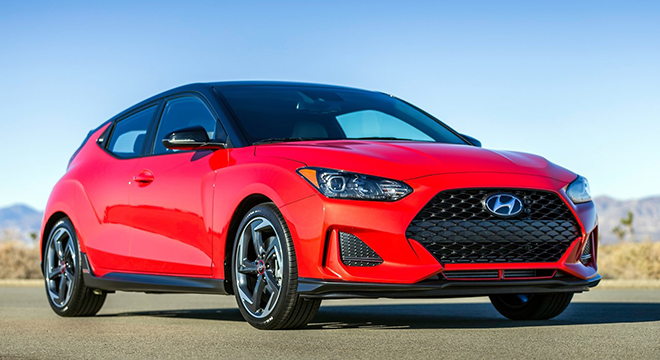 Hyundai Veloster Exterior
Wheel arches are wonderful to improve the sporty feel as well. The rear part is an extension to racy appearance with finely sculpted alloy wheels of 457mm, and tires of 225-section, but there's also some ground clearance being 151 mm, which seems pretty low.
Interior
Regarding the Hyundai Veloster 2023 interior, the seat is lined with lush fabric in various tones of brown and red. The center console, which houses the music system, is arranged nicely - complete with several buttons and a touchscreen monitor. 
Every seat (including the rear seating) also has AC vents to make things more convenient for drivers and passengers alike. Lastly, adjustable side mirrors ensure you can always see what's around you.
Engine/Performance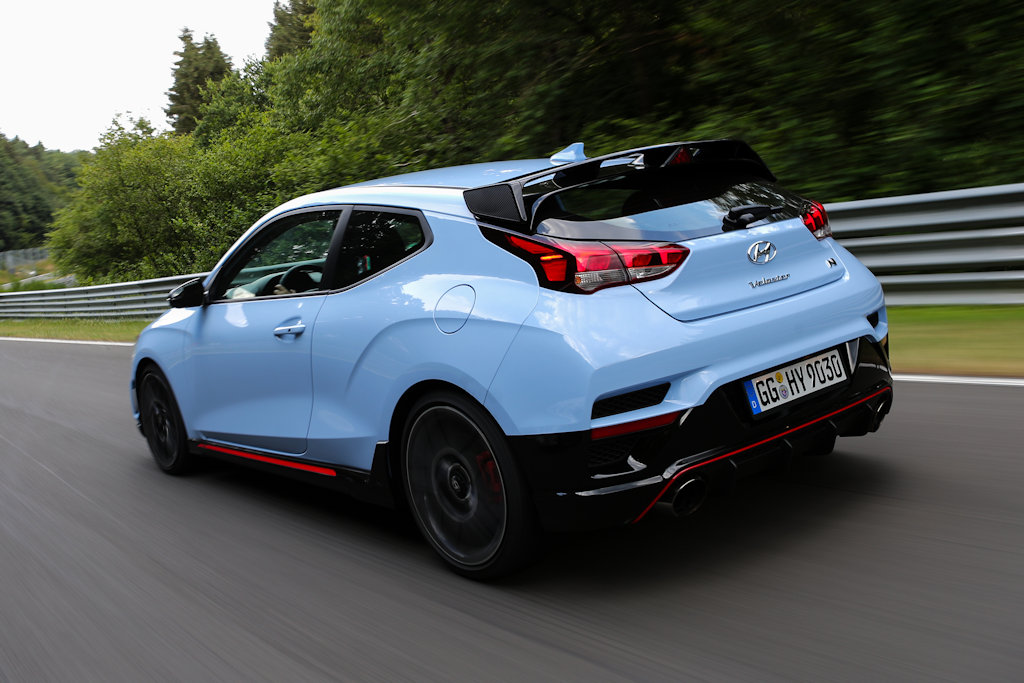 Hyundai Veloster Performance
The Hyundai Veloster sports a potent engine. It benefits from an engine bay, which produces its power to drive. It runs on a 1.6 liter of petrol Gamma turbocharged that generates 204 PS, 6.000 RPM in addition to 265 Nm of torque at 1.500 RPM, which enables it to get up and go as quickly as possible at all times due to its automatic gearbox of 7-speed dual  & paddle shifter action.
Safety And Technology
The Hyundai Veloster is a safe car. It has plenty of vehicle security features, like ABS and EBD, which are not cheaply available in other cars but come as standard here. 
This can be a wonderful benefit because even though the outer view mirrors and rear windows don't offer much vision, the owner of a Hyundai Veloster can be sure there's an added level of safety for them in this vehicle.
Pros & Cons
Pros
Good design

Reasonable price

Fuel-efficiency
​

Cons
Narrow cargo space

Claustrophobic Rear seats

​
Hyundai Veloster Vs Mazda 3 Hatchback
If you have read any reviews about the Veloster vs. the 3, you might be left with some strong opinions. Many people will think that the Mazda handles better, but Hyundai has a better color palette than its competitor. 
The interior of the Veloster is also more appealing than other cars in its price range. Overall, you may come away with very different opinions in this matchup – so it's important to do your research before deciding on a vehicle!
Hyundai Veloster vs Honda Civic
One of the most heated debates in the car world is between two strong competitors, the Hyundai Veloster and the Honda Civic, both of which have large followings and fans across the globe. 
A while ago, a poll was conducted among car enthusiasts, and it asked them which of these two vehicles would be the better choice for a person in the Philippines who wants to buy a car in 2023. The poll showed many voters from both and neither of these two sides, but the final results gave a clear majority to the Hyundai Veloster. 
This was a bit of a surprise for some since the Honda Civic has long been the most popular vehicle in the country.
Conclusion
The Hyundai Veloster is an interesting car that offers a unique design and features that you may not find on other vehicles. You might now have a clear view of what option you should have, right? We hope you enjoyed our article about the Hyundai Veloster Review.
Thank you for reading this article, and we will see you soon in the next article on Car Review! If you have any question, feel free contact with Philcarprice.com.
View other reviews