Hyundai Veloster Specs - Explore In Details!
Updated Jul 19, 2022
Introduction 
You should not ignore this Hyundai Veloster specs article if you're considering purchasing a Veloster model. Our review will reveal the most detailed information about the car's latest model, so you can decide whether or not you should purchase this automobile from Hyundai Philippines.
Generally, the Hyundai Veloster is rated as a recognized and attractive small hatchback in the Philippines. The exterior appearance of the upgraded model has a combination of coupe and a compact body. This car has a futuristic and muscular look, and it's ready to take on any road. 
This article will cover important characteristics and technical parameters such as Hyundai Veloster interior, dimensions, price, specifications, and more. So, why don't you look at this review to discover this model?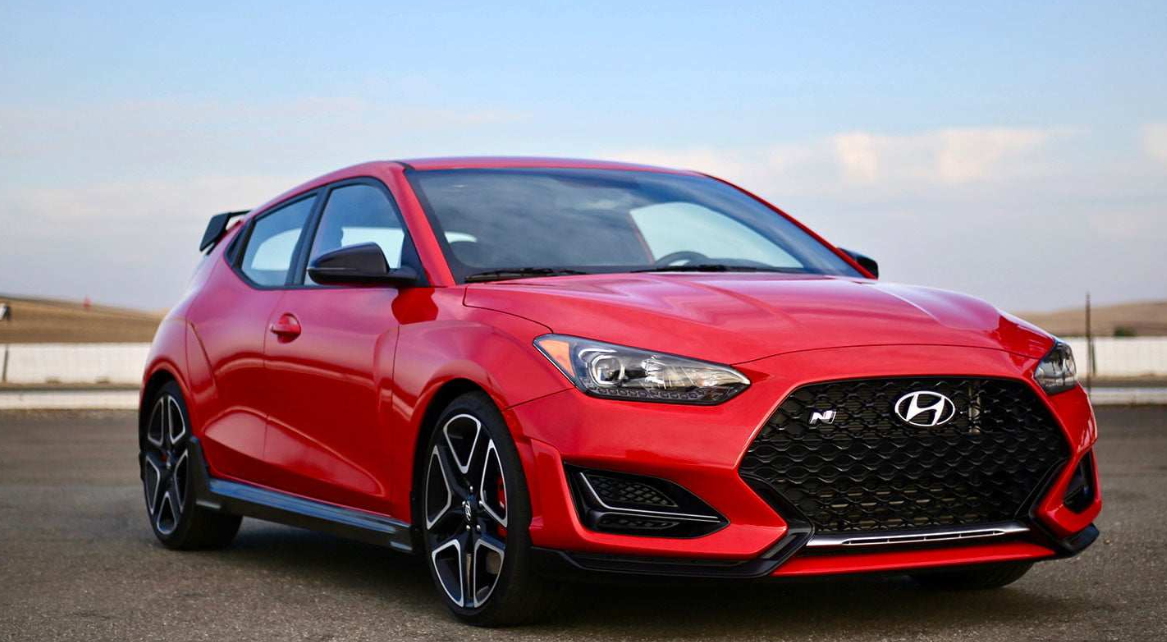 Hyundai Veloster 2023 Review
The Hyundai Veloster 2023 is a funky 3-door hatchback that's sold at an affordable price so that everyone can acquire and have fun while driving. The Veloster is a small sports vehicle from Hyundai Philippines that has a blend of coupe appearance and hatchback utility. 
The brand's remarkable hexagonal grille features the car with two exhaust pipes in the back center. The automobile has an asymmetrical door configuration, offering only one door on the driver's side and two on the passenger's side. Because the car has a 2-door coupe appearance, the rear door handle is mounted on the c-pillar.
Hyundai Veloster Specs 
Dimensions And Seat Capacity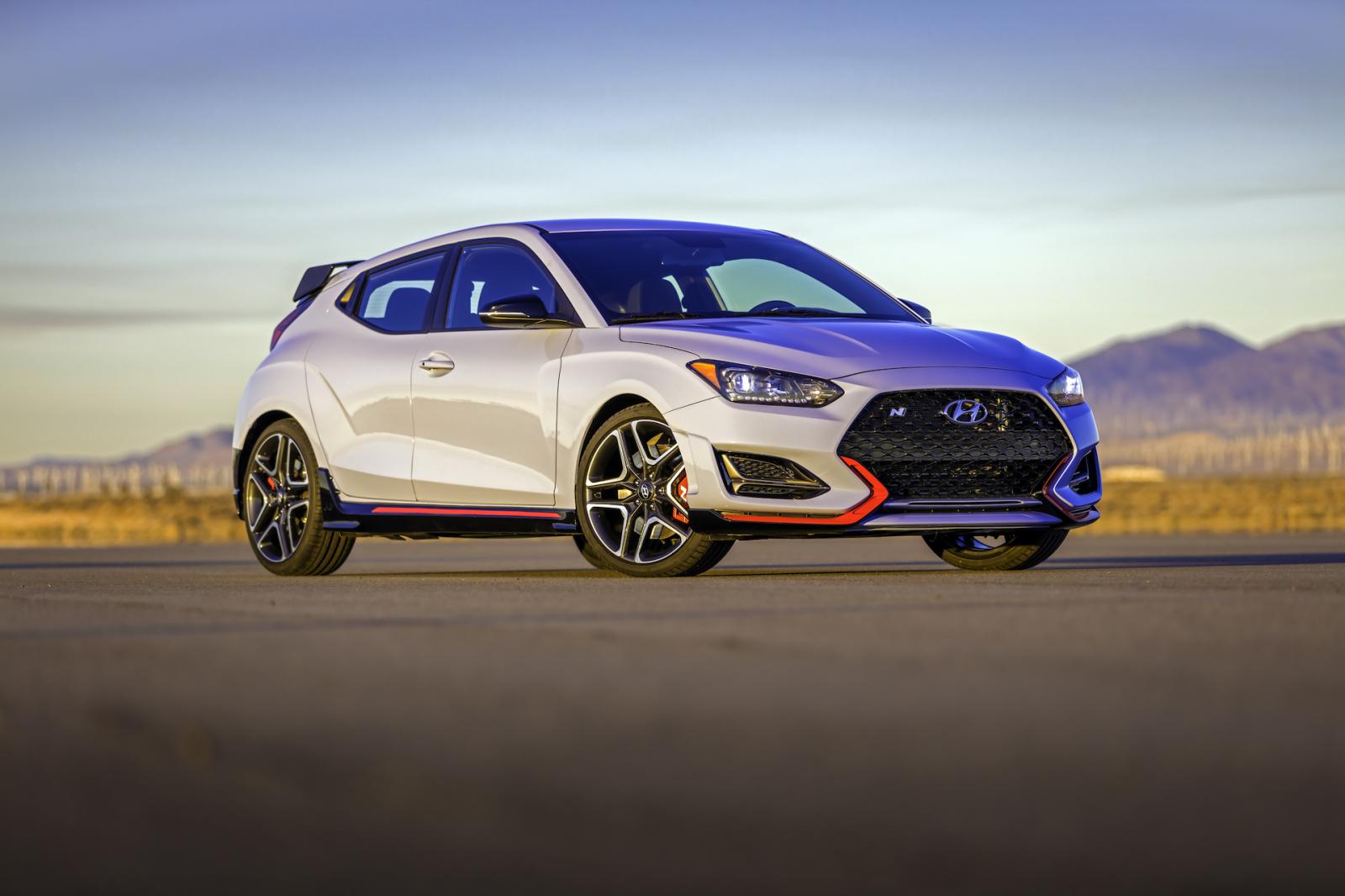 The Veloster offer the seat capacity of 5 adults
Hyundai Veloster dimensions are 4240mm x 1800mm x 1409mm, measured respectively in length, width, and height. This car has a maximum seating of 5 people, a standard capacity for a small hatchback.
About the exterior, the Veloster has a large front grille with geometric LED headlights and daytime running lights. It is a hatchback with an asymmetric 3-door configuration, including one door for the driver, two for the passengers, and a back hatch. 
The design is comparable to previous generations, but the appearance has been refined to become what it is now: a more appealing hatchback with several eccentricities.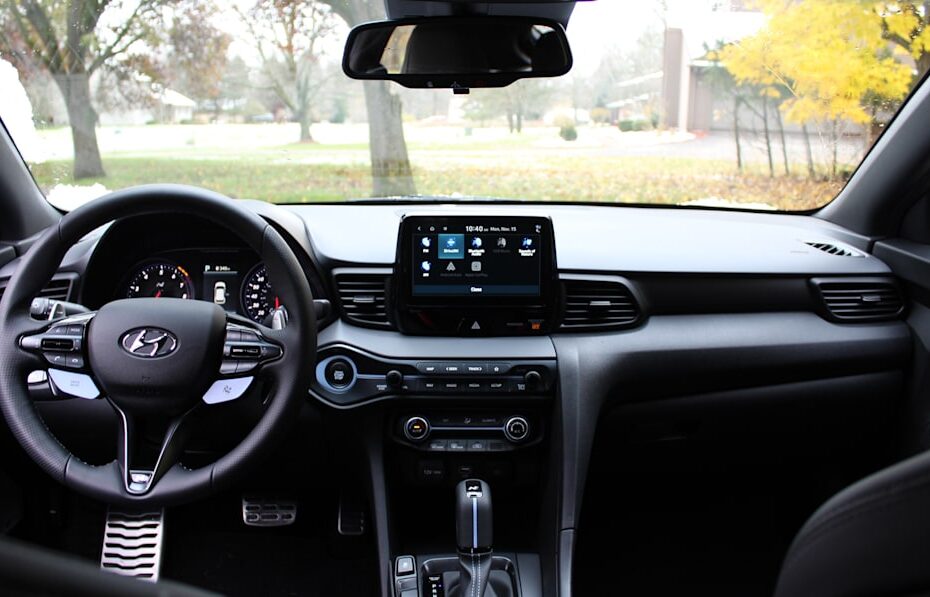 The interior is standard with many technologies
The Hyundai Veloster's interior has D-shaped steering wheels, red highlights, and an impressive cabin design. The traditional Hyundai design is still there, but the look is younger and more energetic than the previous models. 
The climate control is entirely automated, and the center has an 203mm infotainment system for an easy vision for the driver and passenger. You can find the red highlights throughout the interior, including the dashboard and the leather seats with brilliant inlays.
Engine
Hyundai has equipped the Veloster with a unibody chassis instead of a body-on-frame chassis. It also comes with a MacPherson front strut and a multilink rear, which allow it to have completely independent suspension on 457mm four wheels.
The automobile features a 151mm ground clearance and disc brakes on both front and rear wheels. The Hyundai Veloster engine is powered by a 1.6-liter TGDi engine that generates 201 horsepower and torque of 265 Nm.
Transmission
Power is transmitted to the front wheels in all variants, and gearbox options include a 6-speed manual, a 6-speed automatic, and a 7-speed dual-clutch automatic. 
In the Philippines, the engine is paired to a 7-speed dual-clutch gearbox with steering-wheel paddle shifters. The Veloster Turbo Ultimate DCT, which sped to 60 mph in 5.9 seconds, is decent for this sector.
Other Features
The Hyundai Veloster Provides Multiples Airbags For Safety Features
The Veloster's infotainment system includes a 203mm touch screen mounted higher for better visibility. Moreover, Apple CarPlay and Android Auto are available for hands-free audio and app connectivity. 
The Veloster's convenience features a back parking camera that outputs to the central display and automated headlights and wipers. The ultimate inclusion of a motorized driver's seat simplifies the driver's seat adjustment.
The Veloster has a strong standard of safety equipment, including six airbags. Additionally, the Veloster offers ABS, EBD, a rear parking assist system, seat belt reminders, top tether ISOFIX, and an immobilizer as its other standard features.
Hyundai Veloster Turbo Price Philippines
Only one variant of the Hyundai Veloster Turbo is available in the Philippines market. The following table will show you the exact price of the model for your reference:
Conclusion 
You can read through our Hyundai Veloster specs if you're thinking about buying the Veloster Turbo hatchback model. We hope that it will help you understand the detailed specifications of this model and its functionality. Then, you can decide whether or not you should buy this car model.
Thank you for reading this article, and we will see you soon in the next article on Car Review! If you have any question, feel free contact with Philcarprice.com.
View other reviews