What is special about KIA Carens 2023? Review KIA Carens fuel consumption
Updated Nov 16, 2022
In Southeast Asia, small multi-purpose vehicles are being favored by people because they can serve many different purposes. In particular, the 7-seat MPV lines are extremely popular in the ASEAN region with reasonable prices. KIA Carens 2023 will be the next model to join the 7-seat multi-purpose vehicle (MPV) segment in the Philippines market, competing with fierce rivals such as Mitsubishi Xpander, Toyota Veloz Cross. So what is special about KIA Carens 2023 and KIA Carens fuel consumption?
KIA Carens 2023 Overview
When compared to rivals from Japan, MPV cars have never been the strength of Koreans. However, we have the right to expect about the 2023 KIA Carens in the Philippines because this model has different highlights compared to the rest.
2023 KIA Carens has a business seat configuration
KIA Carens 2023 has a 2 - 2 - 2 seat configuration, which is the difference compared to the rest of the segment with the traditional 7 seats.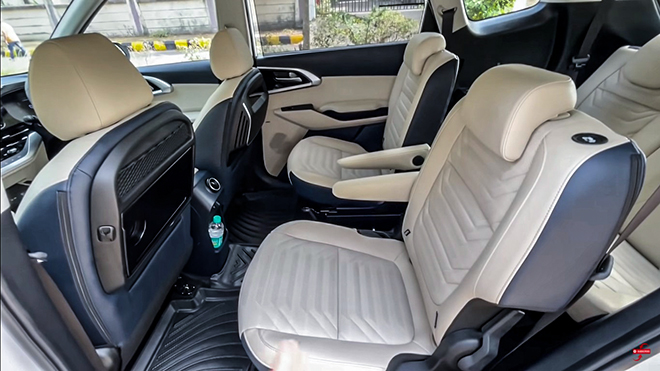 KIA Carens 2023 is different in business seats
In particular, the middle row of 2023 KIA Carens will be equipped with two separate business seats. This will help users of KIA Carens have a different and more advanced experience than Toyota Veloz Cross or Mitsubishi Xpander.
The interior of the KIA Carens 2023
KIA Carens 2023 has an interior compartment that is refined in every design detail. This model limits the use of hard plastic materials, instead it is soft plastic imitation leather, the high-end version of KIA Carens 2023 has leather in the dashboard area. In addition, this model also uses materials such as chromium, aluminum to bring a luxurious experience to users.
In terms of equipment, the 2023 KIA Carens outperforms most Japanese rivals. Accordingly, KIA Carens 2023 owns an entertainment screen that is harmoniously designed, full of multimedia connectivity and aesthetics. The car can connect to Android Auto/Apple CarPlay phones.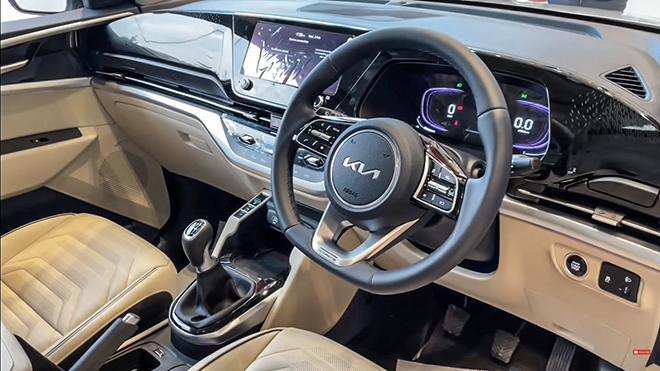 KIA Carens 2023 with a well-finished interior
The amenities not to be missed on 2023 KIA Carens can be mentioned as: Power seats, wireless phone charger, electric trunk, interior lighting, automatic 2-zone automatic air conditioning.
KIA Carens has many advanced safety technologies: front/rear collision warning, blind spot warning, lane departure warning & lane keeping assist.
2023 KIA Carens wheelbase is the largest in the segment
2023 KIA Carens shares the chassis platform with the "brother" Seltos 2023, but the size of this model is better. Accordingly, 2023 KIA Carens has a length x width x height of 4,540 x 1,800 x 1,700 (mm).
The factor that directly affects the user's interior space experience is the vehicle wheelbase. With the above parameters, KIA Carens 2023 is the car with the largest wheelbase in the MPV segment when knowing that the 2023 Xpander is 2,775mm and the Toyota Veloz Cross 2023 only stops at 2,750mm.
KIA Carens engine review
The most powerful engine in the segment
KIA Carens' 1.5L MPI I4 engine produces 114 horsepower. Meanwhile, the turbocharged 1.4L I4 engine of this model produces 140 horsepower. With the above capacity, KIA Carens 2023 is outperforming all rivals such as Suzuki XL7, Toyota Avanza Premio, Mitsubishi Xpander or Veloz Cross all with a capacity of 105 horsepower.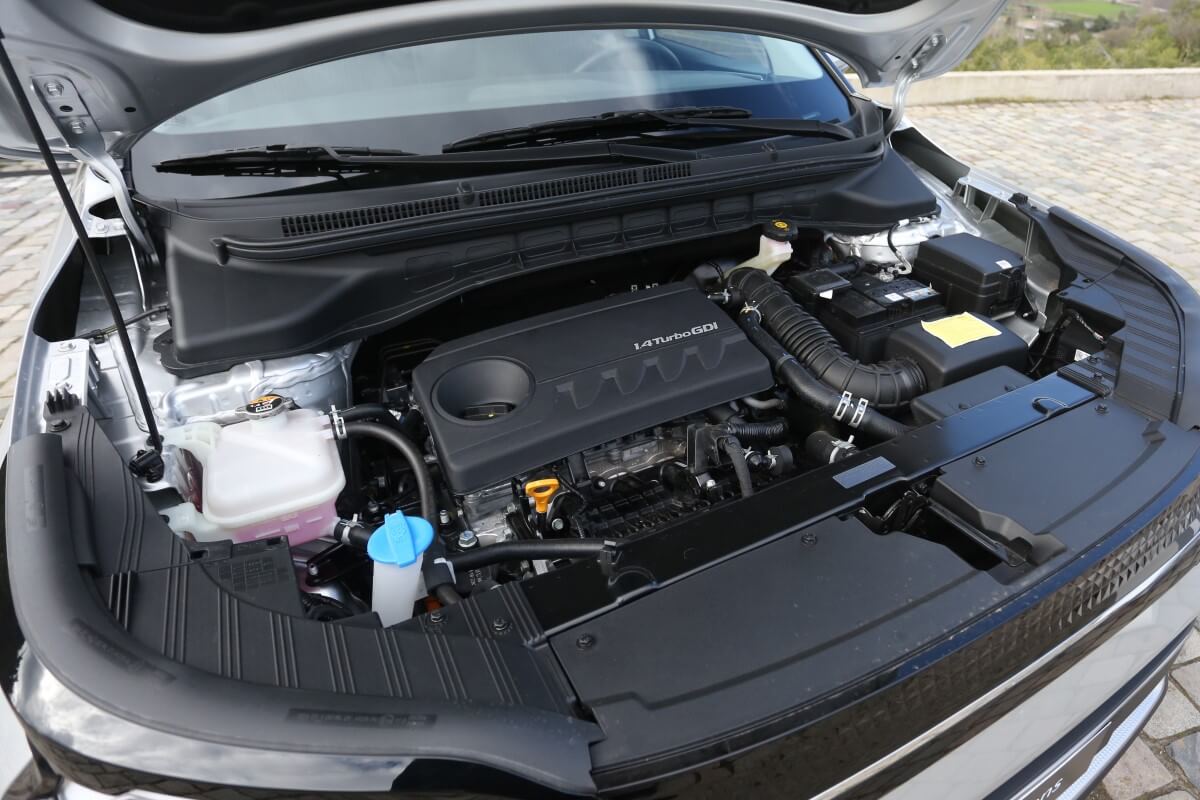 KIA Carens 2023 has a large engine capacity
The most different in the segment with a diesel engine
Users are still "screaming" when Toyota Innova 2023 and recently MPV models do not have a diesel engine. Luckily, KIA Carens fuel type is diesel. The advantage of the diesel engine is fuel economy. In addition, KIA Carens fuel tank capacity is 58l. So KIA Carens diesel fuel consumption is suitable for customers who buy KIA Carens for taxi service business.
Similar to versions of KIA Carens, KIA Carens 2.0 crdi fuel consumption has nothing to criticize.
>> Read more about Car reviews.
Conclusion
Overall, 2023 KIA Carens has its own strengths, especially in terms of KIA Carens fuel consumption. KIA Carens will both offer a traditional 7-seater service car and also offer a family car with the backseat business experience, which low-cost MPVs are selling can't do in the Philippines.
Stay tuned with
Philcarprice
for more information about cars!
View other reviews