Toyota Fortuner Review - A Great Choice for SUV Lovers in the Philippines
Updated Apr 28, 2022
In the Philippines, Toyota is one of the most beloved car models in recent years. Among many models of this brand, Toyota Fortuner is a midsize model and best sold for Filipinos. If you are looking for a Toyota Fortuner review, this article is for you. 
You will get as much information about this car as possible. This article is surely helpful for you before coming to your final decision. Let's find out together!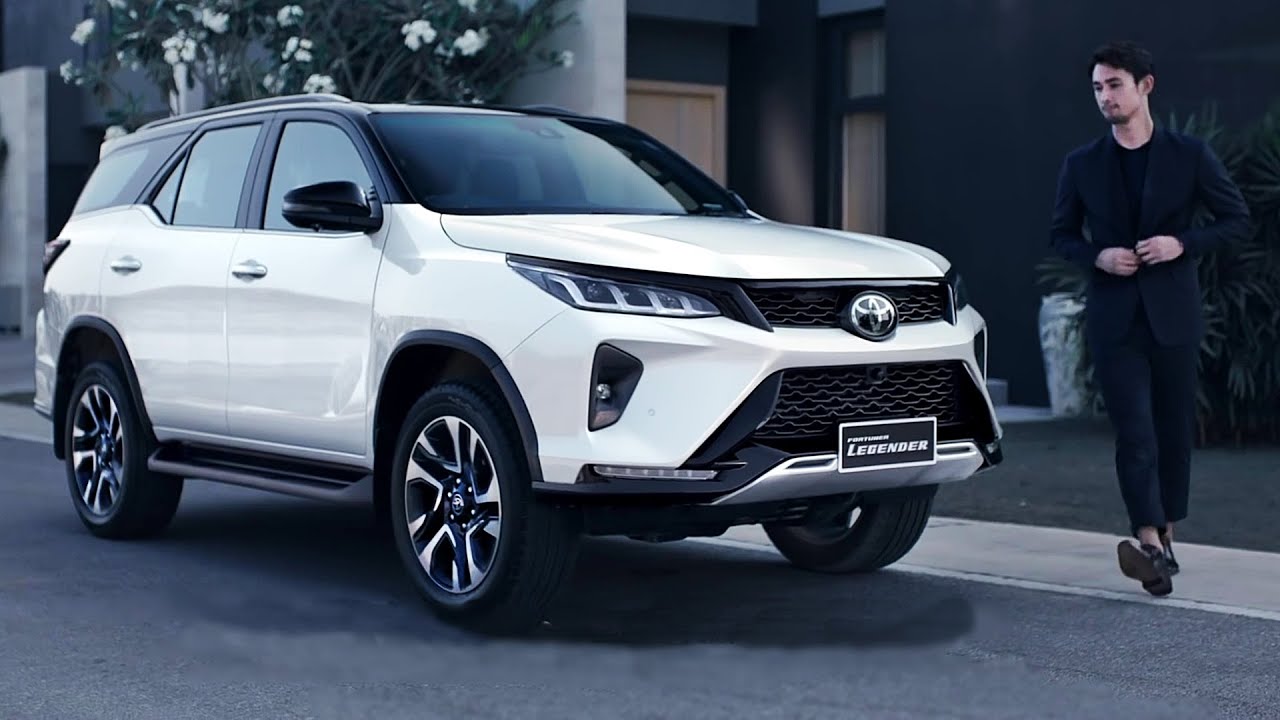 Toyota Fortuner Overview 
The Toyota Fortuner is the first mega-seller in its class. Getting a good reputation since the early 2000s, this ladder-frame utility vehicle's rugged platform and effectively tested durability have made it a household name. 
The second-generation model has caused the sales of the midsize SUV segment to multiple records – not only in its class but also for the entire Philippine automotive industry.
Fast-forward to October 2020, and remember that Toyota Motor Philippines introduced the latest version of this mega-seller.
Toyota has designed a-body-on-frame SUV in Toyota Fortuner like Hilux and Innova. Furthermore, some Toyota Fortuner engine options are similar to Hilux and Innova but with different outputs. 
The main selling points of these products include their power options and design. The 4x2 and 4x4 versions are more rugged, while the slimmed-down version gives off a sleeker look than before.
The best part is that compared to other cars it shares its underpinnings with, the Fortuner offers greater amenities even though it employs a smaller interior package overall.
Toyota Fortuner Review
Toyota Fortuner fans in the Philippines were treated to the arrival of a refreshed version a few months back. This new model brings sharper looks, additional tech, and improved safety to the mix along with its all-new diesel engine range. We would like to provide you with the most thorough Toyota Fortuner review in the below!
Interior
The new Toyota Fortuner interior comes with an option of fabric, leather, and two-tone leather seats. 
The G variant is only equipped with fabric seats, while the V and Q variants can opt for either fabric or leather seating. Leather material seats are only available for the top-of-the-line LTD models and come in maroon color with brown stitching, adding more depth to the interior design. Power seats are common for all QUVs, but they come standard with a 7-seater capacity.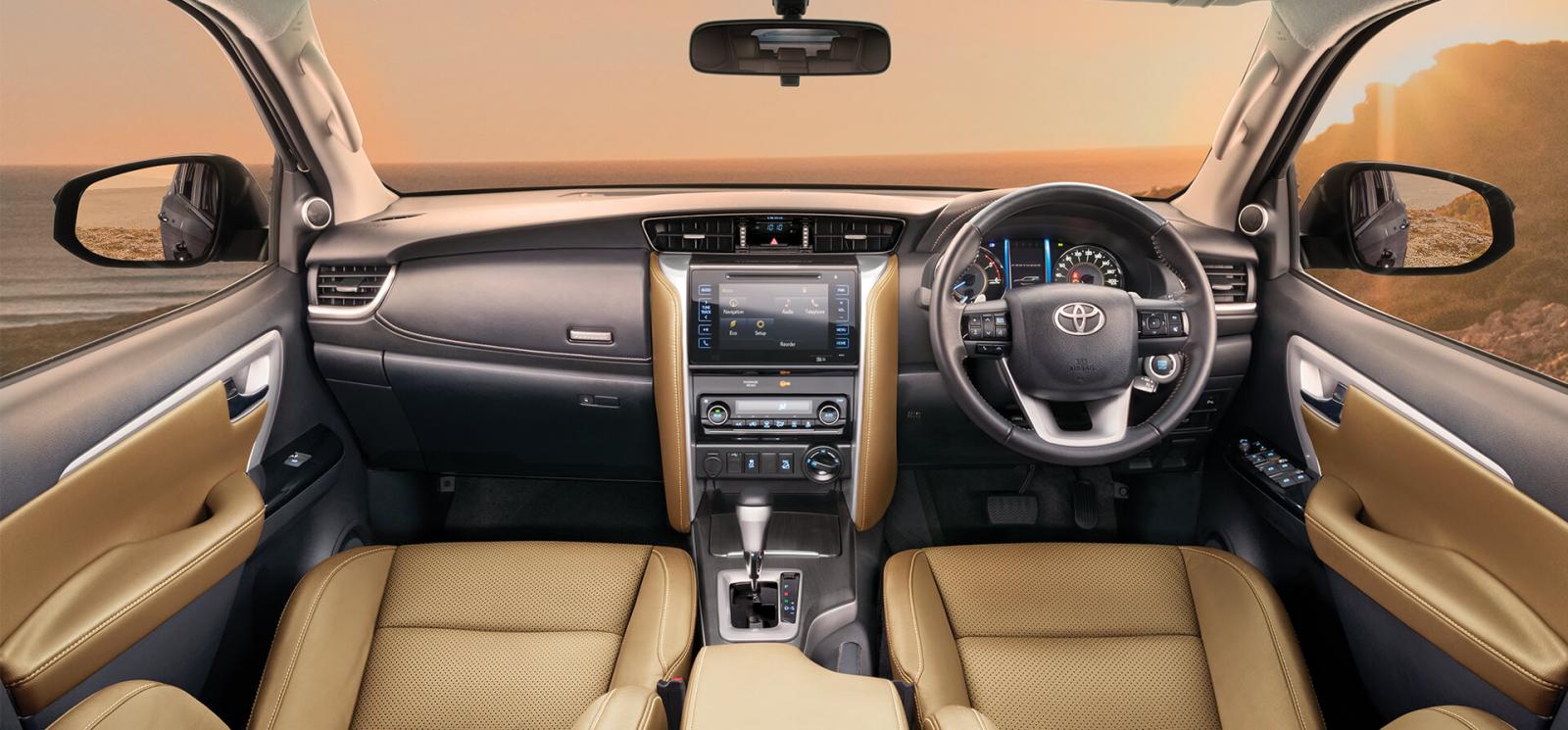 Other features and add-ons on the luxury variant are ventilated seats with black trim. The top-end variants will get paddle shifters, more buttons on the steering wheel, a leather-trimmed wheel to control features in your car like the headlights and auxiliary light bulbs, which need to be replaced periodically.
For the GR-S edition of the Fortuner, you get unique interior accents that reflect the look of the car's exterior. You get a special steering wheel and custom bodywork from both the front and backend.
Exterior
The exterior of this car has a bold and hulky stance, which is emphasized by the scoop at the bonnet that reflects an aggressive attitude. The radiator grille at the front with chrome work and its Toyota logo in the center imparts an elegant impression to your customers.
The Toyota Fortuner has a uniquely designed front-end with built-in headlights and a large, approachable bumper. The fog lamps in the bumper give it a distinctive look that makes it stand out from other cars of its kind. 
When you approach the Fortuner, you are struck by the door handles covered in body-colored paint and their unique design to open the door rather than traditional door handles.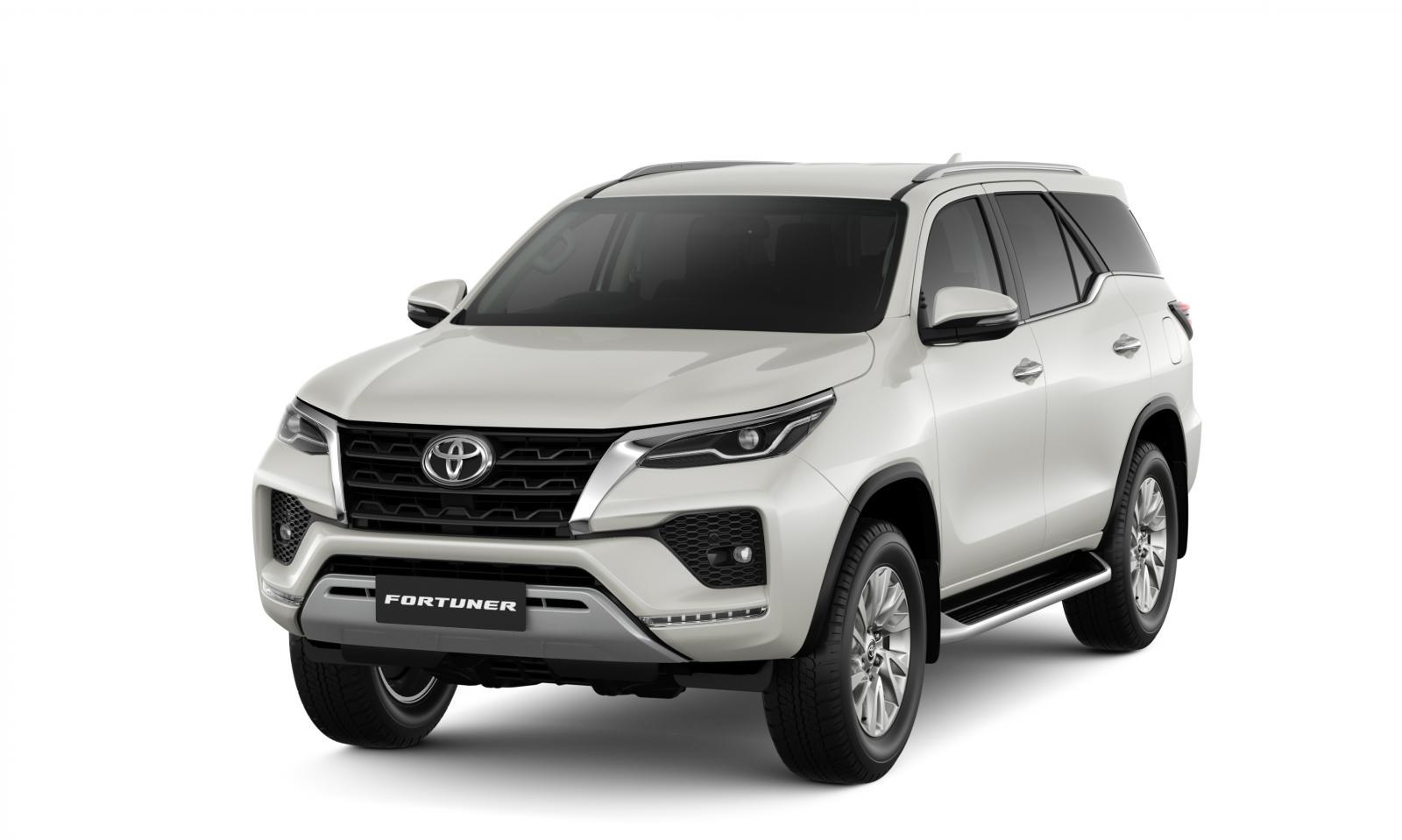 All three variants of Toyota's Fortuner come in four different lengths. The largest version measures 4705mm in length from the top of the roof to the bottom of its body. Its particular dimensions are 4705mm, 1840mm, 1850mm in sequence of length, width and height. 
Safety
Another factor that we want you know in this Toyota Fortuner review is the safety. Toyota has equipped a driver and pre-collision warning system for all Toyota Fortuner models. 
Moreover, The LTD trims, in conjunction with their Toyota Safety Sense features, offer an additional seven airbags (driver, front passenger, side curtain shield, knee and adaptive cruise control along with lane departure alert and pre-collision warning systems). 
Adaptive Cruise Control can be found in the highest trim levels along with Lane Departure Alert. Rear Collision Warning Systems are also included in the upper-tier trims.
Safety kits onboard your new Toyota include Anti-lock Braking Systems, Electronic Brake and Stabilitrak controls, as well as Hill-Start Assist Control for when you're driving through hilly terrain. 
You'll also find ISOFIX Anchors for safely transporting children with their car seats, plus seatbelts in the front and rear of your vehicle to hold yourself and any other passengers firmly in place while your vehicle is in motion.
Toyota Fortuner Updated Features
While the large dimensions and size of the Fortuner give it an authoritative stance, its coupe back lines and boxy vehicle design may make it seem like a brute, also making the foul play as far as handling is concerned when driven in tight city traffic conditions.
The Toyota Fortuner has a stunning design, but it may not be easy for users to drive. The drivers need to have experienced hands to keep the SUV under control.
Toyota Fortuner Price
Last but not least, price is the last in our Toyota Fortuner review. In 2022, the variant 2.4G Diesel 4x2MT costs ₱1.633.000.000. The Toyota Fortuner price Philippines for this base is ₱36,991 lower than that coming with MA, and ₱78,000 less than that when it comes with DP. Meanwhile, the price of 2.8L AT GR Sport, which is one of the top-spec variants, is ₱2.509.000.000 on four dealerships nationwide.
The table below will give you a better look at the price of various variants:
Conclusion
It's all about the Toyota Fortuner review! We believe that this car model will make car lovers in the Philippines satisfied. There is no doubt that it is one of the greatest midsize cars for Filipinos. If you find an affordable and fashionable version of Toyota, Toyota Fortuner will be a wonderful option.
Don't hesitate to contact us - Philcarprice for further information. Our customer service team is always willing to support you. Thank you for reading!
View other reviews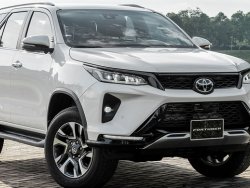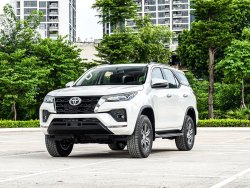 Automatic
SUV / Crossover