Hyundai Santa Fe vs Hyundai Tucson: What Hyundai SUV is the Best for you?
Updated May 10, 2022
SUVs have a special position in the Philippines automotive market. The South Korean carmaker, Hyundai, has gained considerable success in this market with its linage of impressive SUVs. Hyundai Santa Fe vs Hyundai Tucson are two notable names among Hyundai's SUV line-up. Let's find out what the difference is between these two models!
Overview
Hyundai Tucson entered the Philippines earlier than Santa Fe. Positioned as a compact SUV, Hyundai Tucson received its third generational upgrade back in 2015. Santa Fe, on the other hand, is positioned in the mid-size SUV segment and the flagship model in Hyundai's line of SUVs. Hyundai Santa Fe made its debut in the country at the 2018 Manila International Auto Show (MIAS). It was officially launched later on in April of the same year. A variant addition was introduced after a year in 2019. It is currently available in two variants.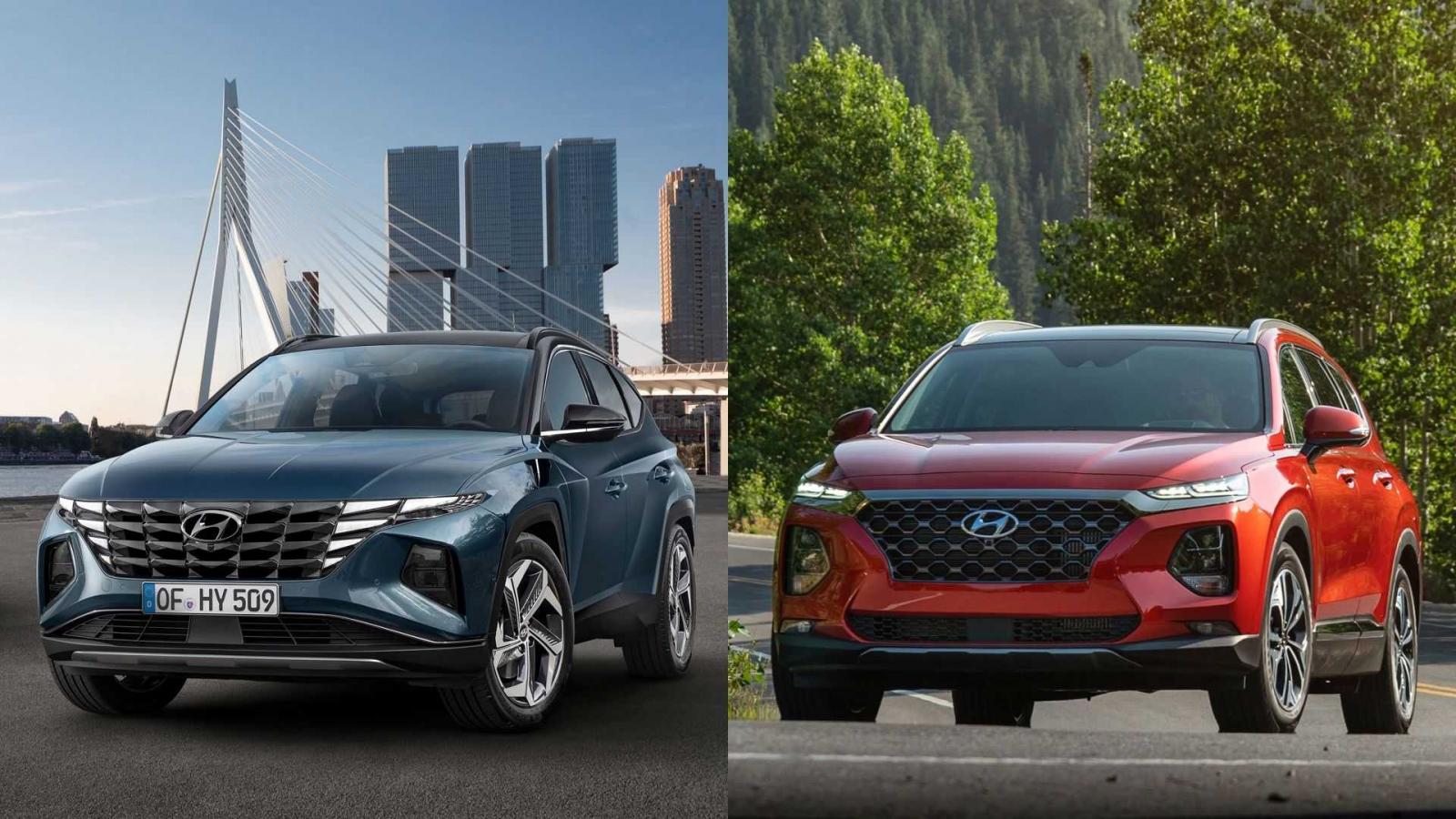 Both of these models belong to the SUV space. But they are competing in different segments. Hyundai Tucson is targeting the more premium segment while the Santa Fe is a smaller and more affordable SUV model from the crossover SUV segment. 
Each car has its own strengths and weakness that might be widely different from others. At the same time, they surely share some common traits that both share the Hyundai SUVs DNA. 
In case you are considering these two SUVs from the South Korean car brands, here is a detailed car comparison review of the Hyundai Santa Fe vs Hyundai Tucson.
Hyundai Santa Fe vs Hyundai Tucson - Dimensions
The most distinctive difference between the Santa Fe and Hyundai Tucson is the sheer dimensional gap. The mid-size SUV Santa Fe 2023 is larger with a length of 4,770 mm while the smaller compact SUV, Hyundai Tucson, measures 4,480 mm in length. As the result, the wheelbase of the Santa Fe (2,765 mm) is also significantly longer than that of the Tucson (2,670 mm). In terms of width, the Santa Fe and Tucson measures 1,890 mm and 1,850 mm respectively.
Regarding the height, the mid-size SUV is 20 mm higher than the Tucson 2023 (1,680 mm vs 1,660 mm), which results in a difference in ground clearance as well. The Santa Fe has a ground clearance of 185 mm which is 13 mm higher than the Tucson's.
Due to the larger size, the Hyundai Santa Fe can accommodate up to 7 occupants while the Tucson is a standard five-seater SUV. If you want a bigger seven-seater SUV, Hyundai Santa Fe is the right option. But if you are content with a standard 5-seater SUV, Tucson is a viable alternative to consider.
| Dimensions  | Hyundai Santa Fe  |  Hyundai Tucson |
| --- | --- | --- |
|  Length |  4,770 mm |  4,480 mm |
|  Width |  1,890 mm |  1,850 mm |
|  Height |  1,680 mm |  1,660 mm |
|  Wheelbase |  2,765 mm |  2,670 mm |
|  Ground Clearance |  185 mm |  172 mm |
Hyundai Santa Fe vs Hyundai Tucson - Exterior
Being significantly larger, the 2023 Hyundai Santa Fe has a more pronounced road presence than its compact sibling - it is also the key difference between these two models when it comes to the exterior.
Still, both of them share some similarities in terms of appearance as they both belong to Hyundai SUV's line-up. On the front, it is easy to point out that Santa Fe and Tucson all get the signature cascading grille and the split lighting setup with headlamps located on the higher end near the bonnet and the foglamps placed at the bottom.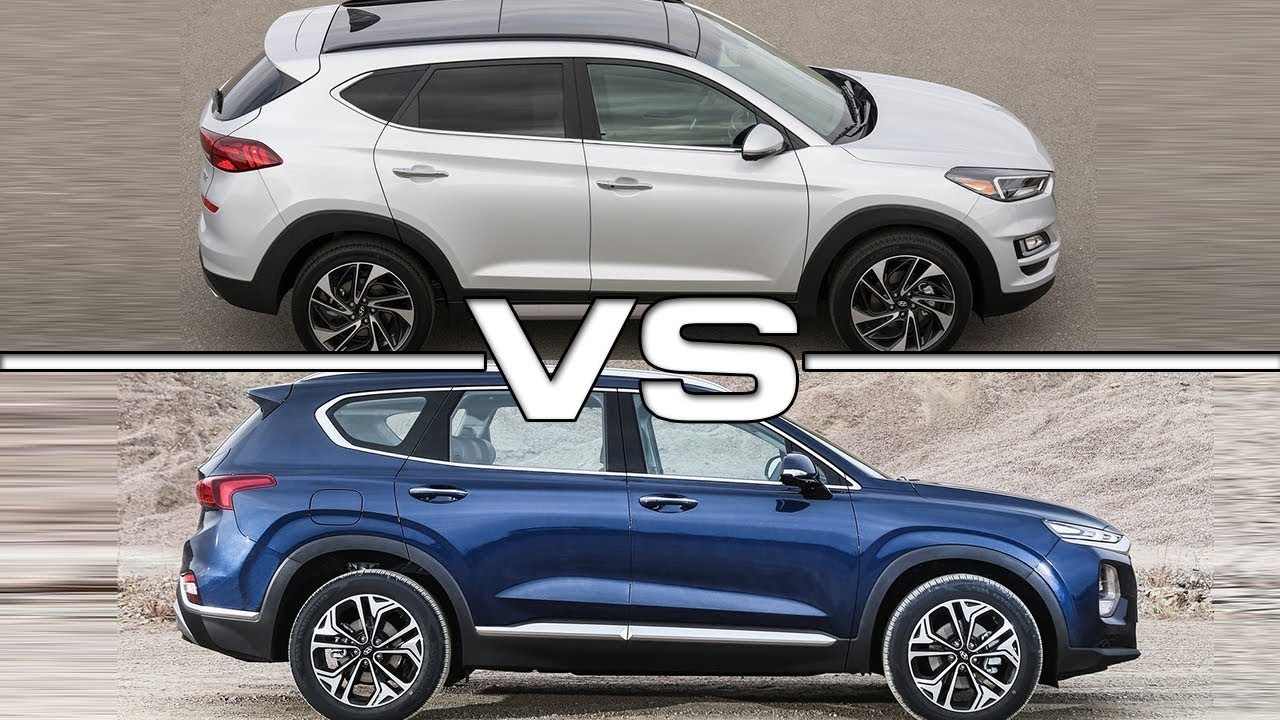 That being said, 2023 Hyundai Santa Fe has an edge over Tucson thanks to its premium list of exterior features. For example, Santa Fe comes with LED projector headlamps along with LED DRLs and LED foglamps. Adding to the mix, Hyundai also introduces Dynamic Bending features to the headlight units to enhance the visibility of the driver. On the other hand, the Tucson 2023 gets rather basic projector-type headlamps with halogen bulbs. 
Hyundai Santa Fe's sleek appearance is presented through the extensive use of chrome inserts throughout the exterior - from the front grille headlights, door handle, skid plate, and bumper cladding. Tucson also integrates chrome applique into their designs but in a less pronounced manner. While the Santa Fe features a sleek chrome hexagon-mesh grille, Hyundai Tucson gets a bulky horizontal slatted chrome grille. 
Hyundai Santa Fe features a fluidic design with curves and lines that forms an appealing and aerodynamic side profile. In addition, the mid-size SUV gets sleek 18-inch alloy wheels. To the rear end, there are LED taillights, silver skid plates, and bumper cladding.
As for the Tucson, it gets chrome finished door handles, alloy wheels, heated backlit glass as well as roof rails, and mudguards. 
Hyundai Santa Fe vs Hyundai Tucson - Interior
Coming into Santa Fe, you will get a premium and quality interior with a black and brown leather color scheme, soft surface materials, and a dual-tone upholstery dashboard. On the other hand, Tucson gets a beige and black interior. The seats get fabric cover, instead of leather upholstery like the Santa Fe.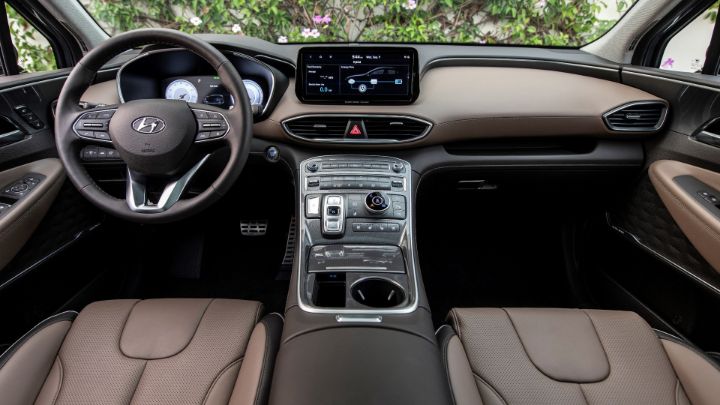 In terms of features, Hyundai Santa Fe includes a long list of comfort and convenience features like cruise control, dual-zone automatic climate control with AC vents for three rows, push-button start with keyless entry, and a 360-degree camera, and more. It also gets a 7-inch touchscreen with Apple Carplay and Android Auto, Bluetooth, USB, and AUX input. 
Hyundai Tucson gets fewer interior features that include an 8-way adjustable driver seater, two-way lumbar support, 60/40 split-folding format, and a center armrest with a cup holder. Hyundai Tucson doesn't come with a touchscreen infotainment system. Instead, it gets a floating audio display with Bluetooth connectivity. The climate control system in Tucson is manual, not automatic.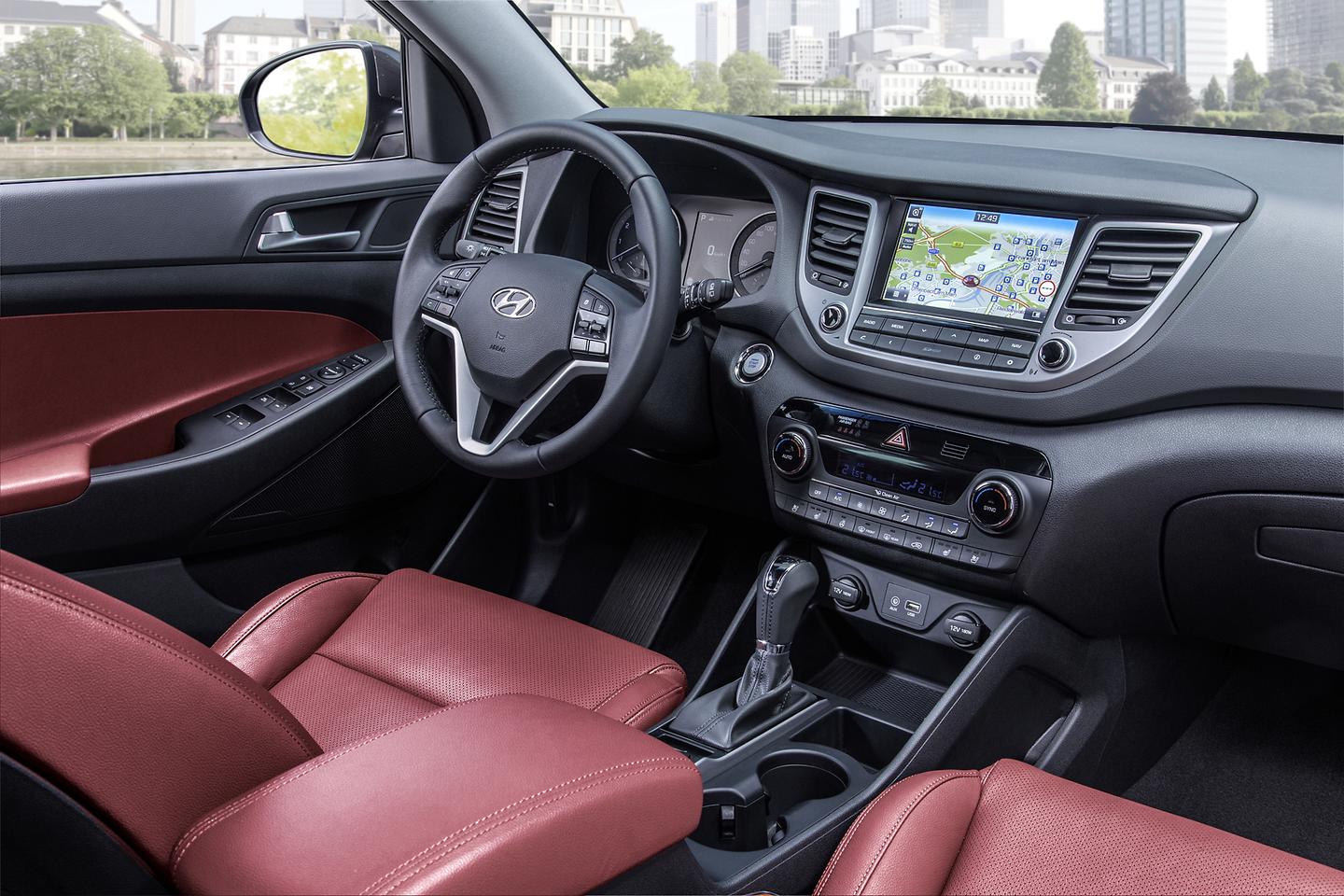 Hyundai Santa Fe vs Hyundai Tucson - Engine
Under the hood, Hyundai Santa Fe is powered by a 2.2-liter CRDi e-VGT diesel engine that generates 200 HP and 450 Nm of torque. This engine is mated to an 8-speed automatic gearbox.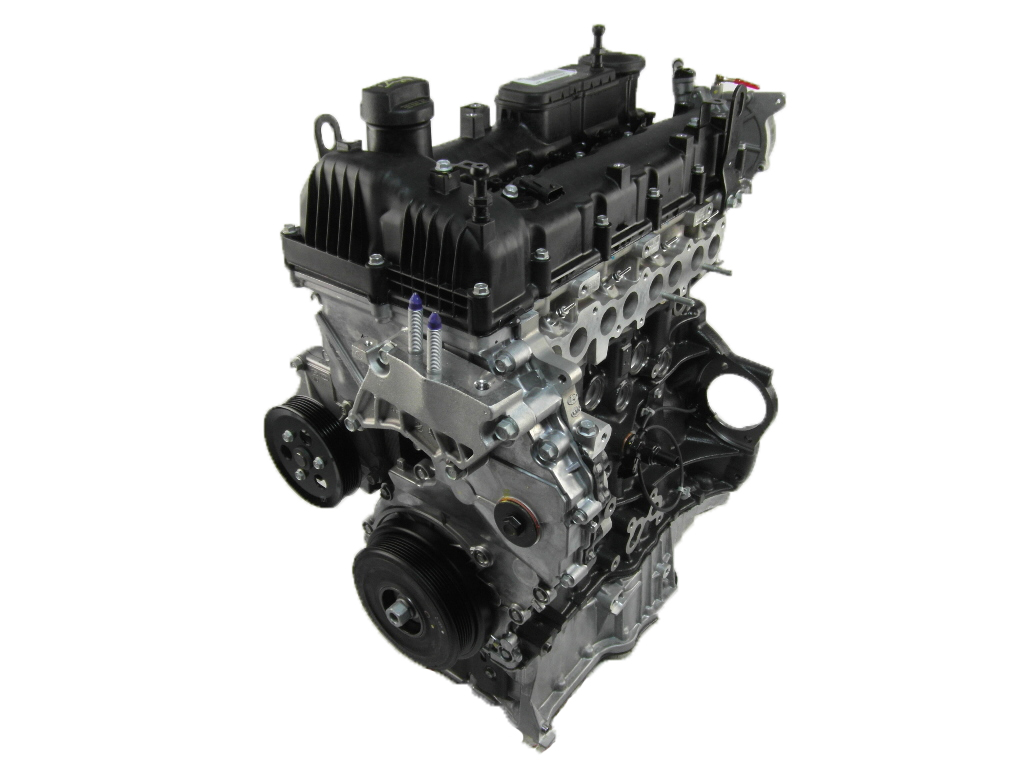 The Tucson, on the other hand, receives power from either a 2.0-liter petrol engine or a 2.0-liter turbo diesel engine. The former is powerful enough for 152hp and  192 Nm of torque. This engine option comes with a 6-speed manual transmission. Paired with 8-speed automatic transmission, the diesel powertrain pulls out 183 HP and 402 Nm.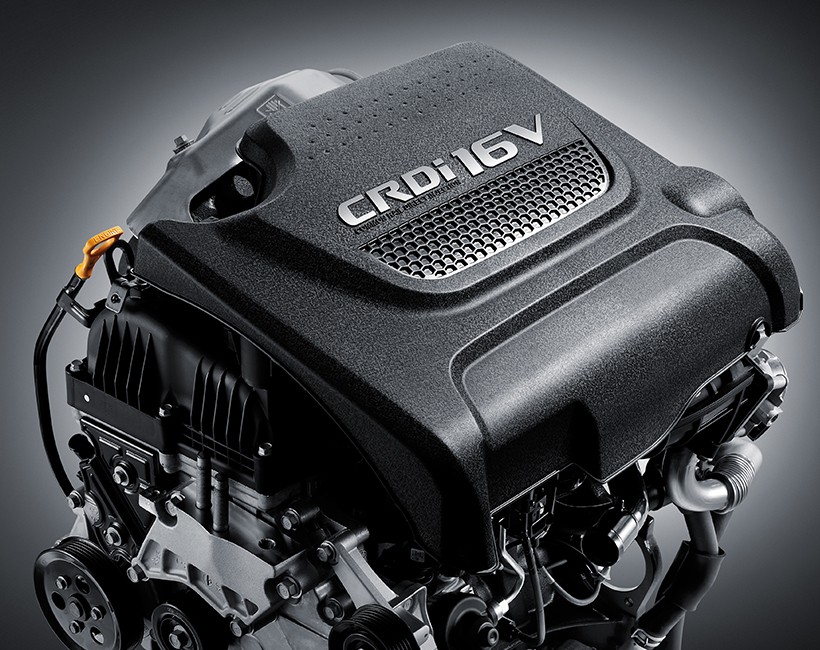 Hyundai Santa Fe vs Hyundai Tucson - Price
Being the more premium package, 2023 Hyundai Santa Fe price is positioned at a more premium segment. This midsize SUV is available from Php 2,158,000 – 2,538,000. While the Hyundai Tucson 2023 is on sale at the price range running from Php 1,368,000 – 1,885,000.
Conclusion
Both Hyundai Santa Fe and Tucson are considerable options in their respective segment. If you want a standard five-seater with a good look and powerful performance, Hyundai Tucson is the better choice. On the other hand, Hyundai Santa Fe makes more sense if you are looking for a proper seven-seater.
For more reviews like this comparison of Hyundai Santa Fe vs Hyundai Tucson, visit Philcarprice.com.
Thanks for reading! 
View other car comparison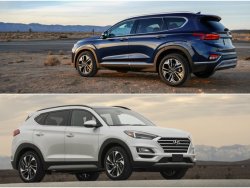 Jun 30, 2022
Are you hesitating over purchasing a Hyundai Santa Fe vs Tucson? Then stay tuned to figure out the similarities and differences between the two models.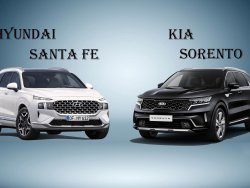 Jun 15, 2022
Are you deciding which car to get between Kia Sorento Vs Hyundai Santa Fe? Check out this article right now, as we will give you what you need on these two cars!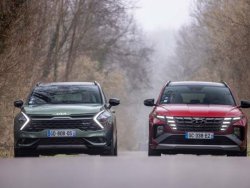 May 24, 2022
Hyundai Tucson vs Kia Sportage are both five-seater models in the SUV segment in the Philippines market. Which one is better? Discover more right now!