Hyundai Tucson Vs Kia Sportage - Who Is The Formidable Opponent?
Updated May 24, 2022
Introduction
These two Korean automakers often go head-to-head on vehicle sales charts in different markets. In the Philippines, they also launched these two models with the same segment and many similarities.
This article will compare Hyundai Tucson vs Kia Sportage to each other, from specs, exterior, and interior design, engine, and price, to help you better understand their differences. Don't miss these valuable details!
Overview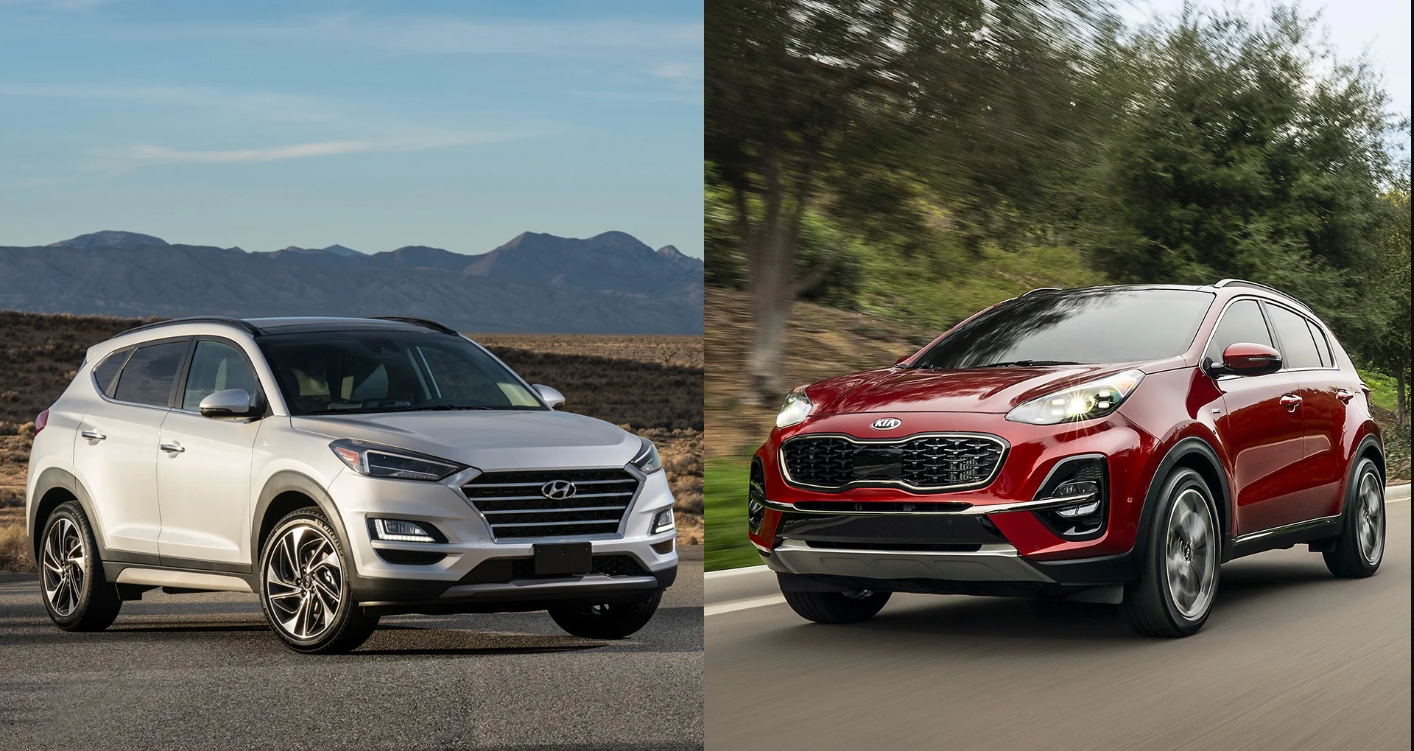 Hyundai Tucson Vs Kia Sportage confront each other in many markets
Hyundai Tucson
Hyundai Tucson was first launched in 2004; so far, more than four versions have been released. The 2022 version upgraded the 1.6-liter engine to the 2.0-liter engine for gasoline and diesel. Accordingly, the advantages and disadvantages of this vehicle can be summarized as follows:
Pros
A spaciously upgraded seating area and cabin

Efficient steering and handling

Smartphone connection with a terminal

Energy saving

Emissions to the environment reducing
​Cons
Outdated lighting system

Not upgraded sensor buttons

Unsatisfied cabin materials

​
Kia Sportage
KIA Sportage has been around since 1993 and has been oriented towards the crossover SUV line since 2004. This model has more than five versions produced, with the most sales being in the US, Mexico, and Korea.
Like its rival, its version this year has been upgraded from 1.6 liters to 2.0 liter, but with a fully automatic transmission. Its advantages and disadvantages can be summarized as follows:
Pros
Exquisitely designed LED lights

Luxury interior

Upgrade amazing technology features

Energy saving
​Cons
Lack of Apple CarPlay interaction

Lack of a bit safety feature in lower variants

Too cautious linear power distribution
Hyundai Tucson vs Kia Sportage Comparison
To answer the question: "Which is better Hyundai Tucson or KIA Sportage?". We need to determine the parameters of these two cars before coming to the interior and exterior design or the engine and price.
Specs
Exterior
Compared to Hyundai Tucson versus Kia Sportage, the most obvious is that these two models have the same length, while the width and height difference is not much. Their ground clearance and wheel height are also 172mm and 17 inches.
KIA Sportage appears with a tiger-nose grille, combined with sharp headlights and fog lights. Only the GT variant gets LED headlights and extra daytime running lights. Its exterior design is also a combination of curves and sharp lines, which optimize aerodynamics, reducing drag on the vehicle.
The Tucson has a larger grille, LED daytime running lights, and projector halogen headlights. These lights have the longevity and fuel economy behind LEDs. Outside it is plated with solid chrome, with the same color door handles, highlighting a strong sporty style.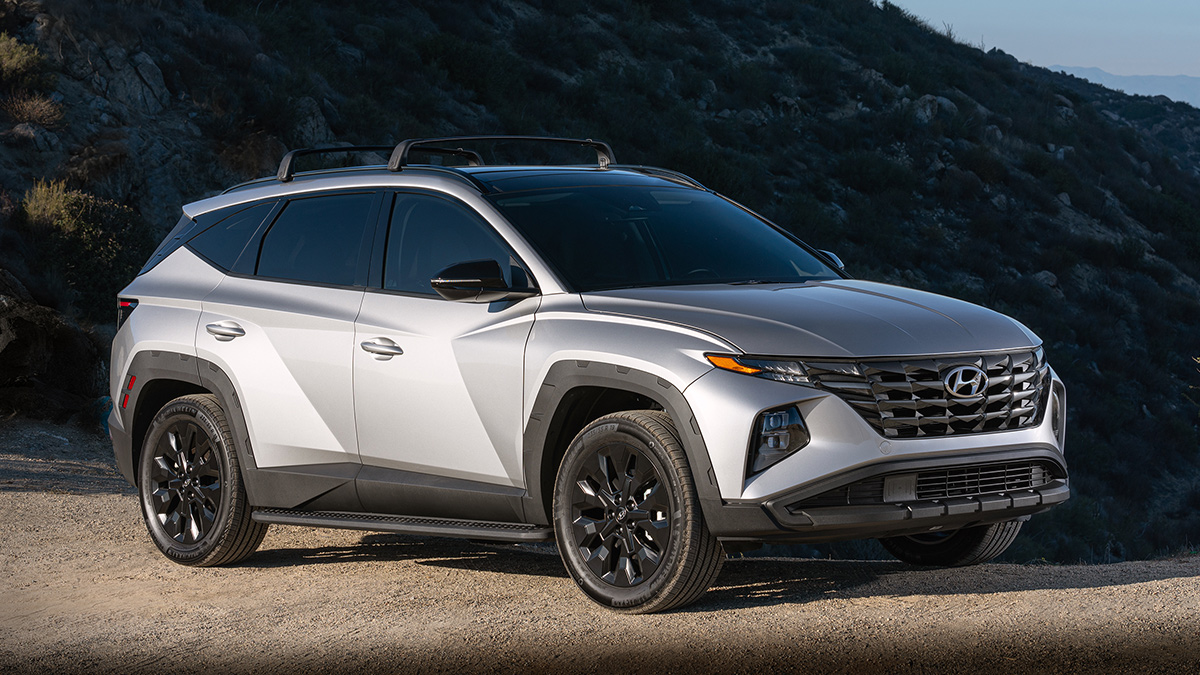 Hyundai Tucson owns a large grille and powerful appearance
Interior
Both cars can accommodate up to 5 adults with quite spacious space in terms of the interior. The second row of seats can be folded to expand the cabin.
KIA Sportage interior has comfortable leather seats, with legroom up to 1,050 mm and ground clearance of 172 mm. The black piano plastics create highlights throughout. The company uses "Sofino" leather upholstery technology for the steering wheel, seats, armrests, gear lever, and doors in the high-end variant.
Hyundai Tuscan interior has beige for the top and black for the bottom half. The seats are upholstered in fabric, combined with delicate contour lines. Besides, the cockpit is typical of boat style, which gives a feeling of spaciousness and luxury.
The cabin volume of this model is 38.7 cubic feet to 74.8 cubic feet if the second row of seats is folded, while its rival has a storage space of 30.7 cubic feet and up to 60.1 cubic feet.
Engine
Both models use gasoline or diesel 2.0-liter engines with four cylinders and 16 valves. The difference between KIA Sportage and Hyundai Tucson is the accompanying transmission engine technology.
KIA has equipped its model with a DOHC engine, which can simultaneously separate the exhaust valve and the intake valve, helping to increase driving productivity.
Combined with it is a 6-Speed ​​and 8-Speed ​​automatic transmission that can increase maximum power and torque up to 153 hps and 192 Nm. Moreover, the diesel variant can reach a maximum capacity of 182 hp and a maximum torque of 400 Nm.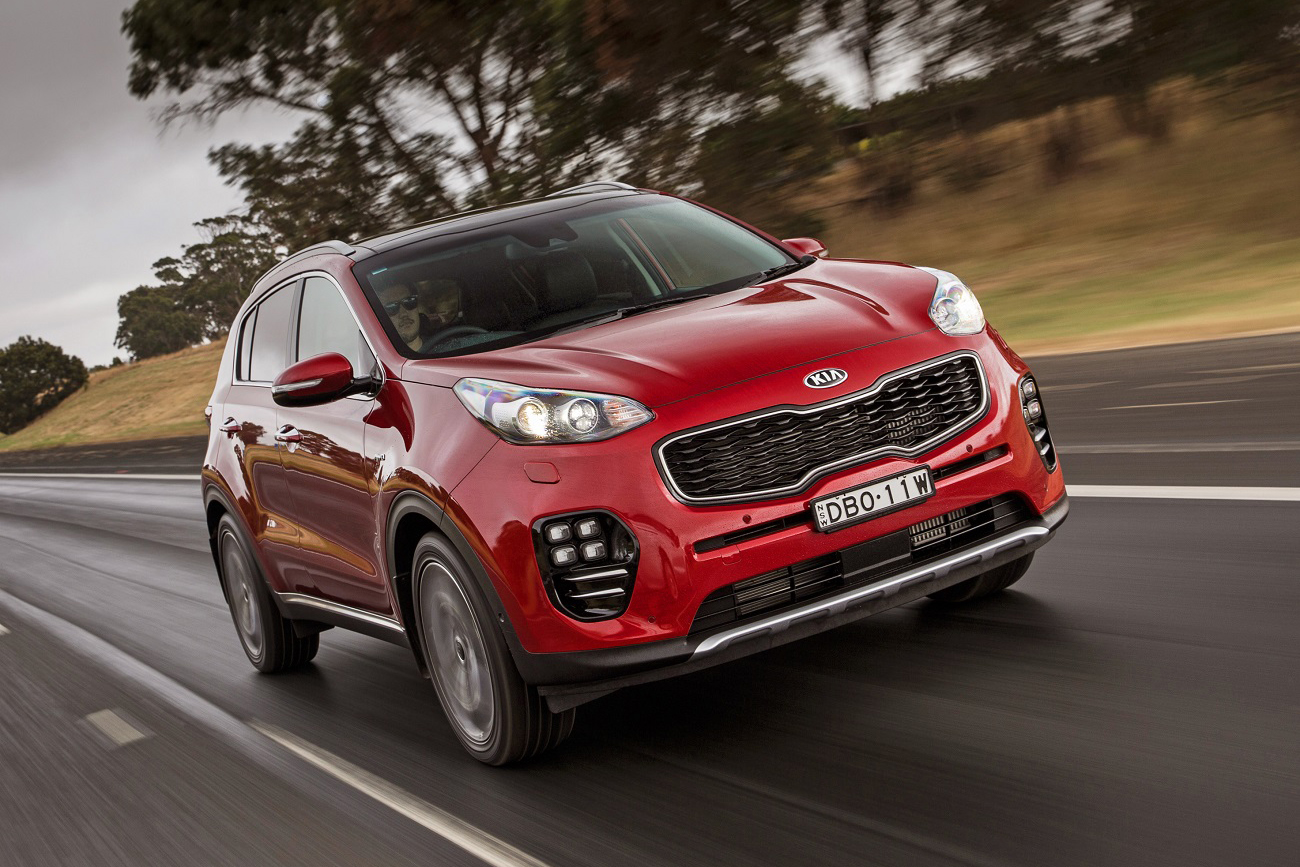 Kia Sportage owns a DOHC 2.0 Lit engine to help save fuel
On the other hand, Hyundai's car line uses CRDi technology and direct fuel injection to reduce fueling time. Besides, it also reduces emissions to the environment and temperature in the combustion chamber. 
When combined with the 6-Speed ​​manual and automatic transmission, it produces power and torque of 155 hps and 196 Nm, respectively. In the variant with 8-Speed ​​Automatic transmission, these two indicators are 185 hp and 410 Nm.
According to the EPA's assessment, the fuel consumption of this model is 38 mpg, while its rival can achieve 40.4 to 44.1 mpg for both city and highway.
Price
Hyundai Tucson 2022 price Philippines ranges from 1.368 to 1.885 million Pesos. It is available in two variants using an optional 6-speed manual/automatic transmission and two variants using an 8-speed automatic one. The high-end variant of this model can also upgrade the alloy wheels to 18 inches with a leather interior and upgraded features.
Kia Sportage 2022 price in the Philippines ranges from 1.290 to 1.820 million Pesos. This model was launched with only three variants using 6-Speed or 8-Speed automatic transmission. Its alloy wheel is also upgradeable but is up to 19 inches.
Conclusion
Both Hyundai Tucson vs Kia Sportage models share similarities in dimension, 2.0-liter engine, optional 6- or 8-Speed transmission, and spacious interior.
The Sportage series features a modern exterior design with high-brightness and long-lasting LED lighting. The interior is covered with high-quality leather, with the high-end variant using "Sofino" technology. The DOHC engine helps to save more fuel consumption.
Contrastingly, the Tuscan line features a fabric interior in beige and black. In addition to saving fuel, the engine also helps to reduce the temperature in the combustion chamber and the amount of gas released into the environment.
Thank you for reading! Also, you may read our writing of any other model on Car comparisons to get more thoughts on the subject. If you have any question, feel free to comment below or contact with Philcarprice.com!
View other car comparison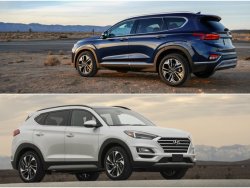 Jun 30, 2022
Are you hesitating over purchasing a Hyundai Santa Fe vs Tucson? Then stay tuned to figure out the similarities and differences between the two models.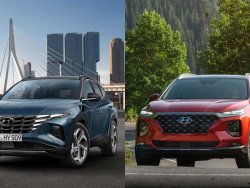 May 10, 2022
Hyundai Santa Fe and Hyundai Tucson are both great SUV options in the market. But which one makes more sense for you? Let's find out in this comparison review.