Hyundai Stargazer vs Toyota Veloz: Which MPV is worth choosing?
Updated Dec 05, 2022
Hyundai Stargazer VS Toyota Veloz are the same new names launched in the 7-seat MPV segment. While the Toyota representative has quickly gained a position in the hearts of Filipino customers, the Korean model has only just been introduced. However, Hyundai Stargazer 2023 promises to be a formidable opponent, threatening the position of Toyota Veloz Cross 2023.
Compare Hyundai Stargazer VS Toyota Veloz in philippines
The presence of Veloz Cross is considered as a timely addition to Avanza, which is quite inferior in the 7-seat MPV segment. Sales of Toyota Veloz Cross so far have always been stable, even surpassing Xpander to become the most popular multi-purpose vehicle in the market.
However, the upcoming Toyota Veloz Cross 2023 not only competes with Mitsubishi Xpander but also faces a new factor - Hyundai Stargazer 2023. The first representative of Hyundai in the multi-purpose vehicle segment is equipped with a series of outstanding utilities. It is expected that Hyundai Stargazer 2023 and Toyota Veloz Cross 2023 will have a fierce race in the Philippine market.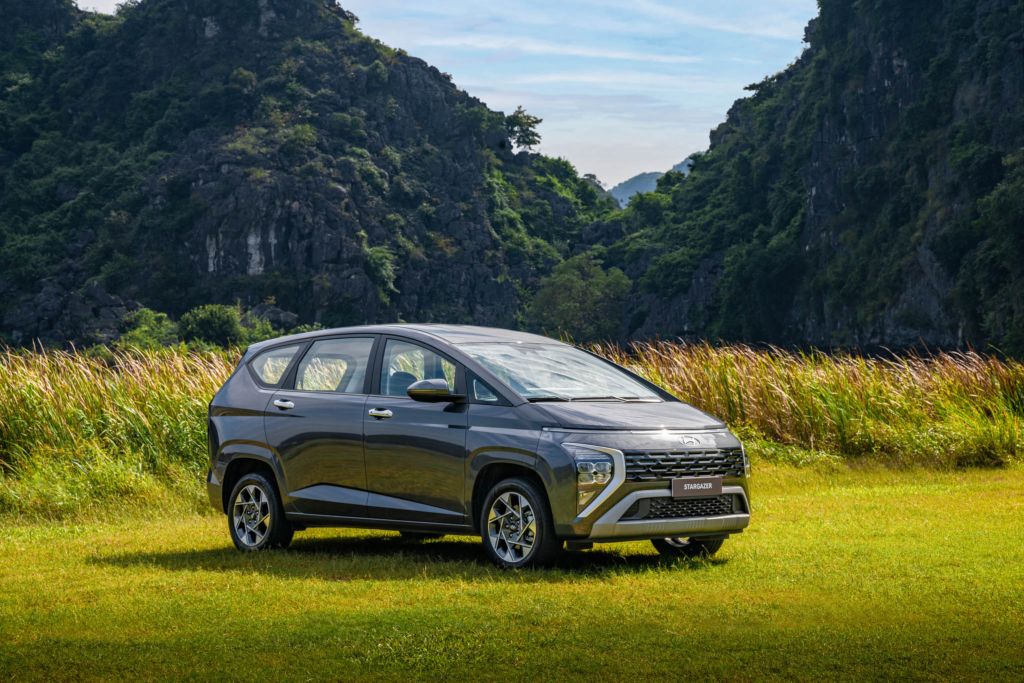 Hyundai Stargazer will be a formidable competitor of Toyota Veloz
Hyundai Stargazer vs Toyota Veloz exterior
Hyundai Stargazer 2023 owns more spacious and comfortable car space than rivals. Specifically, the overall length x width x height of the Korean representative is 4,460 x 1,780 x 1,695mm and a wheelbase of 2,780mm. Meanwhile, the dimensions of the Toyota Veloz Cross 2023 are 4,475 x 1,750 x 1,700mm and the wheelbase reaches 2,770mm. The Japanese MPV model is longer and taller than the competition.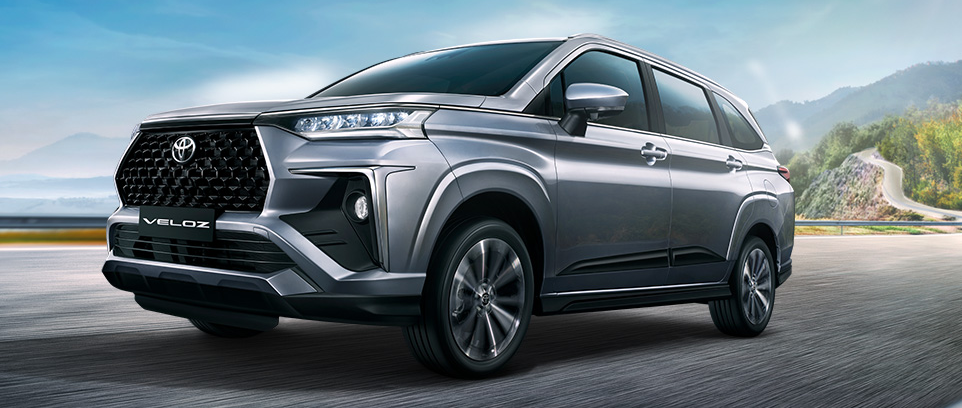 The Japanese MPV model is longer and taller than the competition
Hyundai Stargazer 2023 owns a radiator cluster with an extended, horizontally stretched design incorporating a wave pattern inside. The two sides arrange a headlight cluster equipped with LED bulbs with fog lights. Daytime lights are separate from the headlights and cover the bonnet. Toyota Veloz Cross 2023 uses a more advanced LED Projector headlight cluster with good illumination when moving in low light conditions. The lamp cluster is designed with a long swipe back combined with a delicate chrome border connected to the heatsink assembly.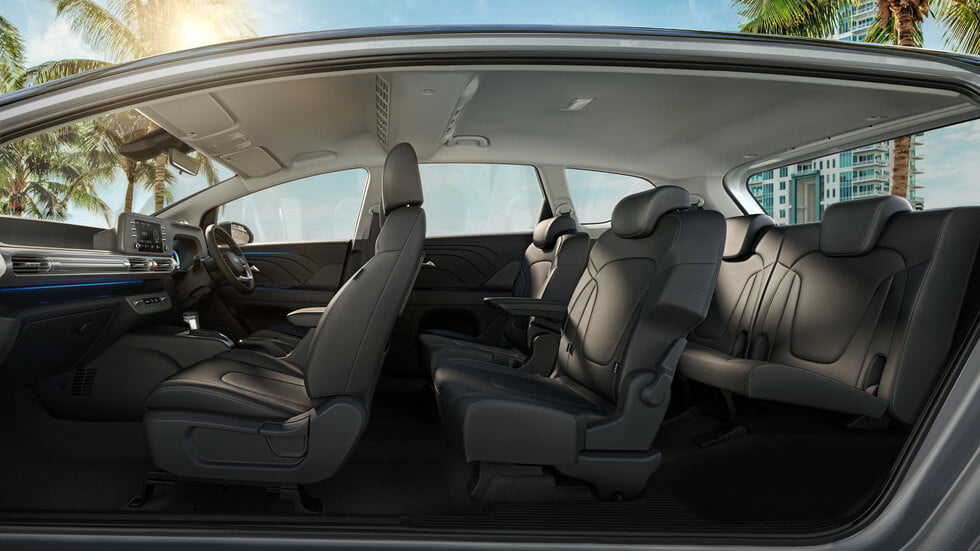 The interior of Hyundai Stargazer
Both these MPV models are equipped with LED taillights. However, the design of Toyota Veloz Cross and Hyundai Stargazer is different:
Toyota Veloz Cross owns a slim and connected rear light cluster, the details are quite similar to luxury cars on the market. The car is also equipped with a rear bumper and spoiler and a shark-fin antenna on the ceiling to complete the sporty design style for Toyota Veloz Cross 2023.

The Hyundai Stargazer 2023 is quite unique at the rear with dual triangular taillights placed vertically symmetrically. This detail is connected by a slender LED strip running across the tail.
Hyundai Stargazer vs Toyota Veloz interior
The biggest difference in the cabin compartment of these two MPV models is in the dashboard area:
Stargazer cars are equipped with a rectangular box protruding on the dashboard surface used to arrange the instrument cluster behind the steering wheel and the central touchscreen entertainment screen. The size of the entertainment screen is 10.25 inches.

Toyota Veloz Cross has a basic dashboard with a floating central entertainment screen with a size of 9 inches. The dashboard displaying operating parameters continues to be placed behind the steering wheel. In particular, this dashboard comes with a 7-inch digital screen that can customize 4 display modes.

​
Both MPVs are equipped with automatic air conditioning, wireless charging, remote door lock, push button start, rear air vents, power windows. Some other equipment available on Toyota Veloz Cross include electronic handbrake, smart key, 6-speaker audio, rearview mirror in 2 day/night modes. On the Hyundai Stargazer 2023 is a high-end Bose 8-speaker sound system and comfortable cruise control.
Hyundai Stargazer vs Toyota Veloz budget
Hyundai Stargazer does not have the full price yet, but according to many sources, this imported model can have a price from about  ₱1000000 while the price of Toyota Veloz is   ₱1100000.
Basically, Hyundai Stargazer vs Toyota Veloz economy do not have too much difference.
>> Read more about Car comparisons.
Conclusion
In general, Hyundai Stargazer vs Toyota Veloz both have their own outstanding equipment and bring an interesting experience to the driver and passengers on every journey. However, in terms of price, spacious space and performance, Hyundai Stargazer 2023 is showing more attractiveness than competitors. This will present another tough competitor for the Toyota Veloz Cross in the 7-seater MPV segment in the Philippines.
Update more information about car life with Phil Car Price!
View other car comparison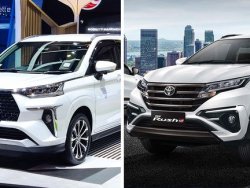 Jul 25, 2022
If you are looking for a car in the Philippines, you can desire to know about Toyota Veloz Vs Rush. Find out which one is the best car for you!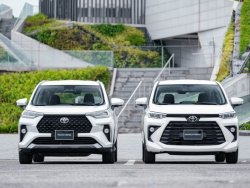 Jul 22, 2022
Are you perplexed by the distinctions between the Toyota Veloz vs Avanza? Let's see whether the two automobiles have similar qualities in this article!