A Detail Comparison Of Toyota Veloz Vs Rush
Updated Jul 25, 2022
As part of the entry-level market, Toyota is one of the leading manufacturers offering several highly competitive and efficient products specifically to suit first-time drivers.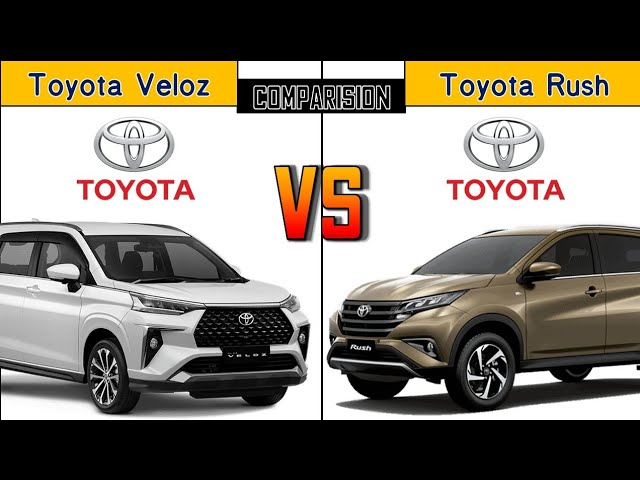 Toyota Rush Vs Toyota Veloz
As one of the most trusted brands in the country, Toyota has gained a lot of popularity for the entry-level segment, namely the Toyota Veloz Vs Rush, successful products serving Toyota for years now. So which one should you choose between these two? Let's find out now!
Overview
It can be hard to find the perfect fit when it comes to choosing the right car for you and your family. The Toyota Rush and the Toyota Veloz both have similar features, but they have some distinct differences.
​The Toyota Rush is a powerful and functional car popular in the Philippines. It is an affordable, reliable, and comfortable ride that delivers an impressive km/l ratio to its car owners. On the other hand, the Toyota Veloz is a sporty and exciting car that can give you a head start if you're a beginner in racing. 
Though the Toyota Veloz is more costly than the Toyota Rush, many car enthusiasts still opt to buy it because of its impressive design and the high-end features that it offers.
Continue reading and find out more.
Toyota Veloz Vs Rush - Exterior/Dimensions
Let's start by comparing the Toyota Veloz Vs Rush in size. The Veloz has a length of 4,475 mm, a width of 1,775 mm, a height of 1,700 mm, and a ground clearance of 190mm. Compare that to the Toyota Rush, which is 4,435mm long, 1,695mm wide, and 1,705mm tall with Toyota Rush ground clearance of 220 mm.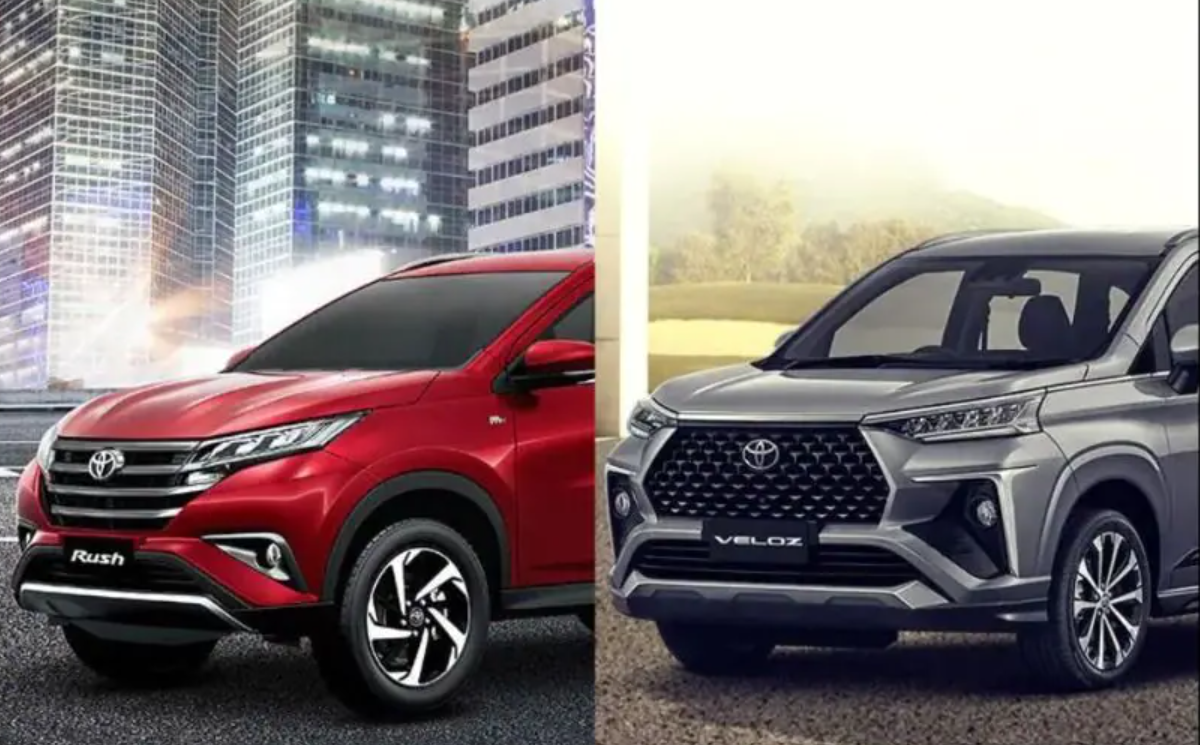 Toyota Rush Vs Toyota Veloz
The Rush is longer and taller than the Veloz, but it is also wider almost double. However, Rush's wheelbase is shorter than that of the Veloz's.
Both cars come with certain features standard, like LED headlamps and taillights. The Veloz does not come with a roof-mounted spoiler or power-folding mirrors. In other words, it offers you less than the Rush when it comes to what's standard. Both the Veloz and the Rush are also equipped with a 17-inch model.
Toyota Veloz Vs Rush - Interior
Both the Veloz and Rush may comfortably seat up to 7 people thanks to their dual-zone air conditioning system, tilt & telescopic steering column enabling individualized driving precision, fabric seats, and rear vents with separate controls. 
Additionally, consumers can get a leather steering wheel for more grip and comfort in the Veloz or urethane steering wheel, with all controls on display in the Rush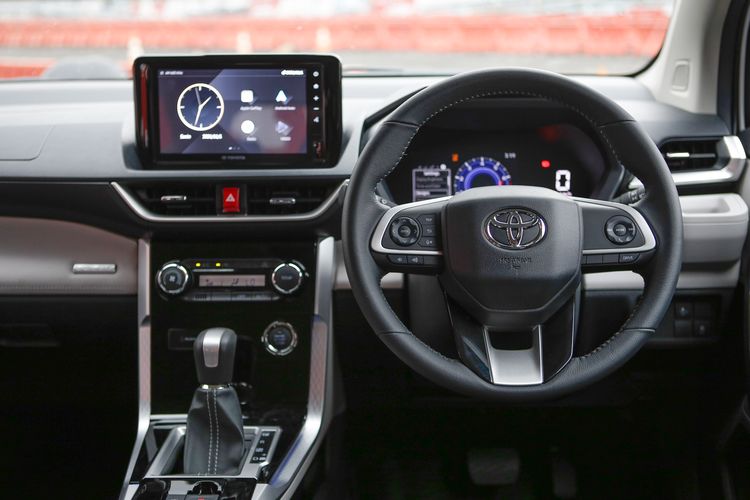 Toyota Veloz Interior
Some interior features of both models include push-to-start buttons, an analog gauge cluster, 60:40 split-folding seats, and more. Meanwhile, the Toyota Veloz comes standard with an eight-inch touchscreen head unit that has Bluetooth and USB connectivity, Apple CarPlay and Android Auto capability, and a four-piece speaker system linked to it. 
Meanwhile, the Toyota Rush only comes with a seven-inch setup that includes Bluetooth and USB connectivity - Weblink Smartphone Connectivity software - and a simpler set of connectivity options. However, it does have more speakers at eight in total.
Toyota Veloz Vs Rush- Engine
The Toyota Veloz engine is a 1.5-liter inline-4 engine that produces a healthy 105 horsepower and 138 Nm of torque for mechanics. The engine is then paired with a continuously variable transmission sending power to its front wheels. And as for the Rush, it uses a smaller 1.5-liter inline-4 that makes up 102 horsepower and 134 Nm of torque. 
Power is then sent to its rear wheels via a four-speed automatic gearbox. The difference, however, isn't that much greater than in the case of Toyota's commercial vehicles, for example, where there is about 5hp more but only four more Nm of torque generated by using an even smaller 1.3-liter inline-4 gasoline unit producing 80 horsepower and 126 Nm of torque.
Furthermore, all models come with a different suspension system. The Rush and the Veloz use a five-link axle type suspension. The Rush also gets disc brakes for all four wheels, but only the Veloz's front wheels are provided with discs. It is important to note that the new Veloz no longer shares a platform with the Rush. Instead, it now uses the Daihatsu New Global Architecture (DNGA-B), which is now just another full-on monocoque model.
Toyota Veloz Vs Rush- Price
The Toyota Veloz and Rush are two of the most common cars in the Philippines. Many people choose the Veloz because of its price, but how does Toyota Veloz 2023 price Philippines compare to the Toyota Rush price? Please find details in the following table.
Which Is Winner?
The comparison is based on interior space, exterior space, engine room, and prices. The Toyota Rush and Veloz are perfect for people who have a family and need space. As for the exteriors, the Rush has a boxy look, the engine is located under the back seat, and it has a bigger trunk than Veloz.
Meanwhile, the Veloz has a sleek design, and you will notice that the dashboard of the car is equipped with wood-like material. It has a flip-up screen for the back seat passengers, which displays DVD and audio-video for entertainment, plus a mini-bar. So which one is the winner? It's up to you!
Conclusion
We hope you enjoyed our article comparing Toyota Veloz vs Rush in the Philippines. We know that you can make the most of your purchase and make it as informed a decision as possible with this knowledge.
Thank you for reading! Also, you might read our writing of any other article like this on Car Comparison. If you have any question, feel free to comment below or contact with Philcarprice.com.
View other car comparison