Suzuki XL7 Vs Toyota Rush: A Comparison Of Japanese 7-Seat SUVs
Updated Jun 24, 2022
Introduction
Since they are all 7-seat SUVs, Suzuki XL7 vs Toyota Rush quickly became rivals in the Philippine market. Both have many similarities and differences, built from two famous brands and become the car line of choice for many customers.
This article will compare them in dimension, exterior, interior, technology, engine, and price for your reference. So, do not miss any details!
Overview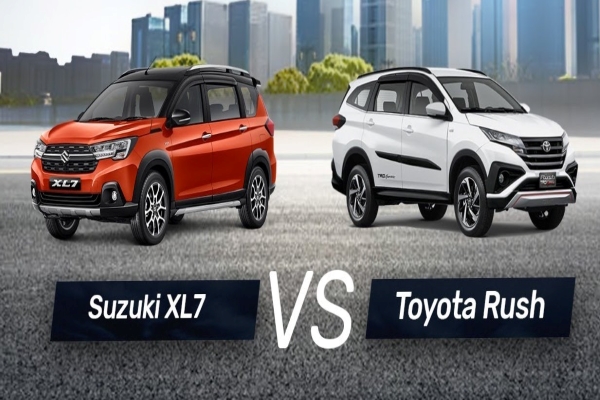 Suzuki XL7 vs Toyota Rush
Suzuki xl7
In 2019, Suzuki split the Ertiga into two separate lines, the XL6 for the Indian market and the XL7 for the worldwide market. Both lines are officially announced to have more than 200 differences from the original one, from design, engine, the better center of gravity, and upgraded suspension.
The XL7 series was released to the Philippines market in March 2020 and will have sold more than 2,000 units by the end of 2021.
This year's version is impressed by its strong design; the contour points are highlighted, helping the driver easily conquer all difficult terrains.
Toyota Rush
This model's predecessor is Daihatsu Terios, an SUV produced in 1997. This car line has many different names depending on each market, and the above name has been official since 2006 until now.
In May 2018, the company launched this model in the Philippines market with two levels: E - 5 seats with manual or automatic transmission, and G - 7 seats with an only automatic one. In 2020 and 2021, this model has sold more than 22,700 units in this market.
This year's version has officially been upgraded to 7 seats, along with the appearance of the GS Sport variant, which has made its opponents shy. Besides, the infotainment screen is also upgraded for both normal and high-end variants.
Compare Suzuki Xl7 vs Toyota Rush
Exterior/Dimensions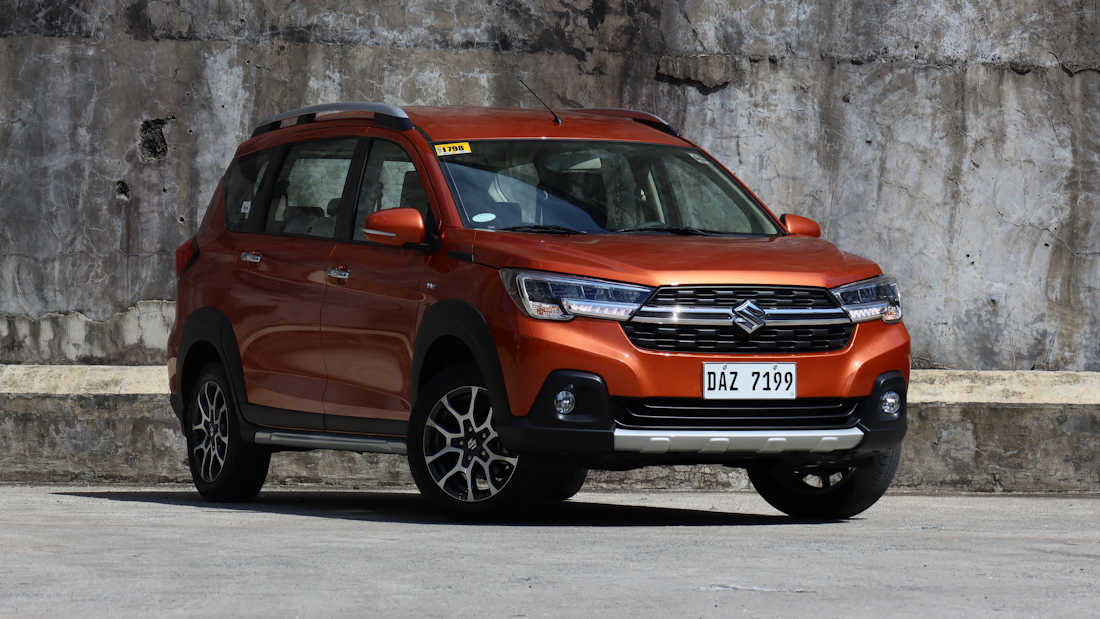 Suzuki XL7 2022
Suzuki XL7 dimensions are 4,450 x 1,715 x 1,710 mm, which have a greater length, width, and height than the Toyota Rush by 15 mm, 80 mm, and 5 mm, respectively. Meanwhile, its ground clearance is 200mm, 20mm smaller than the competition.
Looking at the exterior design, the lighting system of both includes headlights with daytime running lights and taillights. The similarity puts them on par in terms of their respective lighting fixtures. While in terms of wheels, the Rush has either 16- or 17-inch wheels depending on the variant, but with its rival, you only have a 16-inch option.
In terms of colors, Rush's collection is more than its competitor one option is white, black, bronze, silver, and red. As for the XL7, you can choose from 4 colors: white, khaki, gray, and orange for your vehicle.
Interior
Toyota Rush 2022 interior chooses black as the main color, beige as an accent, and gray as the header. The material is also carefully selected with hard plastic to enhance the durability of the equipment inside, and the seats are upholstered in fabric. Its cabin volume is 213L and expands to 514L when the rear seats are folded.
In terms of technology, all variants of this model are equipped with a 7-inch touchscreen infotainment system with the Weblink capable of connecting to Android or iOS smartphones. Accompanying it is a sound system with 6 or 8 speakers, based on variants, and can connect with USB or Bluetooth.
On the other hand, the XL7 interior, with the main color tone of black and beige, is used for the header. The material combines hard plastic and carbon fiber with piano buttons design, making the dashboard more sophisticated, and the seats are upholstered in fabric.
Its cabin volume is 153L, and when folding, the rear seats up can increase by 550L, reaching 803L, larger than its rival.
Its infotainment screen is also bigger, with a 10-inch touchscreen compatible with both Apple Carplay and Android Auto, and has AUX, Bluetooth, and USB connectivity. The sound system has only six speakers, equivalent to the lowest variant of the Rush.
Engine
When it comes to engines, XL7 vs Rush all have 1.5-liter gasoline ones with four cylinders in-line.
The Suzuki series, powered by the K15B engine, is designed for commercial use. Combined with the 4-speed automatic transmission, it can generate maximum power and torque of up to 103 hp and 138 Nm.
Contrastingly, Toyota's line of cars uses 2NR-VE engines, combined with a 4-speed automatic transmission or 5-speed manual transmission. This combination increases maximum power to 102 hp and torque to 134 Nm.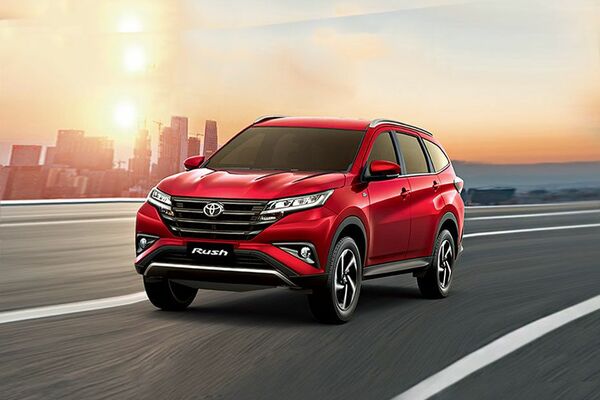 Toyota Rush 2022
Another difference that helps Rush dominate is the use of the rear-wheel drive. As a result, it has better acceleration and much more load power. Contrarily, Suzuki's model uses a front-wheel-drive system which drives efficiency, saves fuel, and reduces costs.
Price
This year's version of Toyota was launched with three variants, including two normal and one premium, with prices ranging from 1,012 to 1,176 million. Meanwhile, the Suzuki XL7 2022 price Philippines is 1,098 million, with only one variant. Specifically, they are shown in the table below:
Conclusion
The confrontation between Suzuki Xl7 vs Toyota Rush can be considered a balance. 
The XL7 dominates in the interior, especially in advanced technology, while the Rush is thanks to the rear-wheel-drive system that supports the engine's traction and outstanding acceleration. The two are in harmony in the exterior design with the lighting system and accents.
Compared to the price, the Toyota line will give you more options with three variants, clearly distinguishing its competitors with only one. But the price of the two is not much different. 
Thus, you can weigh your preference for each comparison component to select the right companion.
Thanks for your reading! Also, you may read our writing of any other model on Car comparisons to get more thoughts on the subject. If you have any question, feel free to comment below or contact with Philcarprice.com!
View other car comparison