Mitsubishi Xpander VS Toyota Rush - Which Is Better?
Updated Apr 29, 2022
The SUV segment has grown rapidly in the Philippines, and many new brands have entered the market. Mitsubishi and Toyota have been a part of this segment and are still going strong. 
However, is the Mitsubishi Xpander better than the Toyota Rush? To answer this question, we compared the Mitsubishi Xpander vs Toyota Rush. Let's look at which of these two cars comes out on top. 
Mitsubishi Xpander vs Toyota Rush: Overview
Many people say that larger SUVs have never really caught on in the Philippines, but it looks like the Mitsubishi Xpander and Toyota Rush are two models that Filipinos can't get enough of. These vehicles feature seven seats and aren't too conservative for style.
The Mitsubishi Xpander is a Japanese vehicle that has been on the Philippines' car scene since March of 2018. The Xpander seats seven people and replaced the brand's Adventure SUV as an option for small families or those who enjoy driving others around. A refreshed version of this ride was released in 2022, offering versatility to those who desire practicality without sacrificing comfort.
On the other hand, Toyota is a brand that has captured the hearts of many Filipinos, and that is not soon going to change. The Toyota Rush is an SUV-inspired model that will give owners an upscale experience but at a much more affordable price. It comes in a 7-seater configuration only and enjoys features not usually associated with a vehicle within its category.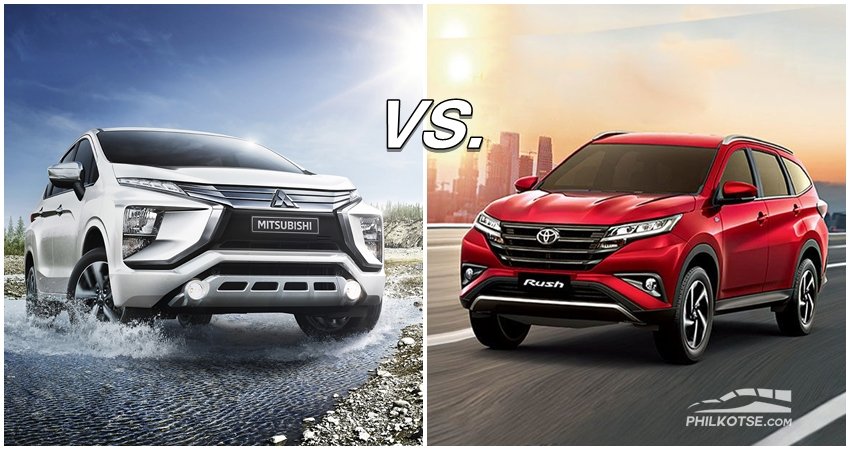 Which Is Better Toyota Rush Or Mitsubishi Xpander: Exterior
The Mitsubishi Xpander and the Toyota Rush are two great choices for an SUV-like vehicle on the outside. The Xpander boasts a unique shield design with dynamism and utility in mind. At the same time, the Rush likewise comes with style but is also meant to be tough and more rugged, so it sounds safer for off-roading. 
For Mitsubishi, the front bumper is also exclusively fitted with headlights and fog lamps. These are hidden under a plastic cover that gives an idea of what is underneath. The Xpander GLS Sport comes standard with all-terrain skirting and extra kits that give the MPV an added aggressiveness in appearance.
The Rush has a design similar to that of the Toyota Fortuner. It will always appeal to those who are not only looking for a capable off-roader but also want a car that adds visual impact to their image. Made available in E, G, and 1.5G variants, the latter comes with a smoked chrome grille and roof rails accompanied by alloy wheels of 17-inch size. 
Both come with standard LED headlights on high-end trim levels, making them ideal for long trips in adverse weather conditions.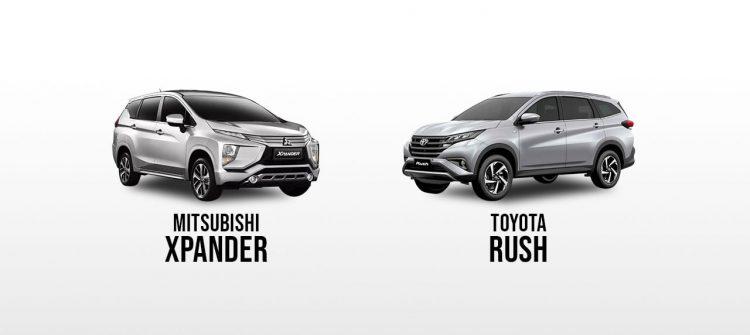 Mitsubishi Xpander Or Toyota Rush: Interior
On the inside, both cars give us two very different experiences. While each brand has taken its approach to how the interiors look, Mitsubishi Xpander has incorporated sweeping lines in its model. At the same time, Toyota Rush's is less curvy and a little boxier.
Regardless, each manufacturer has made sure that the fabrics chosen are durable. The Xpander handles this aspect particularly well with soft-touch materials thrown into the mix and an overall spacious feel to it. 
Behind the wheel, there is plenty of legroom and headroom. The first row is spacious enough for average-sized adults to sit behind average-sized adults, so there shouldn't be any comfort issues. You can also use a plethora of cubby holes and storage compartments if needed. 
In the meantime, stepping inside the Toyota Rush has never been so refreshing. The cabin is outfitted with a sophisticated design that makes all passengers feel relaxed and at home. It is quite clear that the front dashboard also incorporates several convenient varieties of touch panel technology.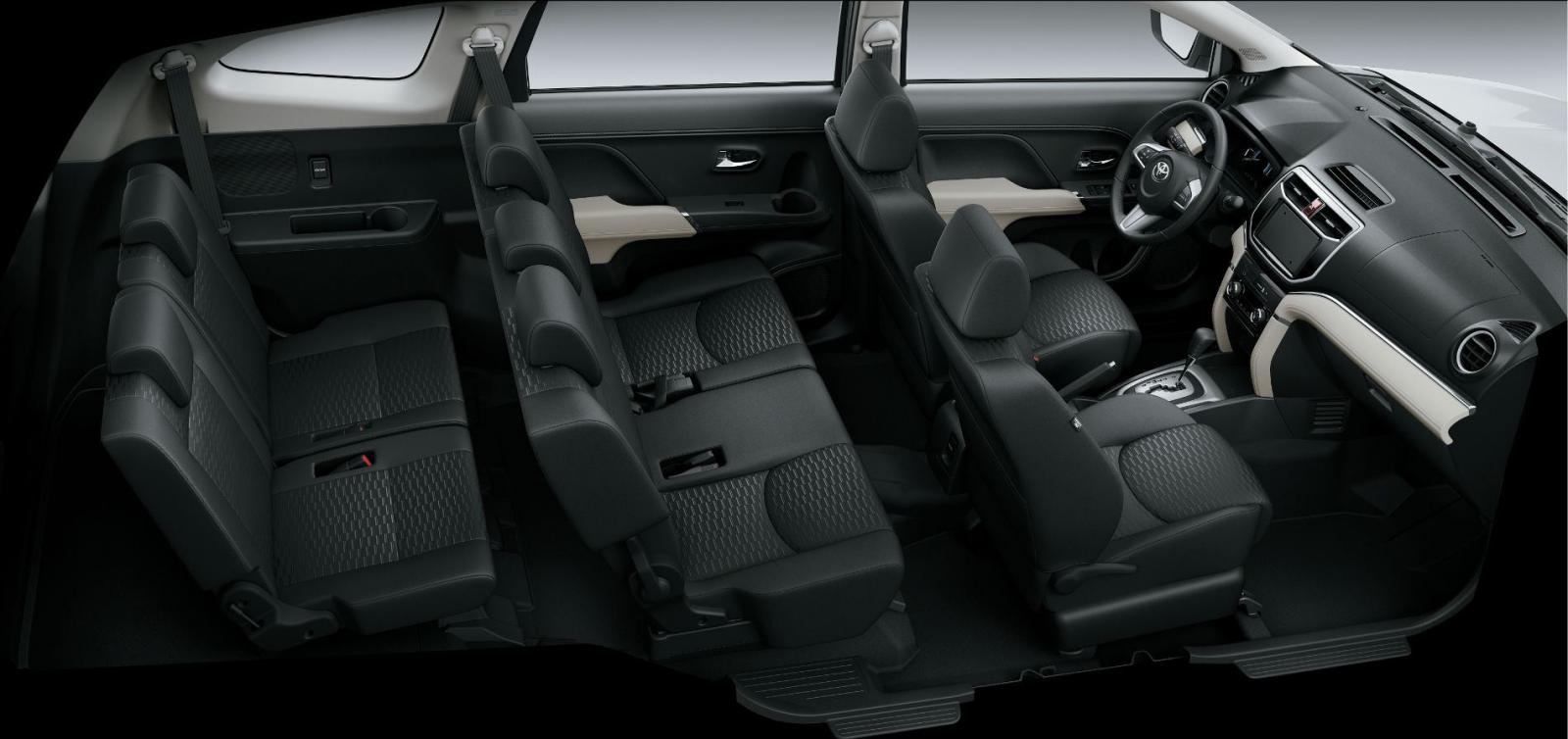 Toyota Rush And Mitsubishi Xpander Comparison: Engine
The Toyota Rush and the Mitsubishi Xpander are two opposite extremes – just like heads and tails. When it comes to their powertrains, they take different approaches. 
The Toyota Rush comes in a rear-wheel-drive layout, while the Mitsubishi Xpander has a front-wheel-drive configuration. Both of them come with 1.5-liter engines, which means neither of them lacks significant power compared to its rival.
The Xpander is powerful and includes features that help it stay reliable. The Xpander has a 1.5-liter, in-line-4 cylinder 16 valve DOHC gasoline engine with the MIVEC. It generates a maximum of 105 horsepower at 6000 rpm with a peak torque of 141 Nm at 4,000 rpm coupled with a 5-speed manual or 4-speed automatic transmission.
Powered by a 1.5 L inline-4 cylinder engine, the Toyota Rush can generate up to 102 hp at 6,000 rpm and 134 Nm of torque. The manual version is only a 5-speed gearbox, while the automatic one gets an upgraded 4-speed unit.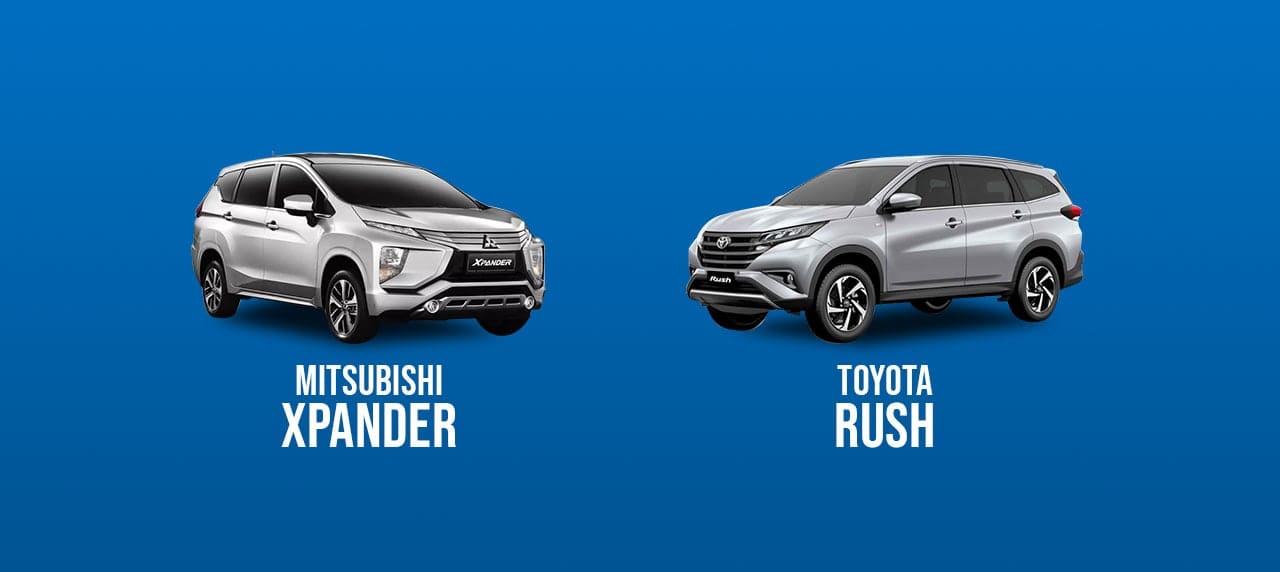 Toyota Rush VS Mitsubishi Xpander: Price
When comparing the price list between the Toyota Rush and the Mitsubishi Xpander, the Rush is cheaper than several other subcompact sedans available in the market. Its base model's price is below ₱1,000,000 while the most expensive model is still lower than the competitor's second most expensive models. 
The Toyota Rush G variant has a starting price of ₱1,100,000, while the Xpander GLS AT's most expensive variant is more expensive by ₱38,000. The entry-level models altogether have similar pricing to each other, both Toyota: The Rush E and the Xpander GLX have starting prices of just above ₱900,00 and ₱800,00, respectively. 
Here is a detailed list of Mitsubishi Xpander price Philippines:
And the Toyota Rush price Philippines list:
Conclusion
Toyota Rush and Mitsubishi Xpander are two of the best cars in the market. While they are similar in many ways, they also have some fairly significant differences. That means you will need to take a closer look at both of them to make the best choice for yourself and your family. 
We hope you enjoyed our article on the Mitsubishi Xpander vs Toyota Rush. If you are interested in one of these cars, it is worth reading our article. We are very excited to provide you with information on the two SUVs. Thank you so much for reading on Philcarprice!
View other car comparison