All About Ford EcoSport Fuel Consumption - An Economical Vehicle
Updated Jun 07, 2022
Intro
Ford EcoSport is one of the most economical vehicles on the market. There should be no complaints about its efficiency. How is Ford EcoSport fuel consumption? You will find the right answer in our article. Scroll down!
Ford EcoSport Engine
Ford EcoSport should always deserve the best driver's car available in the crossover market. This entertaining supermini is designed with a superb engine to handle the roughest track and longest drive.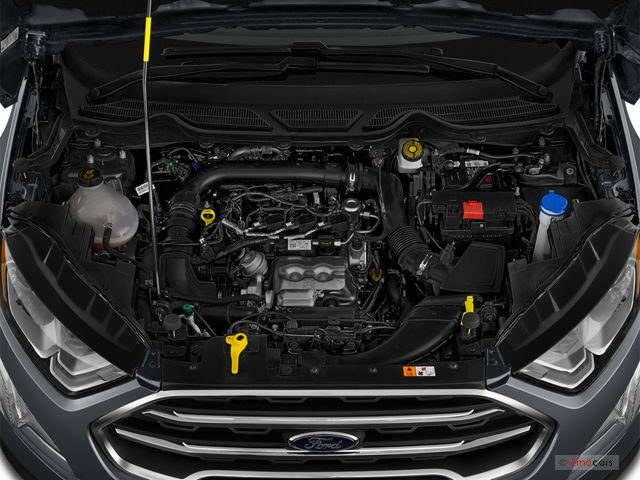 Ford Ecosport Engine
The EcoSport was once powered by a diesel engine, making it one of the most economical pieces on the market. This 125HP EcoBlue diesel engine shows 100 HP 1.5 liter TDCi and can return up to 69 MPG on the combined cycle.
However, most EcoSport vehicles are no longer designed with this diesel engine. Instead, they are now powered by petrol. The new engine offers decent gas mileage and driving range for your long adventure.
Its award-winning EcoBoost engine shows 123 BHP and a full capacity of 1 liter. You can expect a great turn of speed, which only takes around 10 seconds to drive from 0 to 62 MPH. Compared to the previous 99 BHP model, this figure is 2 seconds quicker. 
Most EcoSport SUVs are best suited for slower drives, including slipping through busy roads. Its four-cylinder engine with all-wheel drive and six-speed automatic transmission makes the travel much smoother.
Ford EcoSport Fuel Consumption
Most products have a standard 13.8-gallon fuel tank capacity to provide the pump with more miles per trip. The sporty yet compact Ford EcoSport SUV often takes drivers aback with its impressive gas mileage.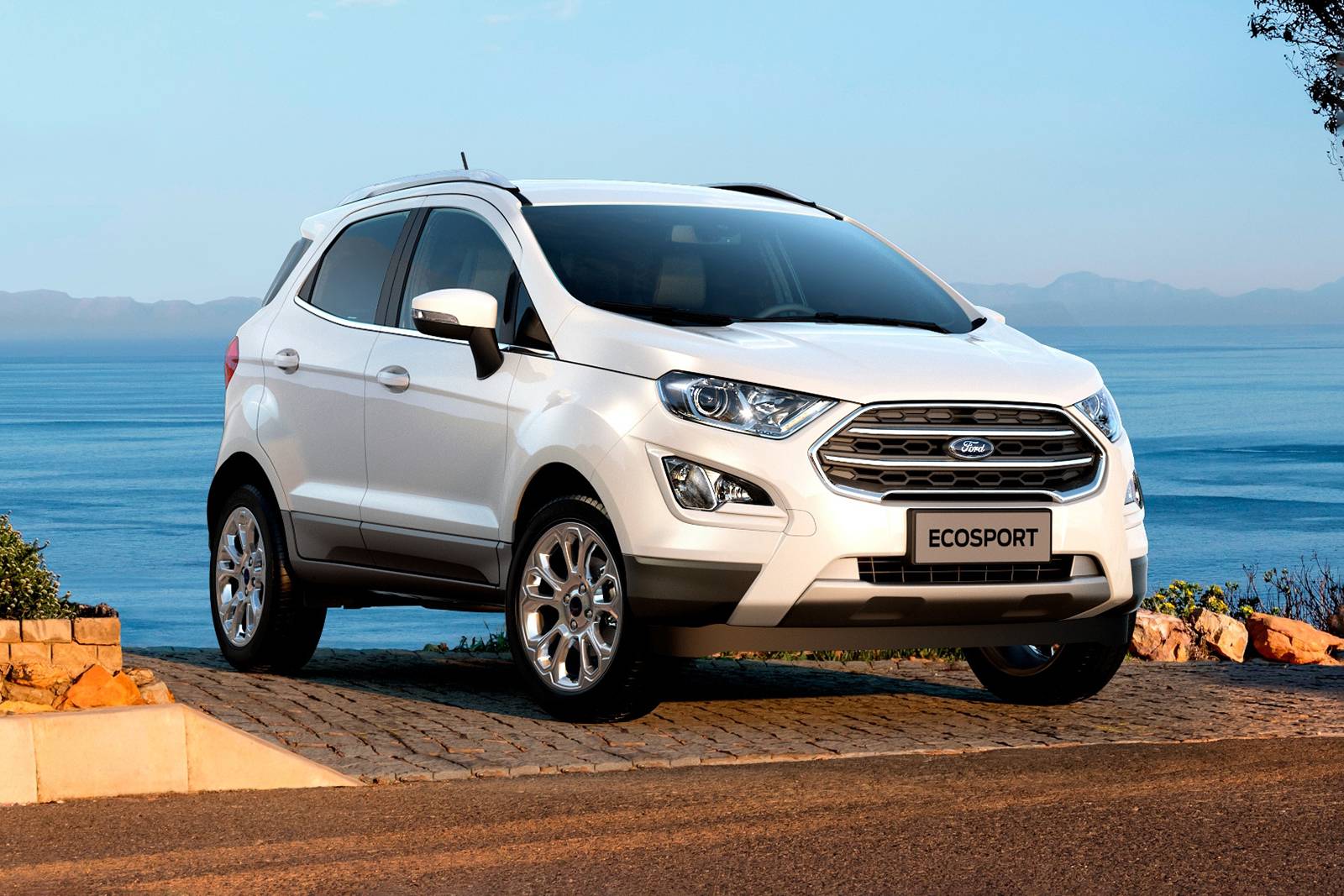 Ford Ecosport Fuel Consumption
The vehicles can deliver 317.4 city miles and more than 400 highway miles for daily commuters and shoppers.  However, don't rush to conclude that the "Eco" in EcoSport will stand for "Economical".
Its standard all-wheel-drive system and lone powertrain show 23 MPG in the city and 29 MPG on the highway. While these figures are not so astonishing, they are still higher and less economical than other brands.   
If you are willing to pay more to own the newest 2023 model, designed with a standard six-speed manual gearbox, you will get up to 47.9 MPG fuel economy with an emission of 135g/km.
On the other hand, the 138 BHP version will return 47.1 MPG with the lowest CO2 emission of 136 g/km.
Ford EcoSport Fuel Consumption Vs Hyundai Kona
Both Ford EcoSport and Hyundai Kona are small and sporty SUVs that are designed to handle easy movement through heavy traffic and tight spaces.
Two vehicles can accommodate up to five people in two rows with comfortable upholstery. The former model is powered by an EcoBoost engine, including three cylinders, 123 horsepower turbocharged, and 125 pound-feet of torque. 
The standard front-wheel drive promises to be available on every trim. This engine can handle 27/29 MPG in the busy city and on the highway with a six-speed automatic transmission.
On the other hand, the Kona comes with two powertrain options. They are a 175 HP turbocharged four-cylinder engine and a standard 147 horsepower one.
Thanks to these components, this vehicle never fails to satisfy drivers with its sufficient power. You can either drive around town comfortably or reach highway speeds.
Compared to the Ford, it has better acceleration with an optional engine. The estimated MPG is 27/33 in the city and on highways. Overall, the Ford offers more cargo room and a stronger engine. 
Thus, while the Kona costs less, its counterpart is undoubtedly more reasonable, thanks to its economical performance and impressive features.
Ford EcoSport Fuel Consumption Vs Hyundai Tucson
The battle between Ford Ecosport vs Hyundai Tucson appears not to end as each vehicle shows its unique plus points. The former model offers you more than one engine to choose from.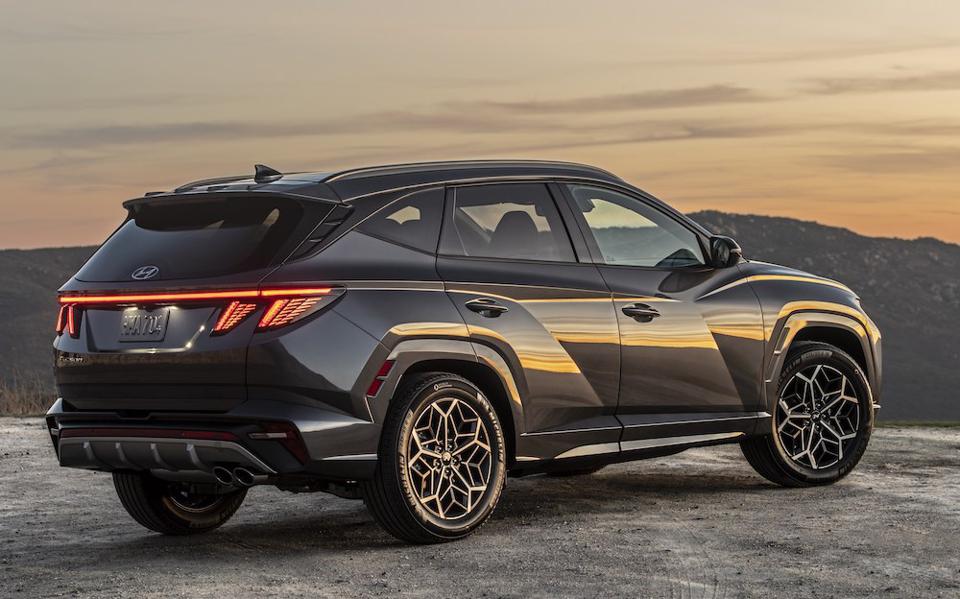 Hyundai Tucson 2023
Its fuel tank can accommodate up to 52 liters, a good size for plenty of distance. This 2020 model is powered by a three-cylinder 1.5-liter motor with a six-speed automatic transmission. 
The horsepower offers up to 90 kW power and 150 Nm torque. In terms of fuel consumption of Ford EcoSport, the Ambiente model is rated 6.9 liters per 100km, while the Titanium and Trend can afford 6.7 liters per 100km. 
The Hyundai Tucson shows a 2-liter petrol unit, which promises to produce up to 192 Nm torque at 4500 RPM and 115 kW power at 6200 RPM. This motor is fitted with the same six-speed automatic transmission and front-wheel drive. Its total power is 137kW and 416Nm. 
In Hyundai Tucson, fuel consumption varies greatly depending on the drivetrain. Specifically, the 2.0 MPi consumes 8.1 liters per 100 km, 0.2 liters more than its predecessors. 
On the contrary, the 1.6 T-GDi AWD model consumes 7.2 liters while the 2.0 CRDi figure is 6.3 liters. Overall, the vehicle shows class-adequate fuel consumption and is more reasonable.
Conclusion
Ford Ecosport 2023 Philippines is a perfect car for any driver thanks to its attractive design, powerful operation, and low maintenance. Moreover, the Ford Ecosport fuel consumption can save your budget. So why not give it a go?
Thank you for reading! Also, you may read our writing of any other model on Car Review to get more thoughts on the subject. If you have any question, feel free to comment below or contact with Philcarprice.com!
View other reviews