Ford EcoSport Review: A Car That Is Worth Your Money
Updated Jun 07, 2022
Introduction 
Ford Ecosport is one of the best-selling cars in the Philippines. This compact SUV has been a favorite of many buyers in recent times. This is a big step for Ford as it has always been the company to make the best cars at a reasonable price. 
The car is an update of Ford's previous model, the Figo Aspire. So, it has been a much-awaited automobile. Let's look at this Ford Ecosport review and explore what this new and improved car is about!
Ford Ecosport: Overview
If you're looking for a less-expensive option, the Ford EcoSport 2023 may be viable. In addition to standing among Ford's best-selling vehicles for the past year, it also offers engine options and front-wheel drive, which helps it attract a younger audience. 
This two-door utility vehicle is perfect for those who commute often or traverse rough terrain frequently but would rather not sacrifice their desire for a smoother ride or superior handling capabilities found in larger vehicles.
As the firm continues to refresh its line, they've made upgrades and changes that keep pace with competitors in terms of aesthetics and technology. The below table will help you learn in detail.
Ford Ecosport Review

 

Ford Ecosport Review
The all-new Ecosport model is a stylish and capable subcompact SUV. It has a long list of features and amenities that make it a great choice for first-time SUV buyers, including Ford Ecosport fuel consumption, affordable price tag, and more.
Exterior
The EcoSport model is still made out of the same materials it was made from in the past. It has a flat exterior shape, and its wheels are composed of some different metals and last. 
However, the exterior design has changed to conform with Ford's newer interior design instructions for their models released earlier this year, which involves making the interiors more luxurious and less quirky than before.
Interior
Overall, the Ford EcoSport interior is built to high standards. We have a mix of velour and textured plastics on the base models. Leather is used on the seats and door trims in the higher variants. 
The effect is most pleasing to the eye, although it's not what you would call "luxurious". Seating space upfront is sufficient, while the rear seats are average.
Nearly half of the cargo space can be downright unacceptable if you want to use this vehicle as your main means of transport!
Engine
A 1.5-liter gasoline engine powers the Ford EcoSport engine, which is surprisingly powerful for its size. Still, it has enough oomph to keep up with this Sporty SUV, and it's surprisingly fuel-efficient for a middle-of-the-road model. 
It is the perfect car for those who are looking for a car that is fun to drive but isn't too fuel-hogging on the highway.
Safety & Technology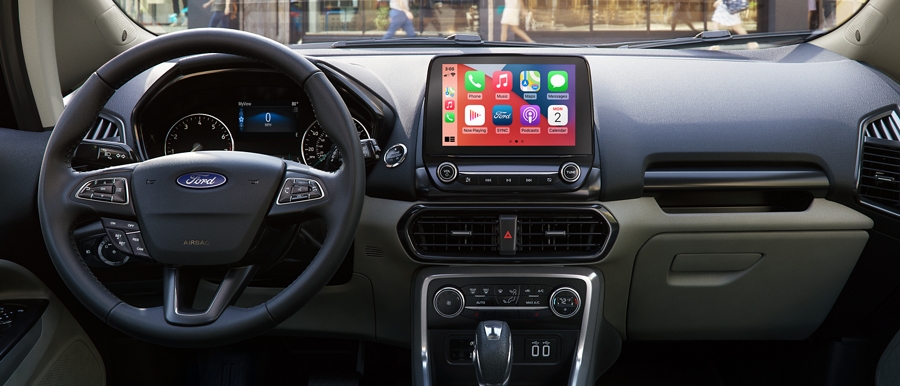 Technology on Ecosport
Indeed, the EcoSport may look like a small SUV, but it's packed with features that will keep you safe on the road. The eight standard airbags provide top-notch protection wherever you're driving.
And for even more peace of mind, the mid-Trend models come with additional side airbags and curtain airbags. Moreover, this firm's newest vehicle is packed with several characteristics, an overview of which include:
Auto-locking doors that sense your proximity through a beep when you approach or walk away from your car

An adjustable rear view mirror

The ability to lock and start/stop the engine without a key, plus so much more!

​
Price
Here is the detailed price of a Ford Ecosport. Based on your budget, you can choose the most suitable one. 
Pros & Cons
Despite its affordable price and compact measurements, the Ecosport model is a great build. It offers top-notch convenience with premium seats that give way to plenty of legroom for adults and government-approved safety features. 
The gas mileage is also another area to appreciate since the car has been said to not cost too much in terms of maintenance either.
Car owners find a car convenient and comfortable, but there are some disadvantages. The seating of a sedan can poorly accommodate passengers in the rear. 
The dashboard is made with cheap materials, which impacts the quality of the whole interior. Plus, 1.5 liters of petrol engines don't have high fuel efficiency.
Conclusion
A variety of amazing characteristics make the Ford Ecosport an excellent choice when looking for a new vehicle. 
We hope you enjoyed the blog on the Ford Ecosport review. Our goal is to help consumers learn about the latest vehicles on the market. If you are interested in this Review topic, feel free to share your ideas with us!
View other reviews