Geely Coolray Review 2023 Philippines: Is It Worth Buying?
Updated May 16, 2022
Geely Coolray has been in the market for a while and has built a strong name through its quality. The newest model of this car is likely to change the brand's public perception even further with its improved features.
However, before you make your purchasing decision, you need to know the features of this model and find out if it's worth your money. This 2023 Geely Coolray Review will look at all aspects of the vehicle and help you make an informed decision.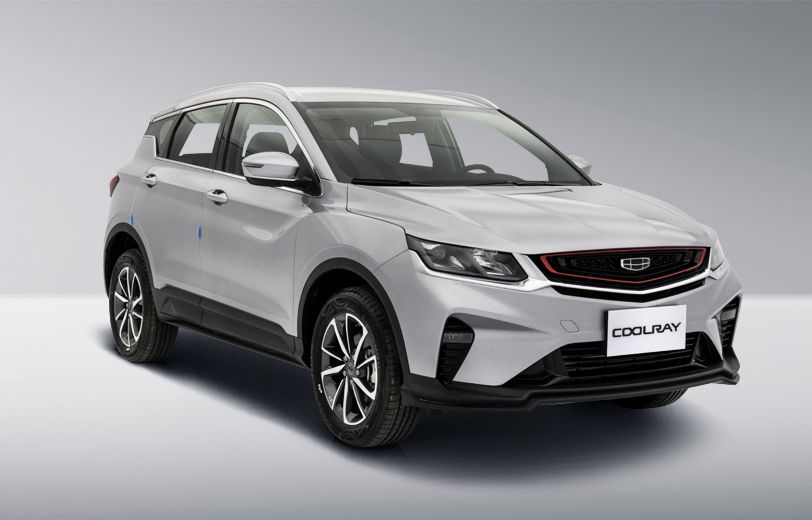 Geely Coolray Specs
This car promises to be a competitor worth taking notice of. It has an interesting design that stands out among other SUVs, and it has been upgraded with the new technology seen in today's automobiles. 
Here are some points you should know before getting into an in-depth review:
Geely Coolray Review
Exterior
In the middle stage of its life cycle, the Geely Coolray 2023, the new version, features headlamps with either halogen bulbs (standard trims) or full LEDs (sport, premium trims). Geely Coolray colors are now available in 5 trending colors, including silver, red, orange, white, and blue.
The car's exterior design follows the trends of other subcompact crossovers on the market but with a sportier image to appeal to young people who are looking for something trendy and fun.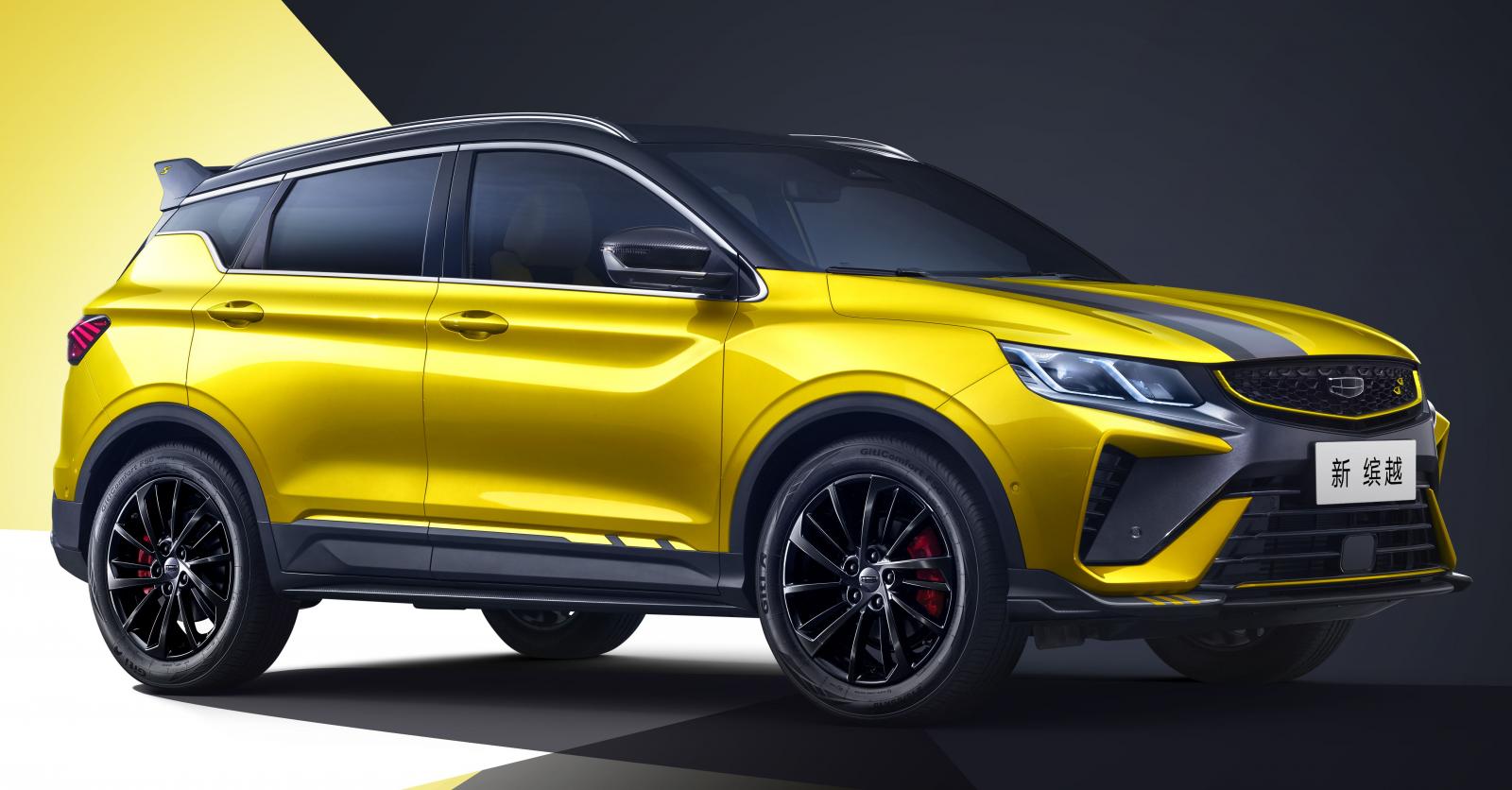 Interior
The 2023 Geely Coolray interior is sure to provide an exciting and comfortable experience at the same time. A 2,600mm wheelbase provides ample legroom and headspace for passengers sitting in the vehicle within the cabin.
Some of the most noticeable details of this vehicle include soft leather accessories finished in two contrasting shades to create more depth. This Chinese automobile offers its customers a three-spoke steering wheel with a flat bottom and integrated functions.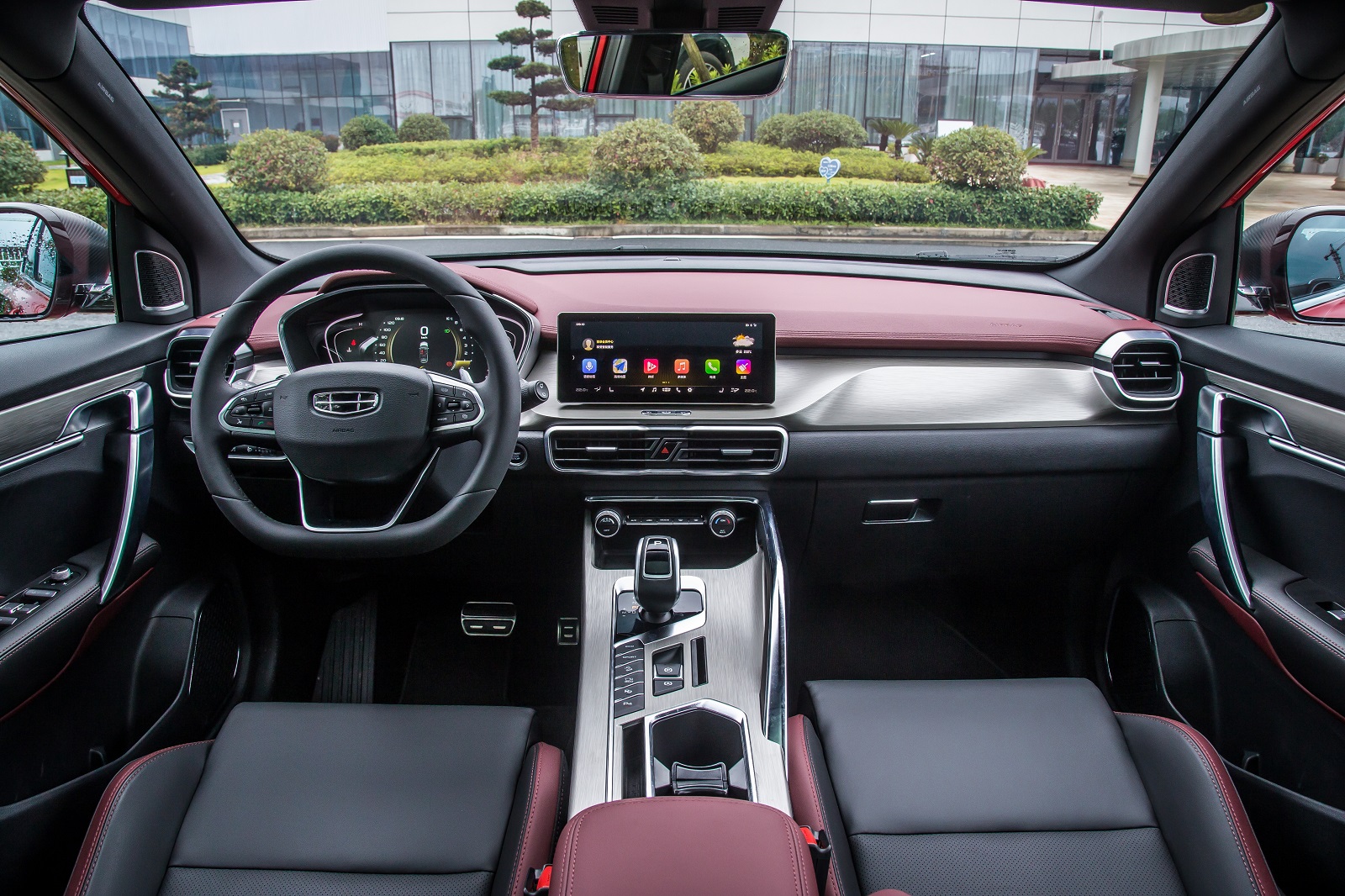 It also has an LCD digital screen that offers technical information, which is convenient when driving. The new 10.25" touchscreen infotainment system is metallic, with red trim on the dashboard, adding an extra touch of class. 
The highest trim comes equipped with the latest in high-end features, including a panoramic sunroof and leather seating for those who want some luxury behind the wheel. 
Geely Coolray comfort will amaze you with 360-degree cameras and an automatic parking function that ensure safety for people of all ages - everything you need to make your journey as comfortable as possible! 
Engine
The Chinese brand has also confirmed that the Geely Coolray engine will have no change. 
Similarly, this vehicle uses a 4-cylinder engine block, producing a 1.5L capacity with a maximum power of 177 horsepower and 255 Nm of torque. Geely Coolray top speed can reach a maximum of 195km/h, a quite impressive ability, to say the least.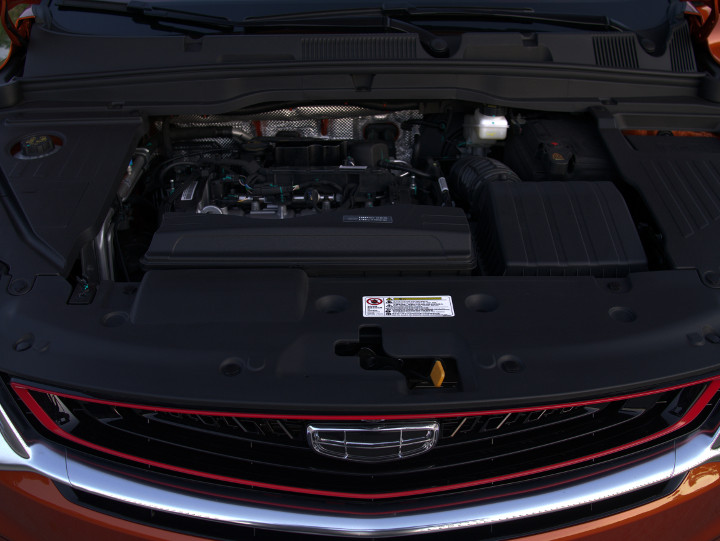 These power figures don't differ much from competitors in its class, such as Toyota Corolla Cross or Honda HR-V, but only lose out slightly compared to Hyundai Kona version 1.6 Turbo.
Safety and technology
Last but not least in this Geely Coolray review, we're talking about the safety features and technology. This automobile comes with an array of safety features. Most notably, there are the driver and front passenger airbags, as well as side airbags and curtain airbags. 
The vehicle also contains a traction control system and a set of sensors that allow parking automatically via the actuation of cameras that create a 360-degree view around the vehicle.
Moreover, the vehicle is well protected against impacts in several areas, including frontal, side, and head. Its protection of children scored highly in both a dynamic test and an installation test. 
This demonstrates that it is able to offer a high level of safety in all aspects of automotive safety testing. Its total score puts it safely into the 5-star category for vehicles tested by the ASEAN NCAP.
Geely Coolray Pros And Cons
The car is getting a lot of positive feedback from the reviews, so it's time to take a closer look at the Geely Coolray pros and cons to see if this is the right choice for you.
Pros
Very affordable price

Stylish exterior with stunning design

Spacious cabin and futuristic interior

Full of safety features
Cons
Not rated as a fuel economy vehicle

Drivers need time to get used to its DCT transmission 

No rear air conditioner vents
Conclusion
We hope you found this Geely Coolray review useful in your search for a new car and that it has helped you to make a decision on whether or not it is the right car for you. 
Please leave your thoughts in the comments section below if you have any questions. Thanks for reading on Philcarprice.com!
View other reviews