Mitsubishi Xpander Cross Review: A Dynamic & Sporty SUV-style MPV
Updated Jun 16, 2022
After the success of the Xpander, Mitsubishi launched the Xpander Cross version to offer various choices for consumers. This new model is expected to meet the needs and favor of young, dynamic families in the urban.
This Mitsubishi Xpander Cross review will talk about specifications, features, and other useful information for this MPV. Scroll down to explore this brilliant and amazing vehicle.
Introduction
Due to the shortage of tough-looking vehicles for daily use, the appearance of the Mitsubishi Xpander Cross created a big bang in the Philippines car market. 
The manufacturer built this new model with an obvious SUV vibe in its size and design. Since its first launch in November 2021, the Xpander Cross has dominated the market. Let's find out why it is so hot in the MPV segment.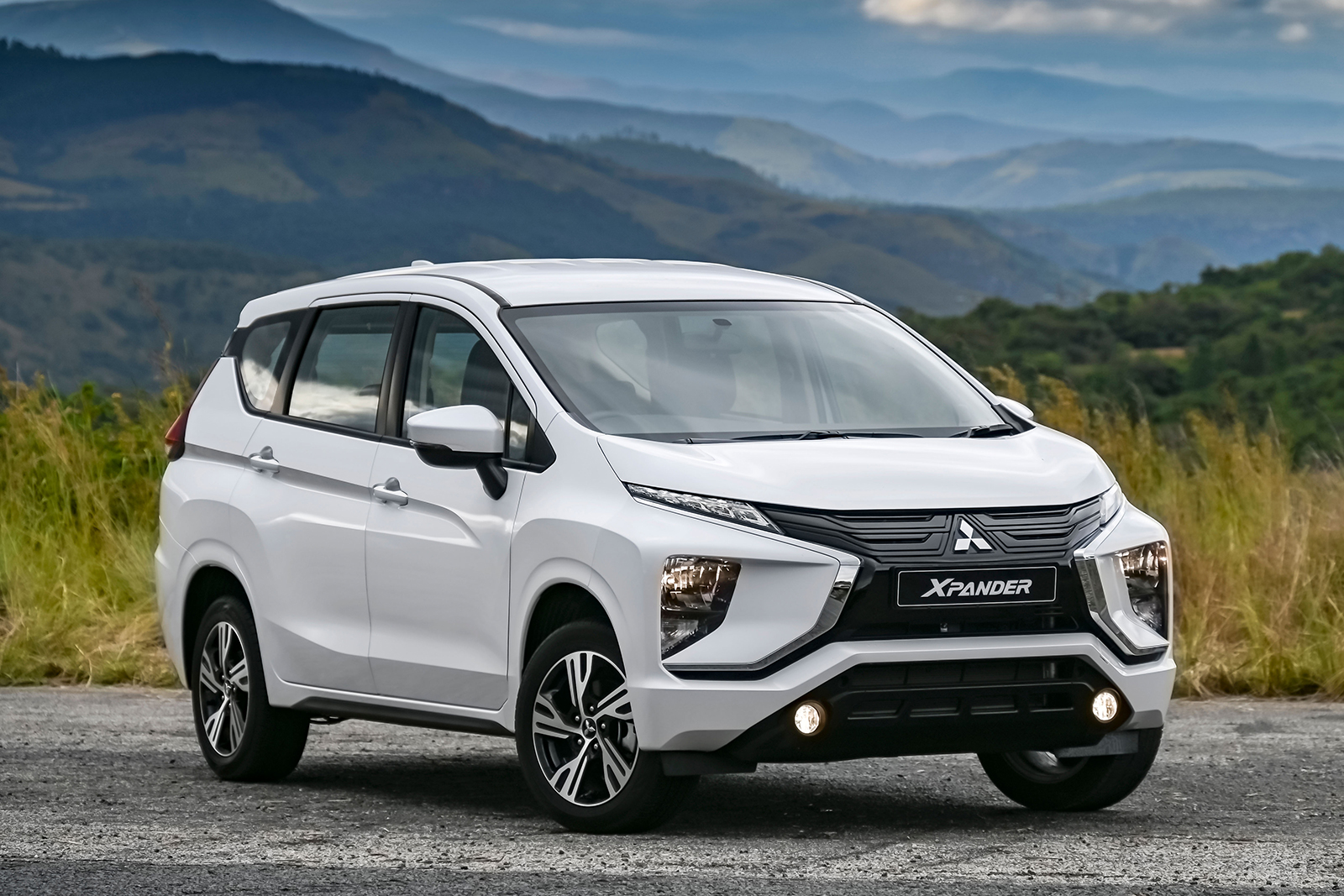 Mitsubishi Xpander Cross Review
Mitsubishi Xpander Cross Specs
Many people expected Mitsubishi Xpander Cross with prominent specifications compared with the Xpander. However, the manufacturer kept all the basic parameters as below:
Mitsubishi Xpander Cross Review
Exterior
In 2022, Mitsubishi will pay more attention to upgrading the Mitsubishi Xpander Cross interior rather than its exterior. However, no one can deny its youthful and sporty outlook.
The Xpander Cross follows a Dynamic Shield design with chrome-plated lines to create an X pattern and protect the sides from scratches.
The front includes edgy lines for a masculine and robust MPV with LED-technology headlamps, turn signal, and fog lights supporting safe night trips.
One of the highlighted Xpander Cross features is its high ground clearance of 225 mm. This design makes the car own an SUV-like look and runs smoothly on the roughest road.
Mitsubishi Xpander Cross is now available in five colors: White, Black, Orange, Silver, and Grey. All of them are welcomed in The Philippines market.
Interior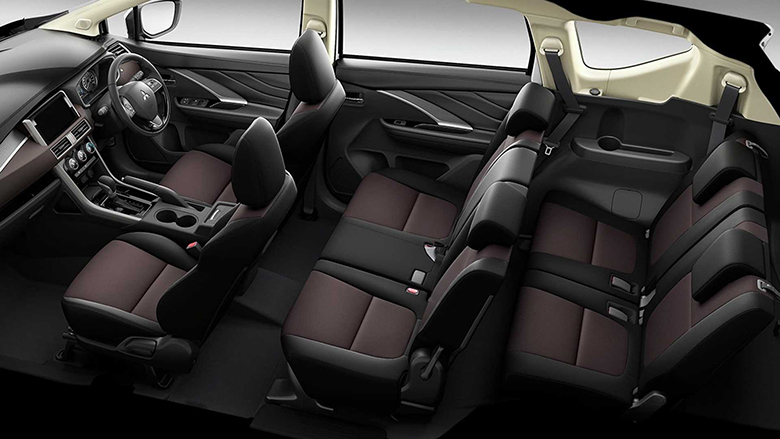 Xpander Cross Interior
Like the Xpander 2022, the Mitsubishi Xpander Cross interior is designed with dark colors for the car's luxury. All interiors are made of high-quality plastic covers and metal-plate covers.
Mitsubishi Xpander Cross features a 7-seat design for a spacious and comfortable driving experience. They are wrapped with leather leveling the car with a defined and luxurious feeling.
The cabin comes with plenty of storage options in both the driver and passenger areas. In total, it includes ten boxes to store your items.
Performance
Owning 1.5l gasoline, inline 4 cylinders, 16 valve DOHC, the Xpander Cross engine delivers 103 hp and 141 Nm at the maximum output.  
With a high ground clearance of 225 mm, the Xpander Cross can make a decent approach of 22,4 degrees and exit angles of 28.1 degrees allowing it to cross obstacles easily and operate stably in any topographic.
Safety
Besides the standard safety, the manufacturer equips the Xpander Cross with Reinforced Impact Safety Evolution chassis technology. 
The MPV has a safety brake system, brake assist system, active stability control, hill start assist system, traction control system, and an emergency stop signal system.
These systems allow drivers to control and handle the car on every journey. Your journey will also be more fun and comfortable with sound-free Mitsubishi Xpander Cross features.
Technology
The Xpander Cross features a 7-inch touchscreen integrating Android Auto and Apple CarPlay. You can also find the hands-free calling functions, hands-free air conditioning, and smart key in this MPV which enhance your driving enjoyment.
Pros & Cons
Pros
Youthful, dynamic, and robust SUV-style design

Spacious cabin and cargo space for a 7-member family

High ground clearance

Global safety features
​

Cons
A little costly compared to other MPVs
Mitsubishi Xpander Cross Price Philippines
You can own a Mitsubishi Xpander Cross at P1,255,000, which is a little pricier than other MPVs in the Philippines market. However, it's worth paying more for an SUV-style MPV.
FAQs
What Is Mitsubishi Xpander Cross Fuel Consumption Philippines?
It is 6.9l for 100km. Compared to other MPVs and its performance, this fuel consumption is quite optimal and effective.
Is It Worth It To Pay More For A Mitsubishi Xpander Cross Instead Of A Mitsubishi Xpander?
Yes, if you want a more spacious, sporty, and edgy car. Also, if you have a baby, Mitsubishi Xpander Cross will be the better choice with the baby seat belt. 
The Xpander Cross also owns a roof rack that can bear up to 100 kg, beneficial for picnics and movements. You can find a detailed comparison in our blog.
Mitsubishi Xpander Cross Or Toyota Veloz Cross?
Both car models belong to the SUV-style MPV segment with a bold and aggressive design. However, The Xpander is more dynamic while its competitor pays attention to modernity.
The convenience of the Toyota Veloz Cross takes advantage compared to the MPV from Mitsubishi. However, the former car is a little pricier than the latter one.
If it's still hard to make a final decision, you can read our article about these cars.
Conclusion
Mitsubishi Xpander Cross 2022 is a monster in the SUV-style MPV with a bold and robust youthful and sporty vibes design. Thanks to its crossover features, this model has a great ability to pass obstacles of the terrain and the roughest road.
It is suitable for Filipino families with spacious cargo space, plenty of storage, and a high-level safety system. 
We hope you find this Mitsubishi Xpander Cross review informative and useful. Also, you may read our writing of any other model on Car Review to get more thoughts on the subject. If you have any question, feel free to comment below or contact with Philcarprice.com!
View other reviews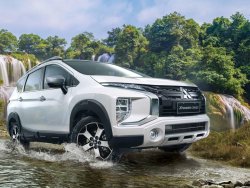 Automatic
SUV / Crossover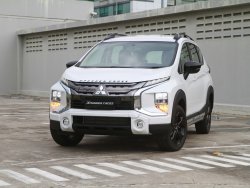 Automatic
SUV / Crossover