A Detailed Comparison Of Ford Raptor Vs Ford Ranger
Updated Apr 22, 2022
The Ford Raptor vs Ford Ranger is two trucks from Ford. The Ranger is the famous off-roading truck from Ford, and the Raptor is the latest in the Ford performance truck rides. The Ranger has been tested for more than four decades, and the Raptor just left the factory.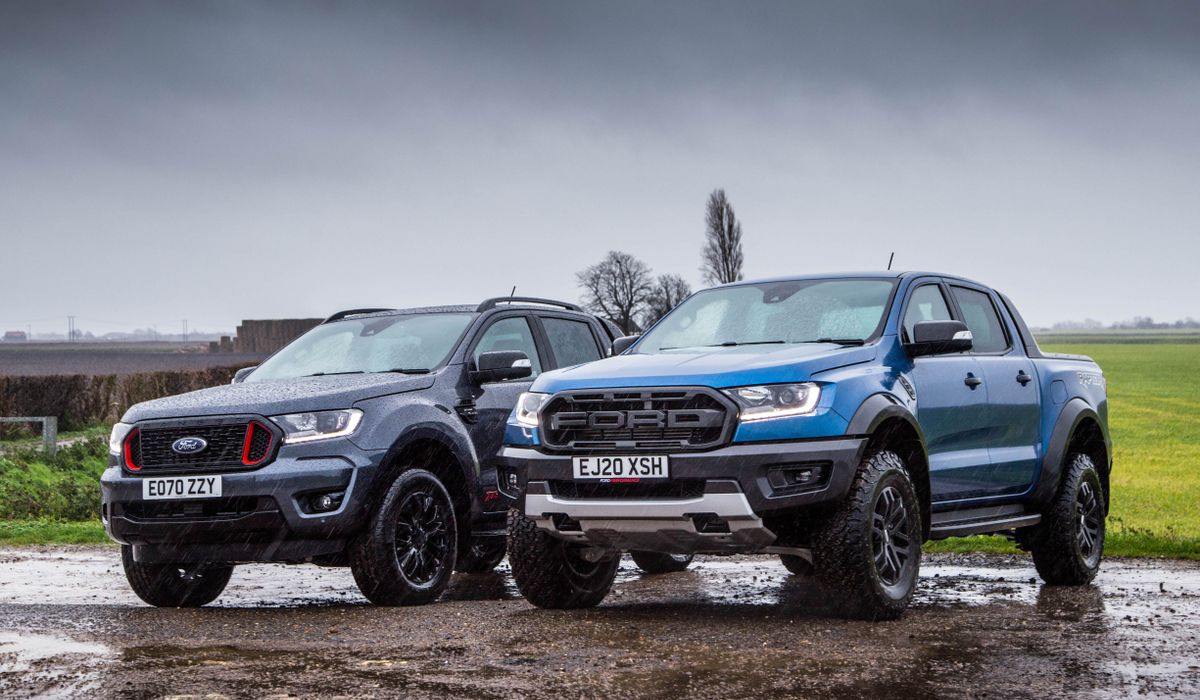 However, the Raptor is expensive compared to the Ranger, but you may know that the Raptor is faster and has better features. Here, in this writing, we will examine the differences between the Ford Raptor and the Ford Ranger to help you find out which car is best for you.
Overview On Ford Raptor Vs Ford Ranger
The truck market has seen its fair share of the Ford Ranger ever since it was first introduced some time ago. The mid-size pickup truck is known for its reliability, ruggedness, and drivability in a package. 
There are many models to choose from, but one model stands out among them all - the Ranger Raptor. Sure it looks quite different from other Ranger options in the market, but plenty sets this beast apart and above the rest. 
You could argue that on paper, at least, the Ranger Wildtrak - one of the highest options of Ford Ranger -  could be considered a Raptor rival.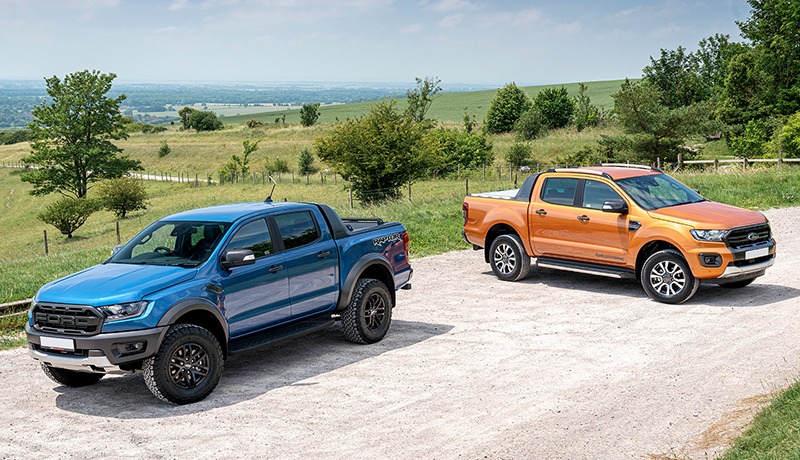 Ford Ranger Vs Ford Raptor
>>> Read more: Car Comparisons
Ford Raptor Vs Ford Ranger: Exterior
Right on the car gate, the Ford Ranger Raptor is larger than both the Ford Ranger Wildtrak and Ford Everest. The Raptor measures 5,398 mm (205.36 inches) in length and 2,028 mm (79.81 inches) in width. 
The Wildtrak and Everest measure 5,354 mm (203.93 inches) and 1,860 mm (73.86 inches), respectively. However, the Biturbo has a wheelbase that's 200 mm smaller at 3,220 mm (126.94 inches). 
Contrary to what many might think when looking at its height of 1,873 mm (72 inches), it offers a lower center of gravity than other trucks because it has more suspension travel as well right down to its low center of gravity design configuration.
Ford's Ranger Raptor will offer a more aggressive look than the base Ranger like its namesake. This can be seen through the Ranger Raptor's front fascia and spoiler, wheel arches, and overall body lines. 
The rugged "Wildtrak Biturbo" may have the same performance upgrades as its Ranger Raptor counterpart; however, it doesn't deliver that same sporty feel to its customers compared to the truck mentioned previously. 
Apart from exterior features, both trucks are equipped with rain-sensing wipers and 12V sockets for extra convenience for their owners!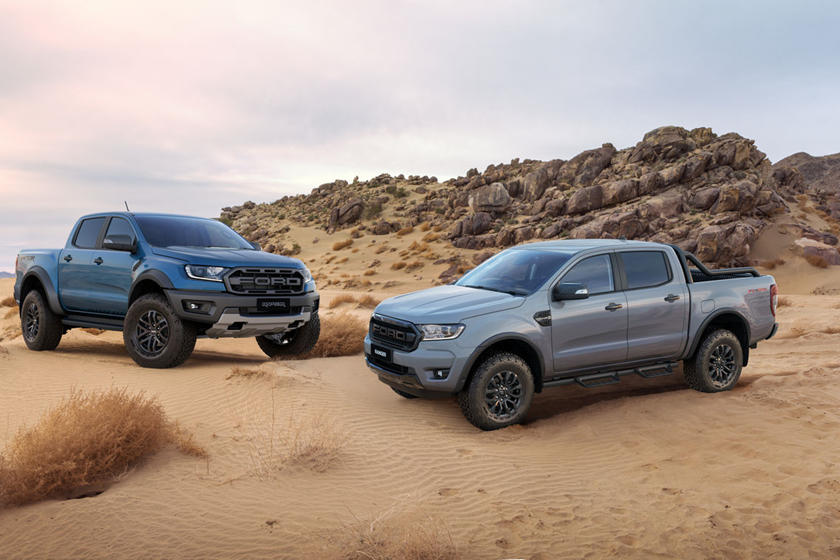 Ford Raptor exterior vs Ford Ranger exterior
Ford Raptor Vs Ford Ranger: Interior
If you're really into details, then you'll spot some similarities between the Wildtrak and the Raptor when it comes to their interiors. 
The seats are made of blue stitching, characteristic of Ford Performance vehicles, Alcantara trim pieces on the leather seats, a different gauge cluster, and even their steering wheels covered in leather material.
The specialty truck specifically designed for off-roading, the Raptor, has smoother-looking leather seats upholstered in Alcantara fabric. 
The black hard plastic surfaces found on the Wildtrak Biturbo have been replaced here with a darker shade of cloth material covering the door panels, dash, and seating areas.
Ford Raptor Vs Ford Ranger: Power
Whether you're driving for work or play, you want your ride to be something special - and thank goodness for that! Buying stock 4X4s is like preparing the same tasty meal over and over again. 
When it comes time to take things off-road, the Wildtrak Biturbo and the Ranger Raptor are just what you need for your day in style. Both are available with a ten-speed automatic transmission and 2.0-liter turbo diesel engine. 
But did you know these powertrains share more than an engine? They also have the same fuel tank capacity at 80 liters, horsepower output at 210 HP, and torque figures at 500 Nm. It's all in a day's work when we're talking about owning a Ford truck like either one of these!
However, this is where the Wildtrak and the Ranger Raptor differ greatly when it comes to suspension systems. The main difference between them is the suspension system - because a ton of features that make this truck so unique depend on a solid foundation.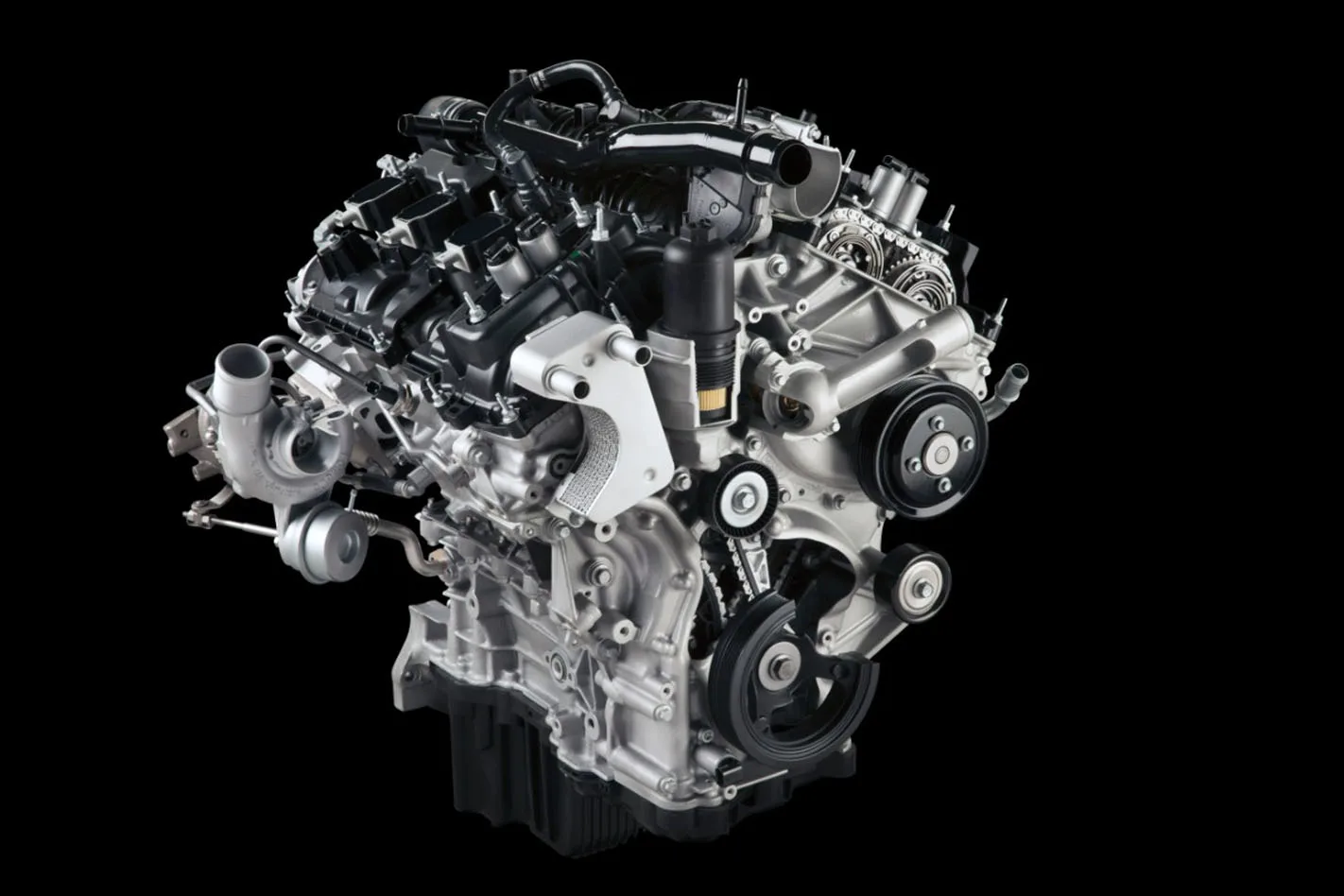 Ford Ranger engine
To start with: The Wildtrak has a double-wishbone with coil springs at all four corners, while the Raptor has a lightweight aluminum double-wishbone suspension with Fox Racing Shocks with internal bypass dampers and anti-roll bars, and in the rear, they've decided to go one step further and include an even stronger Watt's link.
Well, essentially, you can drive both of these trucks like a madman through your favorite jungle trails without breaking them in half.
In contrast to that, its rear double wishbone suspension system features coil springs for the front and leaf springs for the back. 
This is a fairly simple design, but when combined with just a tad bit of modern technology, they give the Ford Ranger Raptor a whopping payload capacity of 1,120 kg and high towing capabilities of 3,500 kg!
Ford Raptor Vs Ford Ranger: Safety
The Ranger Raptor and the Ranger Wildtrak Biturbo are similarly safe. Both offer six airbags, forward collision warning, and hill start assist, other than electronic stability for traction control and ISOFIX. 
Moreover, these two also contain anti-lock brakes, among other safety features as well as a lane-keeping aid, high auto beams, a rearview camera, parking sensors, volumetric burglar alarm, and cruise control. Both vehicles also come with pre-collision assist and pedestrian detection as standard.
Some Last Words
If you love off-road trucks, chances are, you are familiar with both of Ford's trucks - the Ford Raptor vs Ford Ranger. In case you want to buy a new truck, I hope this writing on Phil Car Price has helped you with the knowledge on which of the two is better. 
Even though each one has its benefits and drawbacks, both of these trucks will surely bring you great time driving, discovering every corner with your friends and family. 
Wish you have the best journeys ever with your new cars and enjoy every moment of your life. Cheer!
View other car comparison