Ford Ranger Vs Nissan Navara - Best-Selling Pickup Truck Battle
Updated Apr 26, 2022
Nissan Navara and Ford Ranger pickup trucks are two models with very impressive sales in the pickup truck market in the Philippines. Most users consider it the best option, thanks to the reasonable price and moderate equipment for a pickup model. So, if you are still wondering which car to choose between, Ford Ranger Vs Nissan Navara, then this article is for you.
Overview
The Ford Ranger and Nissan Navara are two well-known truck lines. The Navara has a sleek, smart, and rich urban personality, while the Ranger is known for its dusty appearance and bold American pickup. Both the Ford Ranger and Nissan Navara pickup trucks have undergone major changes in recent times. So, what is the best choice to consider, Ford Ranger Or Nissan Navara?    
Ford Ranger Vs Nissan Navara - Exterior/Dimensions

    
In terms of overall dimensions between Ford Ranger Wildtrak Vs Nissan Navara, the Ford Ranger dimension has a slightly longer overall length of 5,354 mm than the Nissan Navara dimension, which has a length of 5,255 mm. As a result, the Ranger's width is 1860 mm, whereas the Navara's is 1850 mm.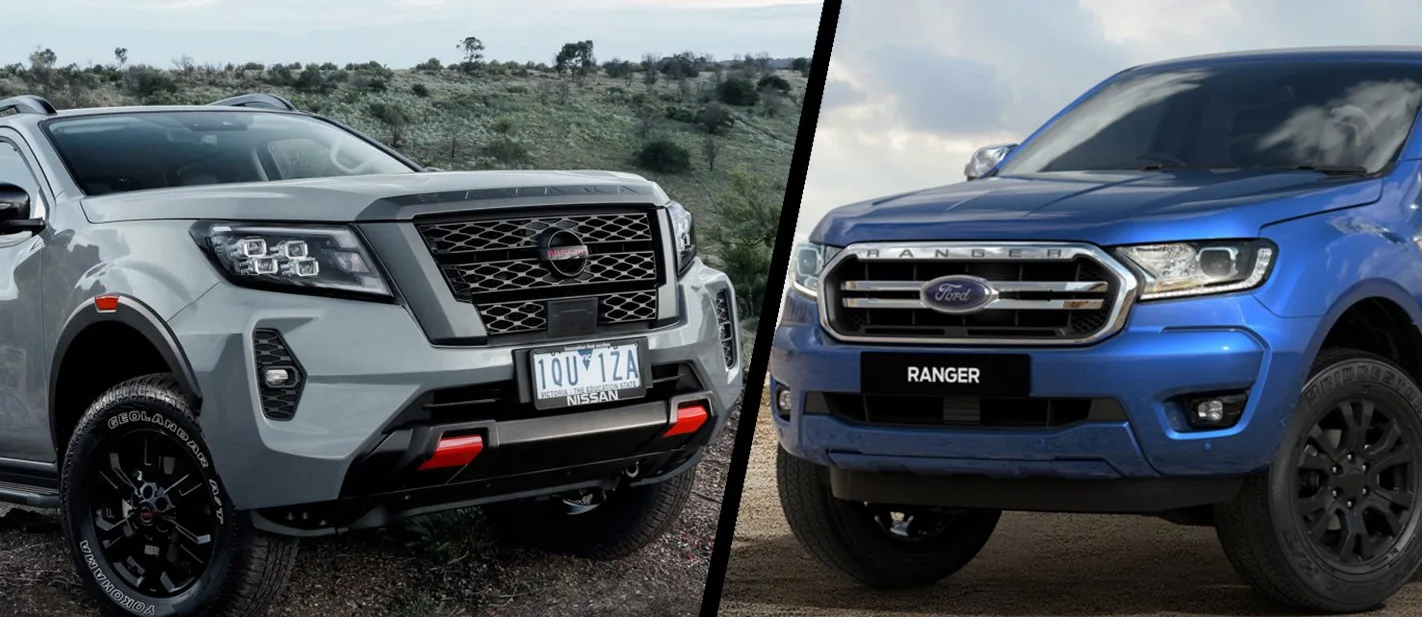 The Ford Ranger 2023's design language is unchanged from the previous iteration; the general design is still a pragmatic, straightforward, and genuine pickup. And the Nissan Navara 2021 follows the competitor's aggressive and sturdy design. 
For a long time, the front end of the Ford Ranger Wildtrak has built an identity with a hexagonal black painted grille cluster, mesh patterns, and orange contours producing a strong aspect at the front of the car.
While the Navara is no less competitive, the stylish, big, and black painted V-Motion grille cluster gives the car a stronger and more muscular outward aspect than before.
Ford Ranger Vs Nissan Navara - Interior

    
The front seats of both models are covered with leather and have a sporty design, different from the regular versions. The Ford Ranger Wildtrak is equipped with a 6-way electric driver's seat that is more comfortable than the 6-way manual driver's seat on the Nissan Navara.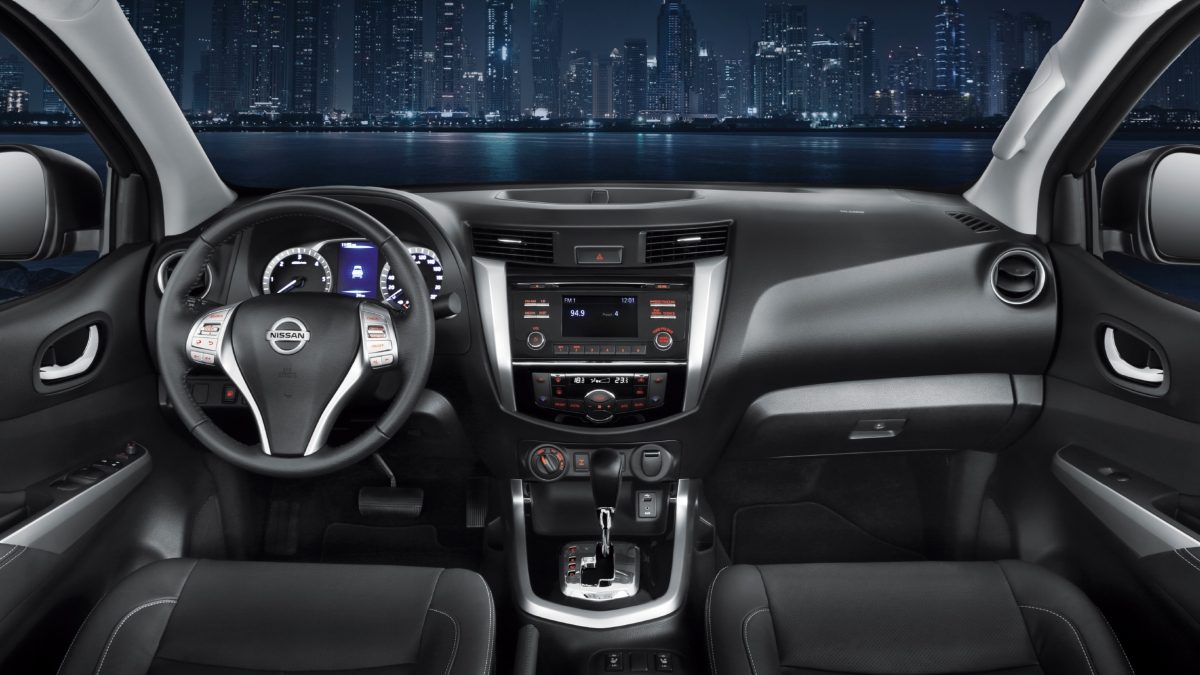 The Ford Ranger and Nissan Navara cockpits are SUVs, attempting to shed the harsh image of a pickup truck inside. However, in terms of interior materials, the Ranger Wildtrak is significantly superior, with many embroidered leather elements, while the Navara still employs fairly standard plastic materials, particularly on the dashboard.
The Ford Ranger Wildtrak's steering wheel cluster is technologically daring, with many buttons. The steering wheel is also given a stylish and leather-wrapped makeover.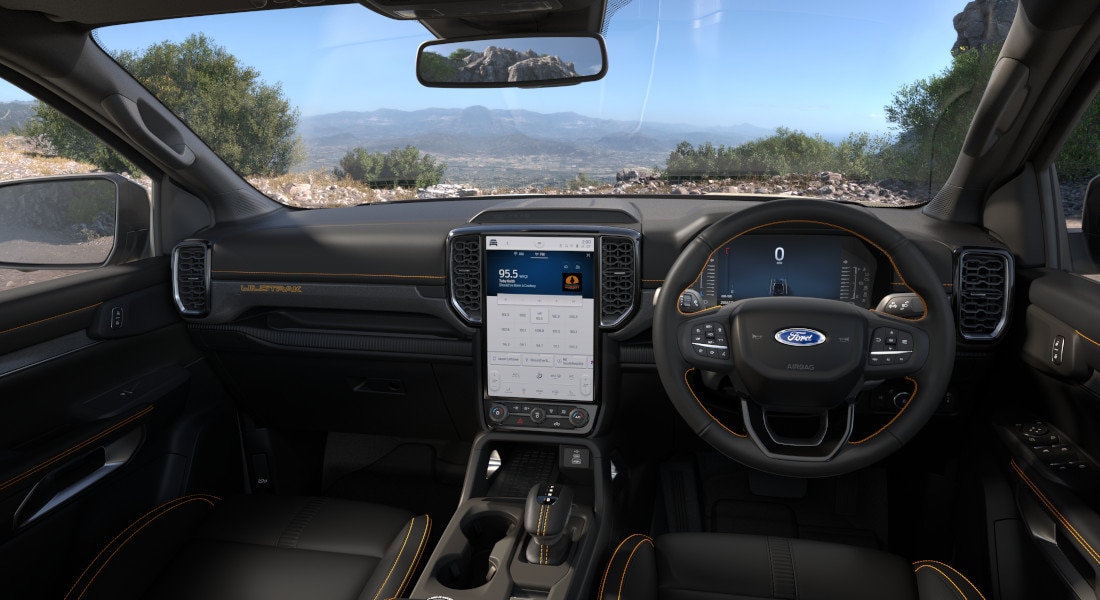 The steering wheel on the Nissan Navara Pro-4X is more athletic, with a red Nissan emblem and a thin and contemporary design. The steering wheel has multi-function controls, although in a more discreet manner. Furthermore, the button surface is embossed, providing the driver a more hands-on experience than the Ranger.
Ford Ranger Vs Nissan Navara - Engine

    
The Ford Ranger is powered by a 2.0L diesel engine with four cylinders with a maximum capacity of 213 horsepower at 3,750 rpm and a maximum torque of 500 Nm between 1,750 and 2,500 pm. It is equipped with a 10-speed automatic transmission.
While the Nissan Navara has a 2.5L Turbo diesel engine with four cylinders with a maximum capacity of 190 horsepower at 3,600 rpm and 450 Nm at 2,000 pm. It has a 7-speed automatic gearbox.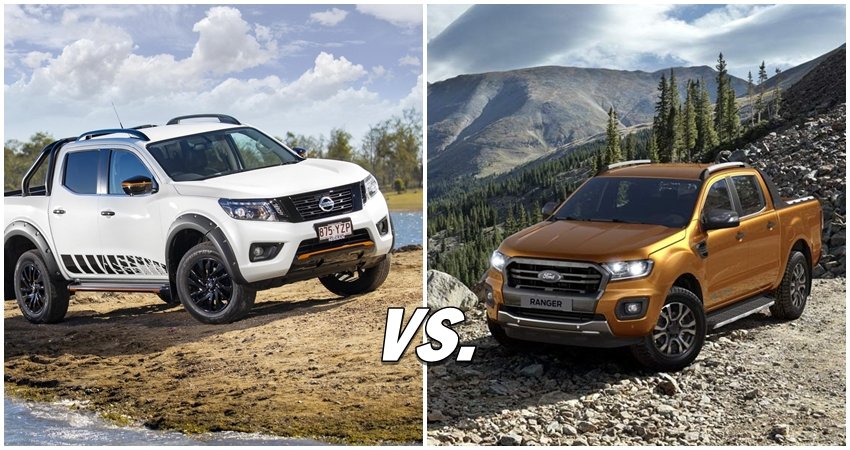 Both have a part-time two-wheel drive system with a shift-on-the-fly electric shift feature that does not need stopping. Furthermore, both are outfitted with a rear differential lock, making off-roading simpler.
Ford Ranger Vs Nissan Navara - Safety Features
In terms of safety equipment, both models have modern safety features that are becoming standard today, such as:
Six Airbags

Abs, Ebd Brake System

Anti-Slip Traction Control System

Assist To Begin Across Hill

Downhill Support
However, the Ford Ranger Wildtrak still completely overwhelms the Nissan Navara with advanced features such as:
Anti-Roll Control

Vehicle Control By Load

Lane Departure Warning And Lane-Keeping Assist

Collision Warning And Emergency Brake Support 

Active Parallel Parking Assistance

Front-Rear Reverse Sensor
However, Nissan Navara has advantages in features such as:
360 camera combined with Off-road control mode

Emergency brake assist

Detect moving objects when backing up
Ford Ranger Vs Nissan Navara - Price
The Nissan Navara's price has risen significantly since its predecessor, although it is still less expensive than the Ford Ranger, with a starting price of just 929000P. Meanwhile, the Ford Ranger has a starting price of $1,455,000 for the base model, which rises when extras are added. This might be a consideration that customers consider.
Ford Ranger 2023
Conclusion
As can be seen, Ford Ranger Vs Nissan Navara are both automatic transmission pickup models that meet basic needs while having a price that is not too different. In particular, the Nissan Navara EL has the advantage of performance, power, and ability to run off-road.
For the Ford Ranger, the advantage lies in the entertainment system, modern interior equipment, and operating smoothly.
We hope with this comparison of Ford Ranger vs Nissan Navara on Car Price Philippines, you can now choose the best option for your needs.
View other car comparison