Suzuki S-Presso Vs Toyota Wigo - The Battle You Have Been Waiting For!
Updated Jun 23, 2022
Deciding between two cars to get one only might be difficult to put anyone in, especially for car-buying newbies. But don't worry, our article today will solve your problem!
Let's check out our insightful guide on Suzuki S-Presso Vs Toyota Wigo to find out which one will better suit you in the future!
Overview
Suzuki S-Presso
Suzuki S-Presso is one of the brand's new releases that is promised to be outstanding and impressive. It is an average-sized hatchback with medium ground clearance entry. 
Due to its simple design and engine, S-Presso is one of the vehicles you can buy straight away because of its affordable price and spectacular Suzuki S Presso specs.
Five passengers can sit comfortably in this vehicle without feeling too uncomfortable, thanks to the spacious interior and the powerful 1.0-liter gasoline machine. These specs help S-Presso to be a great vehicle for those who don't want to spend a fortune on a car. 
Toyota Wigo
If you are a fan of Toyota, then Toyota Wigo must be one of your favorite vehicles. It is suitable for urban-dwelling buddies who want to drive in a sporty style. 
Popping out with a cool-looking exterior with spoiler and shining brake lights, Toyota Wigo offers drivers opportunities to drive in fashion and excitement. For its powerful engine under the roof that keeps the crossover running smoothly, it is one of the bestsellers in the Philippines market.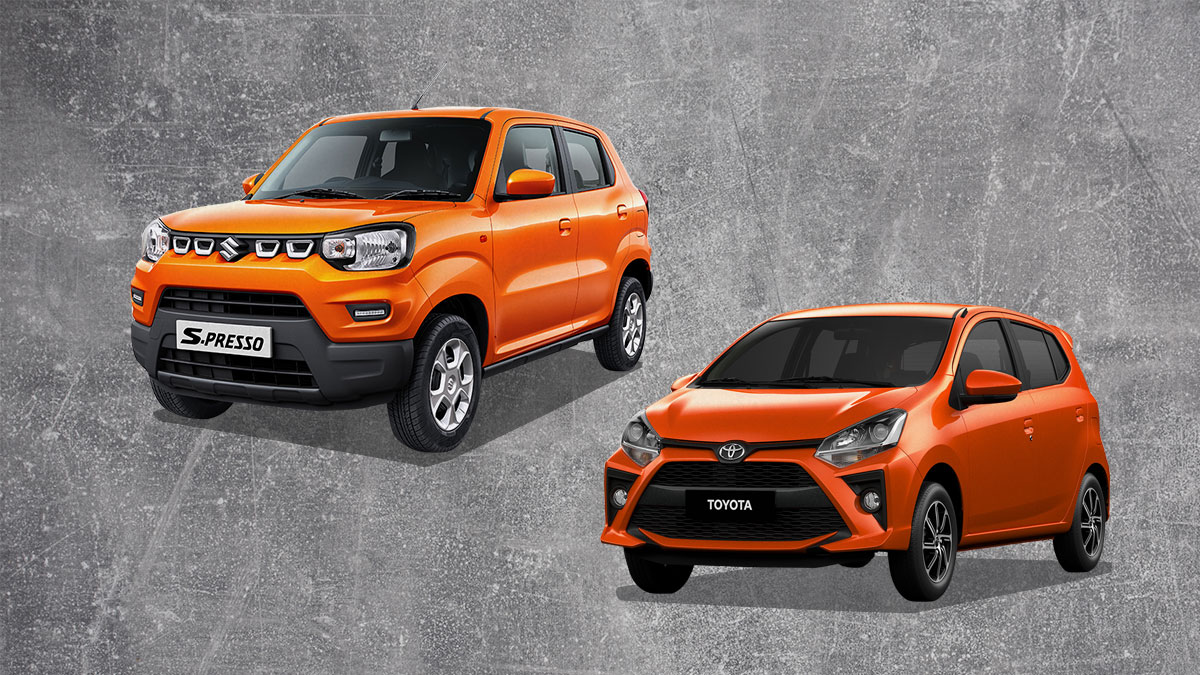 Suzuki S-Presso Vs Toyota Wigo
Interior
Both interiors are spot on with bold design with a firm material and solid colors. If you fancy straightforward design, you must love sitting inside Suzuki S-Presso as it has a cool black-themed with orange details that makes everything seem extremely classy. 
Toyota doesn't pay that much attention to the setting details, so passengers may feel dusk while staying inside the cabin.
As for space, they both do a great job keeping drivers and passengers comfortable, even with the cargo space open! Traveling with these two vehicles gives a great experience. 
Besides that, temperature control is one of the key points in Toyota Wigo, while Suzuki focuses more on giving well-performed gauge clusters. 
Exterior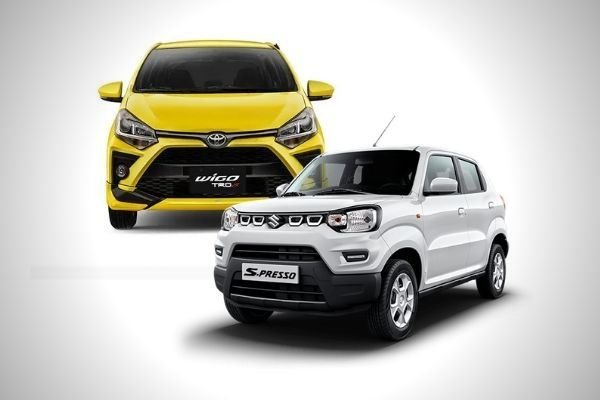 Suzuki S-Presso Vs Toyota Wigo exterior
Both Wigo vs S-Presso are famous for their car designs, so it is no surprise that S-Presso and Wigo have such fantastic exterior features to look at. For Wigo, its outer appearance strikes thanks to the impressive LED light system, including tail lights and halogen projector headlights. 
There are also fog lamps and type clearance lamps to assist you when the streets are too difficult to look at. 
The Suzuki S-Presso 2022 does not have that fierce-looking vibe but a more modern outlook with powerful doors and a considerable height. 
Both vehicles drive on 14-inch wheels, so it makes a good size for those who want a compatible size. They are welcome for those who love the color of their cars, as each model has 5-6 color choices. 
Engine
In general, S-Presso's engine is weaker than Toyota Wigo. While Toyota Wigo is equipped with a 3-cylinder 12-valve 1.0-Lite gasoline engine with VVT-i, Suzuki S-Presso has a 1-liter aspirated K10B engine. 
As for suspension, you can find both front and rear suspension on these vehicles, but its effect difference can only be witnessed clearly when stopping, braking, specifically in the Suzuki S-Presso crash test.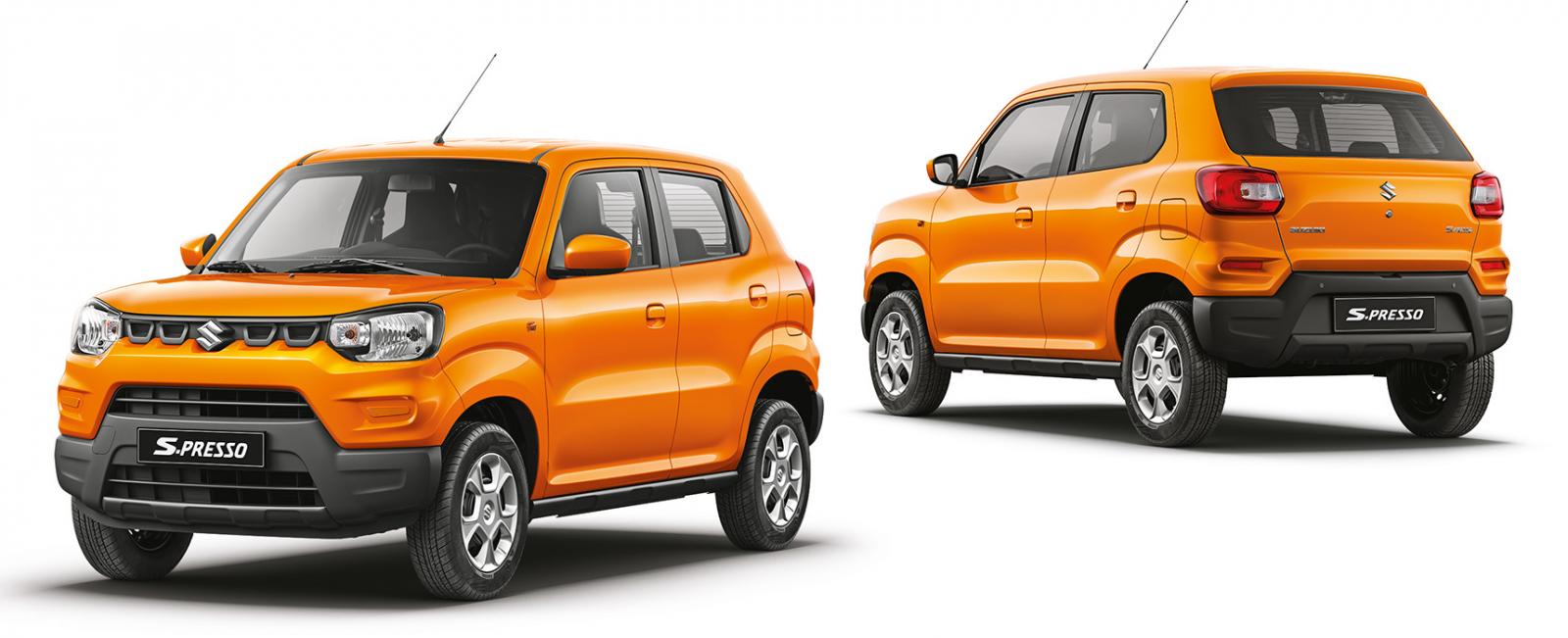 Price
As for prices, you don't have to worry much if you decide to buy one of these two vehicles. Their prices are below 1 million P, respectively P568,000.00 for Wigo and P563,000.00 for Suzuki S Presso price. 
Even the most expensive price you can get for the most pricey variant is P700,000.00, which makes a good deal for those who don't want to spend much on their cars. 
Since there is only a little gap between the price of S-Presso vs Wigo, the price won't be a huge deal when you put these two crossovers on the scale. 
Which One Is Better?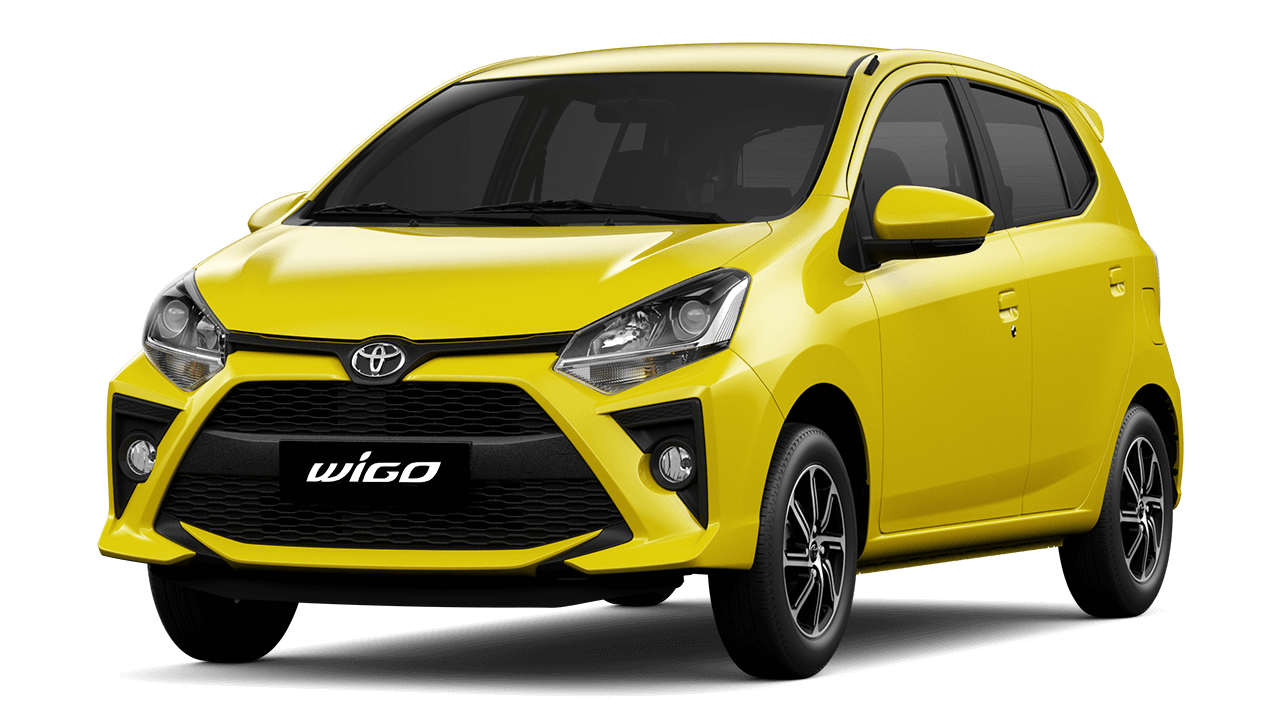 Now, it's time that we decide the winner between S-Presso vs Wigo. 
Although it is a tough decision to make, we have decided that the winner of this battle would be Toyota Wigo. Although it costs more to own a Wigo, its exterior, interior, technology and safety, and engine won't disappoint you.
Its powerful machinery will easily drive you and your companion inside a simple, comfy interior with a stunning exterior to look at on the street.
Conclusion
And that's all for our review on Suzuki S-Presso Vs Toyota Wigo comparison. Although we have decided that Wigo will take the lead, S-Presso is not a weak competitor at all. In terms of a small and powerful crossover to drive daily or to go on small trips, Toyota Wigo is the beast to drive on. 
Thank you for reading this article, and we will see you soon in next Phil Car Price's post!
View other car comparison