An Insightful Suzuki Ertiga Review For Those Who Want To Purchase This Car!
Updated Jun 24, 2022
Sometimes it can be a real challenge to seek a detailed and insightful car review. But don't worry, we will support you fully with a whole new Suzuki Ertiga review if that is the car you are looking for!
Come with us to seek this cool car's specifications and details to ensure this new vehicle will please you all the time!
Suzuki Ertiga Review
Exterior
As for the exterior, the overall design is extremely mild and subtle without being too distant from other models in the same family. 
With a subdued front end and a small body proportion whose dimensions are 4395 mm L x 1735 mm W x 1690 mm H., this is a great car for those who wouldn't want their vehicle to be too big.
The Ertiga's rear shows the serious personality of this vehicle, with L-shaped taillights and the lip located near the rear glass. The light option for each variant is different, as we will get either projectors or reflectors.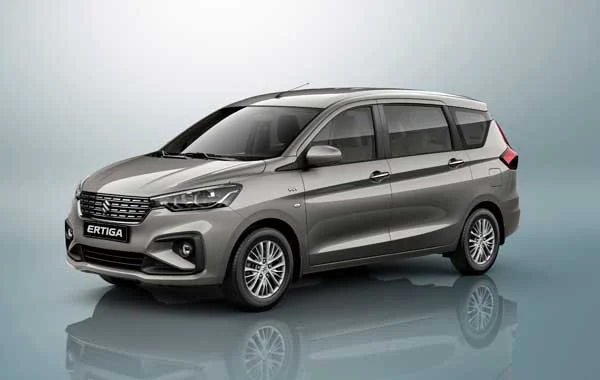 Both of these light designs will pair beautifully with the top grille. There are also fog lamps that fit with the bumper and highlight the beneath trims. 
The color choice for this vehicle comes various, as you get seven colors for this variant. They are Gray, Brown Pearl, Silver Metallic, White, Red, Burgundy Red, and Black Metallic.
Interior
When getting inside this vehicle, you can see two Suzuki Ertiga interior versions, either a beige color with brown or black or a wood-version like its previous model. By the end of 2019, the manufacturers had removed the beige-color editions and replaced them with black-one. 
Customers are welcomed in a cozy atmosphere of premium-feeling plastics and faux wood on the small details. All seats are wrapped in cloth instead of leather.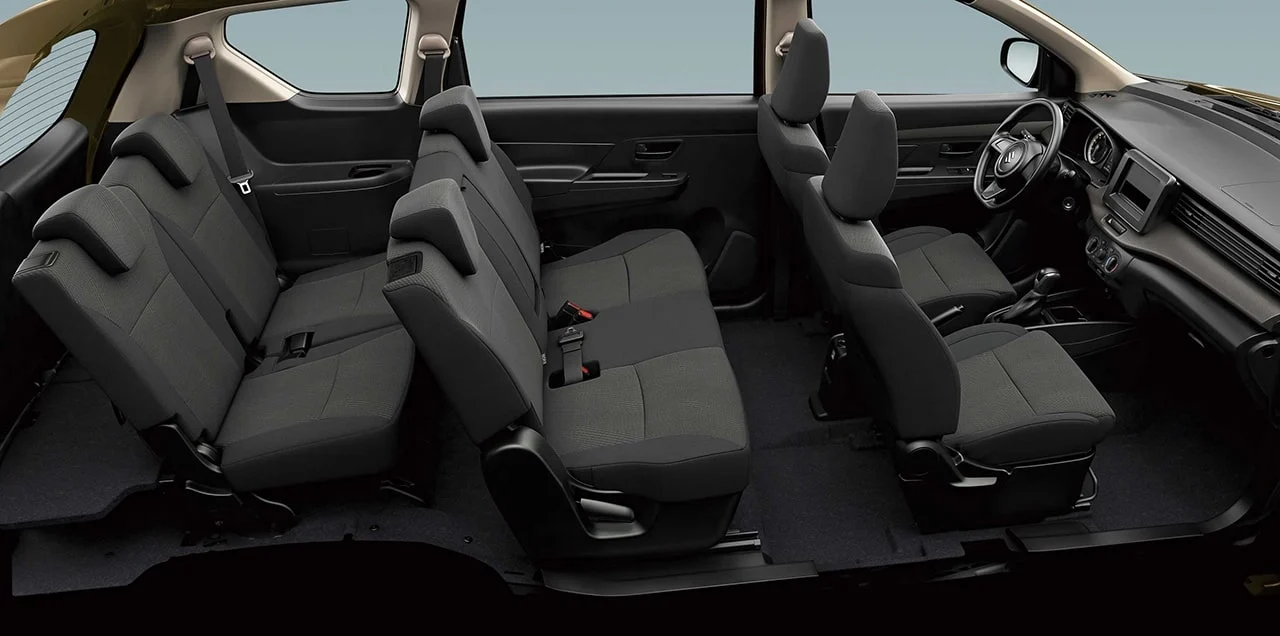 The second row rides on rails, allowing occupants to make more room for themselves or grant the third-row occupants more legroom, but that won't be too much of a problem since the Ertiga has enough leg space even in the rear to accommodate a child. In contrast, the second row is in its rearmost position. 
There are more spaces in the second and the third row, so there are more spaces for customers to sit comfortably. These spacious areas will help your trip easier and more conveniently. 
Safety/Technology
Technology is the highlight of Suzuki Ertiga 2022, as there is a huge 10-inch touchscreen infotainment system available right in the middle. Of course, the dashboard looks stunning with accents and trims, but its high-tech screen takes the spotlight. 
For the lower models, the screen is smaller, but the technology is maintained. 
As for safety, there are many features included to help you drive safely, including airbags, EBD, immobilizer, side-impact door beams, and a rear parking camera. For more advanced versions, they include parking sensors to support easy driving. 
Although the latest version of Suzuki Ertiga has not had records in protecting adults and children, we can count on that as its predecessor got good results in adult and children occupancy protection. 
Engine/Performance
Ertiga has now been paired up with the HEARTECT, a platform responsible for adding agility to new variants. Thanks to its amazing performance in powering the car, the MPV can be smooth and enjoyable.
The car has a front MacPherson suspension setup and a rear side torsion beam. The hard machine drives on four 15-inch steel wheels.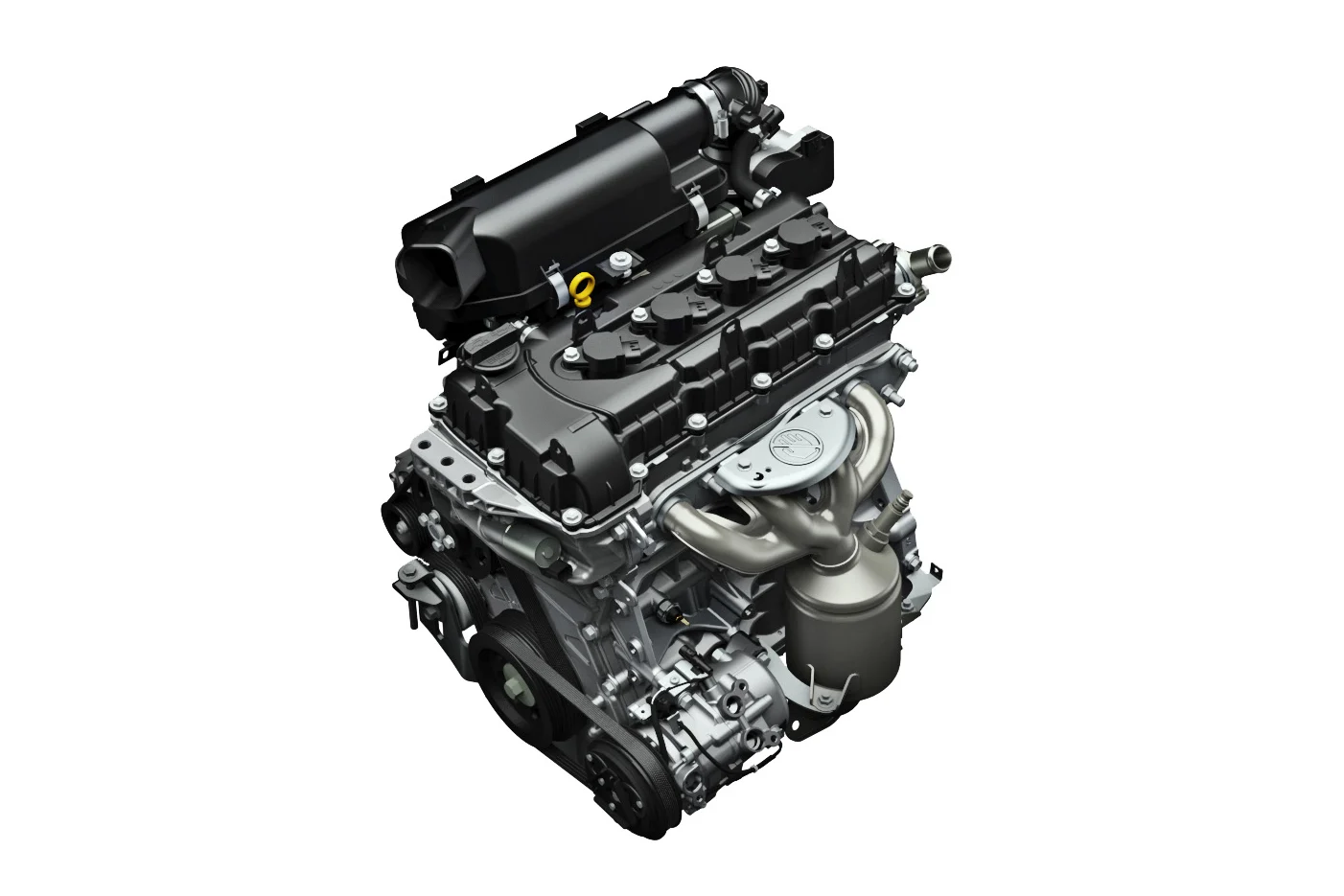 Powering the Ertiga is the K15B 1.5L engine, which is popular throughout all variants, along with the four-cylinder makes up to 105 hp and 140 Nm of torque. As frugal as the motor is, the CVT is no longer required for sipping. 
A five-speed manual or four-speed automatic transmission is included to combine with the engine to support the pulling. And last but not least, the front wheels with disc and drum setting help push the car to its climax, of up to 175 - 180 Kmph for Suzuki Ertiga top speed. 
Meanwhile, the Suzuki Ertiga fuel consumption is  6.2-6.4 l/100km combined (7.4-8.2 city, 5.3-5.4 highway, which is quite impressive.
Suzuki Ertiga Pros And Cons
Pros
Great fuel consumption fuel

Improved engine and handling compared to its precedes or 

Well-done plastic components in the cabin
Cons
The ride may not be too comfortable sometimes

The drivers need additional elements to help their seats comfortable

No lock-sensing doors
Conclusion
And that's everything we get today on Suzuki Ertiga Review. We hope that this insightful review has instructed you to understand this vehicle well, and from that, you can decide whether it is a good idea to buy this car. 
Thank you, and we will see you soon in the next article on Philcarprice.com!
View other reviews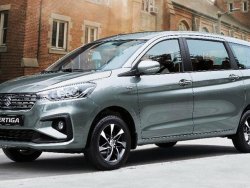 Automanual
SUV / Crossover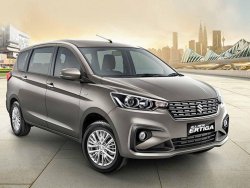 Automanual
SUV / Crossover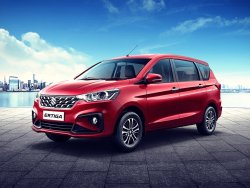 Automanual
SUV / Crossover