Mitsubishi Mirage G4 Vs Toyota Vios - Battle Of B Segment Sedan
Updated Jun 16, 2022
Mitsubishi Philippines just introduced a limited edition GLS Sport for the Mirage G4 in the domestic market. The Mitsubishi Mirage G4 GLS, like the normal models, will compete with brands like Honda City and Toyota Vios. To understand more about this sedan segment, check out this comparison of Mitsubishi Mirage G4 vs Toyota Vios.
Overview
Mitsubishi Mirage is one of the market's most unique cars. Despite having the dimensions and characteristics of a B-segment hatchback, this vehicle has asymptotic pricing and is prepared to compete with A-segment automobiles.
Toyota Vios, which was introduced in 2003, may be called the national automobile model in the Philippines market since, for many years, Toyota's B-class sedan has been the best-selling car in both the month and the whole year. 
Faced with increased market demands and stronger competition, this year's all-new Toyota Vios will be tweaked with a new design language, better features, and safety regulations.
Mitsubishi Mirage G4 Vs Toyota Vios - Exterior
The Mitsubishi Mirage G4 Philippines boasts a sportier and more aggressive design than the normal model. The most noticeable improvements on this car are the ornamentation beneath the grille, the front spoiler, and the sporty tail spoiler. The Mirage G4 2023 dimension is 4,305 x 1,670 x 1,515 mm.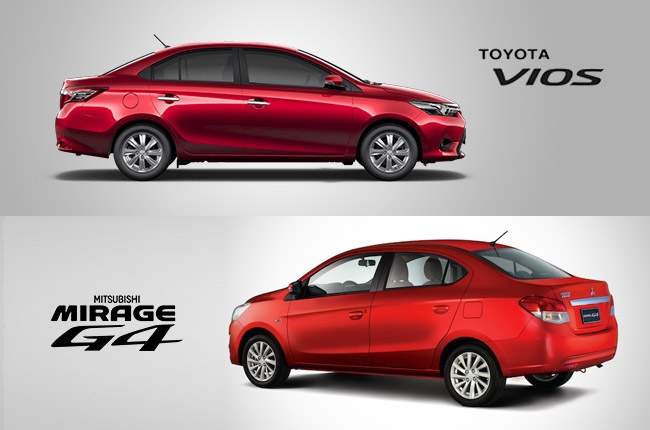 After the last upgrade, although the Toyota Vios overall retains the old form after the last upgrade, there are also many fine-tuning points, bringing a new, younger, and more modern feeling. The overall length, width, and height are 4425 x 1730 x 1475 mm, respectively, and the ground clearance remains unchanged at 133 mm.
Mitsubishi Mirage G4 Vs Toyota Vios - Interior
The inside of Mitsubishi Mirage vehicles is fairly pleasant and comparable to the company's other models. Because of the placement of elements in the scientific and clean cabin, the automobile has a pretty spacious and pleasant internal space for users.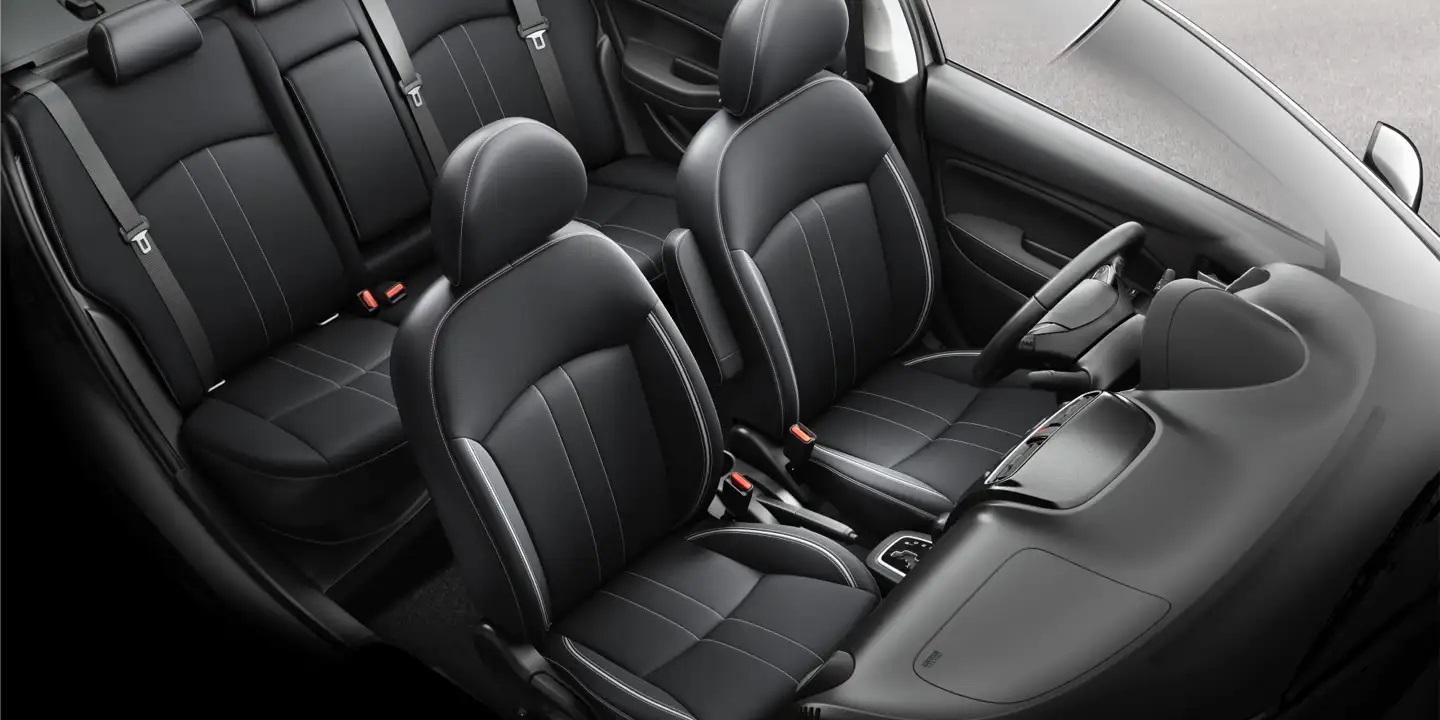 In a comparison of Mirage G4 vs Vios, the Vios has a wheelbase of just 2550mm, with front and rear wheelbases of 1475 - 1460mm, respectively. This allows it to accommodate the same passengers as the G4, which has a wheelbase of 2550mm.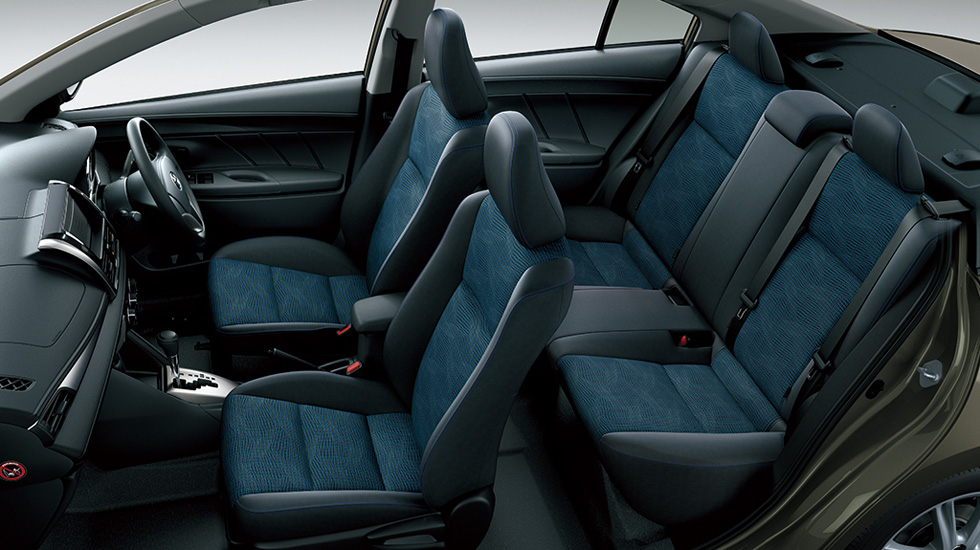 Furthermore, these two versions are relatively comparable in technology since they include basic equipment like a display music system linked to smartphones, Apple CarPlay and Android Auto compatibility, an automated air conditioning system, and a smart start.
Mitsubishi Mirage G4 Vs Toyota Vios - Engine
Mitsubishi Mirage G4 engine employs a 1.2L engine block in all models with Mirage G4 fuel tank capacity of 42 liters. This engine block includes a 5-speed manual transmission and a CVT continuously variable transmission. 
According to the Mitsubishi Mirage specs, the model has a maximum capacity of 76 horsepower and a maximum torque of 100 Nm.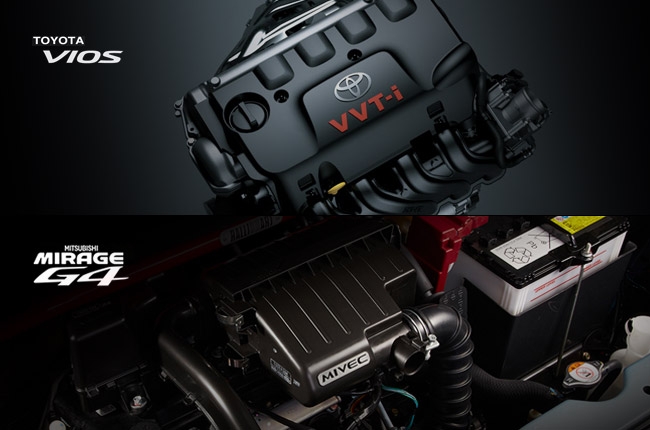 In this way, the Mitsubishi model falls far short of the Vios. 
Toyota Vios 2023 has a 1.5L Dual VVT-I engine (code 2NR-FE) that produces 107 horsepower at 6,000 rpm and 140 Nm of torque at 4,200 pm. Vehicle transmission choices include a 5-speed manual transmission, or a CVT.
Vios is compatible with all road frames. You may travel totally outside of the city on vacations with no hassles.
On the other hand, the Mitsubishi Mirage is fairly stiff because of the large brake pedal. As a result, besides the benefit of being compact and simple to move around the city, this model is inappropriate for travel in congested regions due to its difficult-to-adjust brakes. 
Mitsubishi Mirage G4 Vs Toyota Vios - Price
Usually, the selling price of these two models is the same. The premium version of the Vios is substantially more expensive, but there are numerous models with different enhancements to pick from. These are two models with very inexpensive costs, with a starting price of around 800,000P.
Conclusion
Mitsubishi Mirage G4 vs Toyota Vios - these are both formidable rivals in the B-segment sedan segment. This year's Mitsubishi model will bring customers a fully equipped, roomy cabin, versatile and fuel-efficient. Meanwhile, Vios is more about the popular driving experience, with many different versions for customers.
Philcarprice is honered to bring to you the latest automotive information!
View other car comparison