Toyota Vios Vs Honda City In The Philippines 2022
Updated Apr 22, 2022
If you are searching for a new car, it might be a challenge since there are many different makes and models to choose from. The constantly changing technology and new models can make it even harder to decide.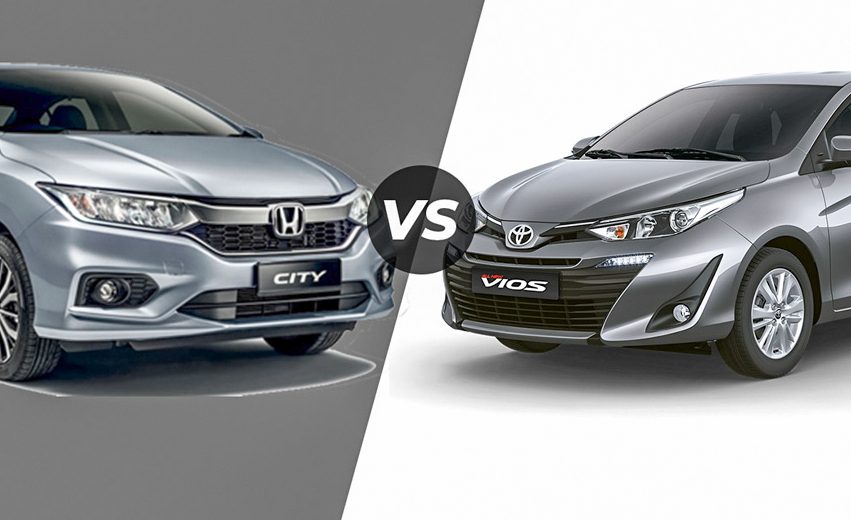 The Toyota Vios vs Honda City in the Philippines 2022 might be an important comparison for you. Read this article to see what is the best one for you.
Toyota Vios vs Honda City: Overview 
Subcompact sedan manufacturers are currently competing to hold the highest market share. However, cars manufactured by Toyota and Honda have been dominating for the past few years. 
Recently, both companies have released new models that will help them gain even more outstanding stock to lead the pack.
Toyota Motor Philippines recently updated the Toyota Vios with a new design and features. We put them head to head to see which subcompact sedan would be the better value for money purchase in terms of specifications. 
Honda had some shortcomings in technology and power but has been hailed as a favorite for over 15 years. The design at least made it easy to identify which is the taillight.
If you're in the market for a new sedan, then you might be comparing Toyota's Vios with Honda's City models. Checking out the mid-spec versions, we did some research and discovered that within the close competition between Honda City and Toyota Vios, they offer balanced performance numbers. However, in this article, we don't mention the price of these two models. However, if you wanna know about Honda City price, Toyota Vios price or any cars, you can check out our website.
>>> Read more: Toyota Vios price Philippines
Toyota Vios vs Honda City: Exterior 
Honda City and Toyota Vios take different approaches to design. To qualify as a premium city car, Honda's design is sophisticated, well made, but not very fun. On the other hand, Toyota offers much more aggression with sharp headlights--but it also has smoother sculpting.
If you are looking for the best car with good exterior features, you may want to consider a Toyota Vios. Without considering styling, the Toyota model has more of these features, such as better lighting. 
Both models now have LED lighting for top trim cars giving these vehicles an even playing field when it comes to lighting. When considering exterior features alone, we would consider the Toyota model slightly better thanks to its new improved LED system.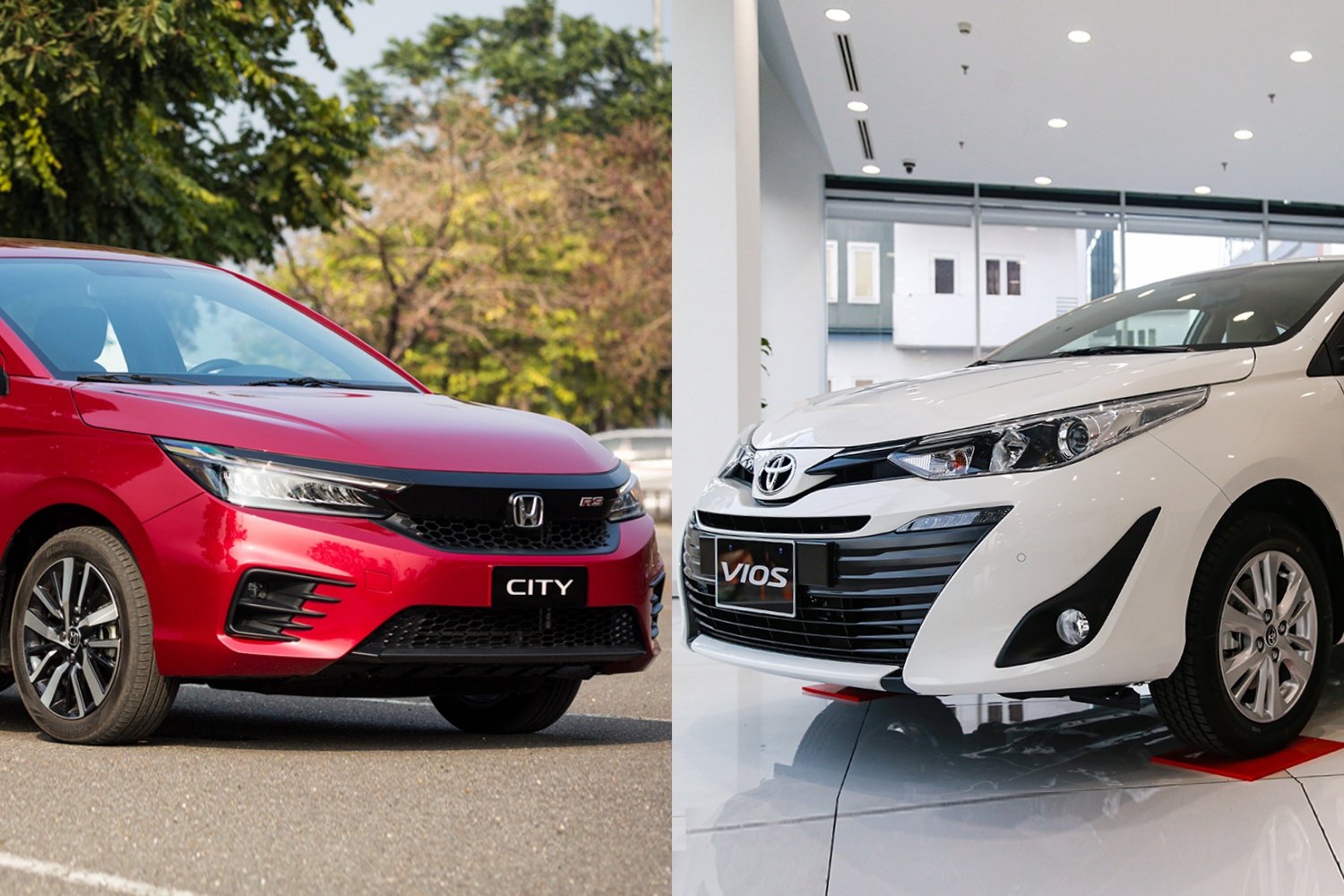 The Toyota Vios and Honda City exterior is nearly identical in quality. The Vios is 4,425mm long, 1,730mm wide, and 1,475mm in height. The City is both 4,553mm long and 1,748mm wide. Even the City has an extra 50mm in wheelbase length but only 133 millimeters more ground clearance than the Vios.
Toyota Vios vs Honda City: Interior 
These two different cars are equipped with important features. There is enough room for five people on both the interior of the Combiill Mira and the Suntree. But in terms of comfort in driving, the City S gives more features than the Vios. 
For example, it has a push to start button and a tilt and telescopic steering wheel column, while the Vios only has a turn-key ignition system and tilt-only steering wheel adjustment.
When it comes to the inside of both vehicles, the Honda City and Toyota Vios come apart. The Honda City 1.5 VX+ NAVI CVT offers buyers leather seats, but the Vios 1.5 G does not. 
Fabric seats are harder to maintain from a cleaning perspective, but they are much more breathable under a hot sun than leather would be. 
While both cars have minimal climate controls for their entry-level models, the Honda adds in touch panel controls at higher tier units, unlike the Toyota Vios 1.5 G, which simply makes do with physical buttons.
One big difference between Toyota and Honda is seen when looking at the in-car entertainment system. The City has an eight-inch touchscreen with Apple CarPlay, Android Auto, Bluetooth, and aux-in connectivity. 
The Toyota Vios 2021 only offers a slightly smaller seven-inch touchscreen but with similar connectivity options as the head unit found in the City. It also has a four-piece sound system that lacks offline navigation.
Toyota Vios vs Honda City: Power 
The Toyota Vios has a 1.3-liter engine that can produce 98 horsepower and 123 Nm of torque. In comparison, the Honda City has a 1.5-L espresso machine that makes up to 119 horsepower and 145 Nm of torque thanks to its larger engine.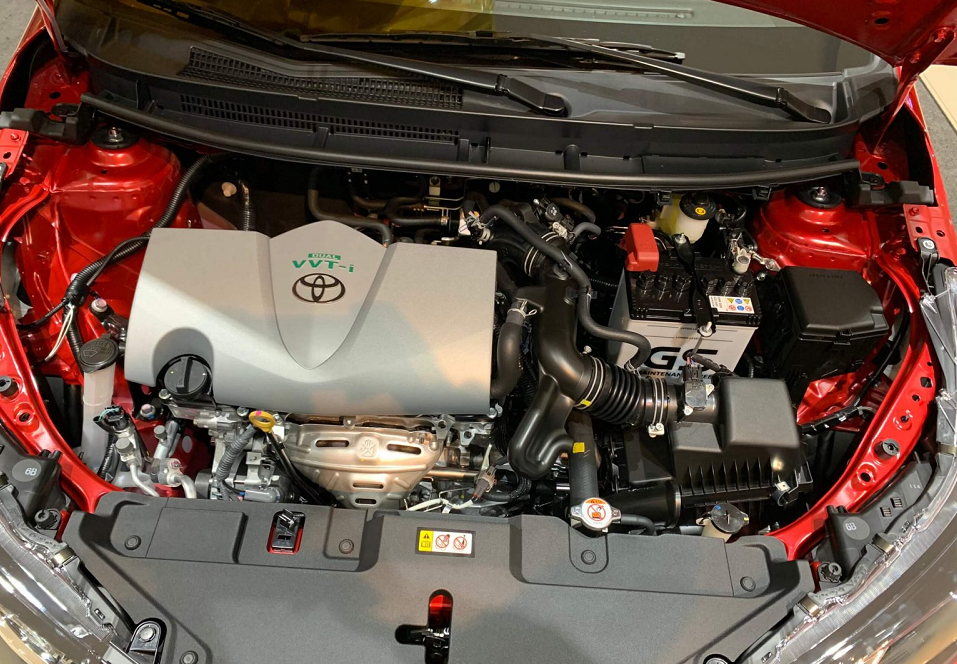 The Vios and the City have very different suspension systems. For the Vios, the suspension is a MacPherson strut-type for both the front and rear. On the other hand, the City has a MacPherson strut for its front but uses a multi-link type in the back. 
Both cars also have front disc brakes, though the Vios also has rear disc brakes while the City has rear drum brakes.
The higher-spec Vios offers a 1.5-liter gasoline mill capable of making 106 horsepower and 140 Nm of torque, but the S + comes with a six-speed manual transmission as an option as well.
Depending on the variant, the said engine can either come with a CVT or a five-speed manual. Each model has its pros and cons, so it's up to you to select which benefits work better for you.
Toyota Vios vs Honda City: Safety 
The Toyota Vios and the Honda City are both quite pedestrian cars in terms of their overall speed and handling capabilities. Both models come with a standard 3/2 airbag configuration depending on which model they belong to. However, this can be upgraded if one is so inclined. 
The Vios brings to the table ABS + EBD and stability control, whereas features such as hill start assist are added only in its higher variants. 
However, the Honda City has a similar range of features, except it does not include DCCD within its package, making for an interesting point-counterpoint comparison.

Conclusion 
We have already shared our thoughts on the Toyota Vios vs Honda City, and now it is time to compare the two. The Toyota Vios has a more powerful engine, making it more desirable for long drives, especially if you are the type of person who enjoys the open road. 
On the other hand, the Honda City is a bit more fun to drive, especially in the City. Both cars are very good for everyday use, but the Toyota Vios is slightly better for long drives.
If you want to see more cars comparison, please keep following Philcarprice.
View other car comparison