A Quick Rundown Of Hyundai Reina Vs Toyota Vios
Updated Jul 04, 2022
Although there are many similarities between the Hyundai Reina and the Toyota Vios, there are also significant differences based on various criteria. Both of these automobiles are as popular as cabs in the present Philippines market, and they are the strongest brands due to their inexpensive pricing. 
So, which vehicle should you buy? This post is for you if you're having problems picking between Hyundai Reina Vs Toyota Vios.
Overview
Hyundai is a global carmaker headquartered in Seoul, South Korea. The Hyundai Motor Company was founded in 1967. The company operates the world's largest integrated automobile manufacturing facility in Ulsan, South Korea, with a 1.6 million annual capacity.
Hyundai vehicles were sold through 5,000 dealerships and outlets in over 190 countries, with a fifth-place ranking.
Toyota is a global automaker based in Japan. It is among the world's major automakers, producing over 10 million vehicles every year. Since the debut of the Toyota Prius in 1997, Toyota has been hailed for being a pioneer in the development and selling of more fuel-efficient hybrid electric cars. Corporations presently sell more than 40 hybrid car types across the world.
On the list of popular automobiles on Philippine highways, the Hyundai Reina and Toyota Vios are two contenders that should not be neglected. The Hyundai Reina made its debut in 2017, coming second in sales in the subcompact car market. In the meanwhile, the Toyota Vios has been the best-selling vehicle for several years.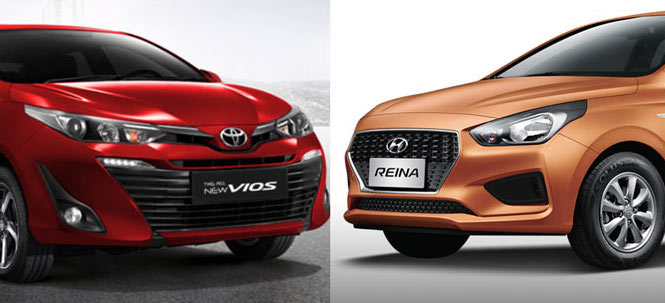 Hyundai Reina Vs Toyota Vios: Comparison
Exterior/Dimension
In terms of dimensions, the Hyundai Reina is 4,300 millimeters long, 1705 millimeters wide, and 1,460 mm in height. The vehicle has a 2,570-mm wheelbase and a 150-mm ground clearance.
On the other hand, the Toyota Vios measures 4,425 mm in length, 1,730 mm in width, and 1,475 mm in height. The wheelbase is 2,550 mm, and the ground clearance is 140 mm.
Overall, the Toyota Vios has a larger and broader body, but its ground clearance is reduced to 140mm. Both of the above vehicles provide about identical comfort and room on board, and the changes should be minor for most travelers.
In terms of exterior features, Reina vs Vios is equivalent. The Hyundai Reina has a unique hexagonal grille, halogen headlights, and body-colored side view mirrors. Concurrently, the Toyota Vios comes with a sleek black front grille, chromed door handles, a fin-type antenna, etc.
However, many customers agree that the Toyota Vios' external appearance is more appealing and energetic, with bigger wheels than its rival. Meanwhile, the Hyundai Reina 2023 is appealing and more attractively styled.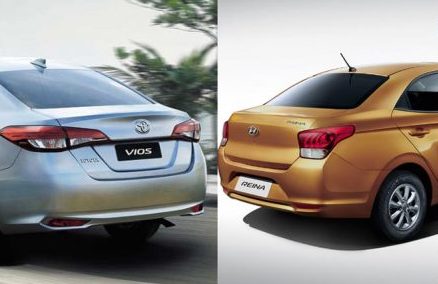 Interior
Both Hyundai Reina and Toyota Vios interior is simple yet inviting interior. Thanks to the level flooring, these two vehicles can seat five people comfortably, with plenty of back legroom. They also come with automated air conditioning and power windows with jam prevention.
The Hyundai Reina comes with four speakers and an AVN display that works with Apple CarPlay and Android Auto. Meanwhile, the Vios has an infotainment system that includes a 7-inch touchscreen, six speakers, a Weblink for iOS and Android smartphones, and Bluetooth, USB, and Aux connections.
The Hyundai Reina has a big trunk capacity of 475 liters, which is beneficial for cargo storage. However, the Vios boasts a tremendous capacity of 506 liters. In terms of cargo capacity, the Toyota Vios outperforms the Hyundai Reina.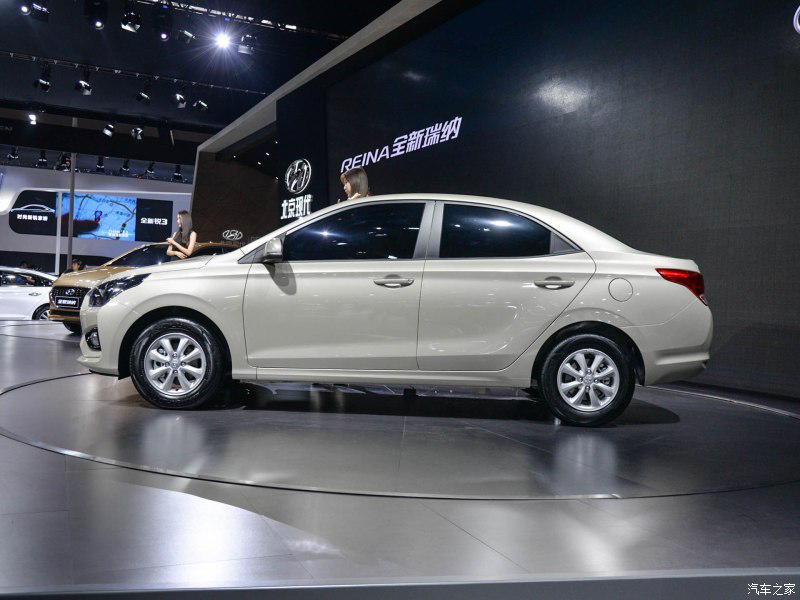 Engine
Although Toyota Vios 2023 won in other categories, it did not win the Hyundai Reina engine. The Hyundai Reina has a 1.4-liter powertrain that is the same size as the Vios' 1.3-liter engine. Furthermore, Reina's 1.6-liter diesel engine, which produces 128 horsepower and 260 pound-feet of torque, is far more powerful than the Vios'. Meanwhile, the Vios 1.5-liner generates just 106 horsepower and 140 pound-feet of torque.
The good news is that both cars have a 5-speed manual transmission in the comparison. It isn't easy to discern which car has the best fuel-efficient engine in the city and freeway. 
However, because both automobiles have verified powertrain and are intended for general usage, we may confidently expect that their efficiency will be similar.
Safety
Even if you emphasize the above criteria when comparing the Hyundai Reina vs Toyota Vios, you must also consider their safety features.
Both Reina and Vios have seatbelts, airbags, and an Anti-Lock Brake System. These functions represent a significant advancement in the manufacturers' safety system.
Additionally, Toyota developed their Vios with Vehicle Stability Control, Hill Start Assist, and a Security System with alarm and immobilizer.
Price
Conclusion
That concludes our comparison of the Hyundai Reina Vs Toyota Vios. We hope that after this article, you are more confident in making an informed and satisfying buying decision.
For more comparison articles like the one above, visit Philcarprice.com.
View other car comparison